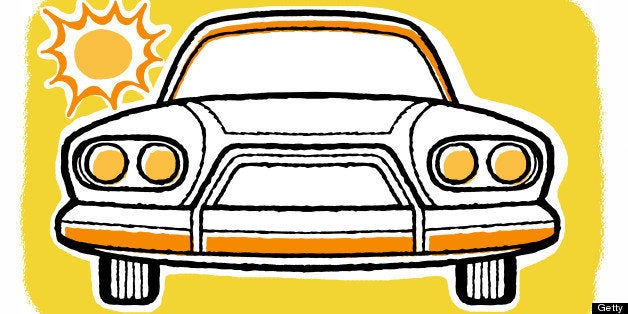 What kind of parent forgets their baby in a hot car?
I ask that question every year at this time, as temperatures rise and the number of children who die grisly deaths -- literally baking in the backseat -- also start to climb. This year is shaping up to be a particularly bad one, on track to match the worst year ever. On average, 37 children die in this way in the US when the weather gets warm; so far this year there have been 15 such deaths and it isn't even July.
What kind of parent forgets their baby? A monster, right? A callous, careless, stupid, irresponsible human being who should never have been trusted with a child in the first place, yes?
The parents who accidentally leave their children to die could be any of us. That was the message of one of the most compelling pieces of journalism I have ever read, one in the Washington Post by Gene Weingarten four years ago (it later won him a Pulitzer Prize.) Dissecting a number of tragedies he persuasively argues that those who lose children this way could be you or me. He writes:
What kind of person forgets a baby?

The wealthy do, it turns out. And the poor, and the middle class. Parents of all ages and ethnicities do it. Mothers are just as likely to do it as fathers. It happens to the chronically absent-minded and to the fanatically organized, to the college-educated and to the marginally literate. In the last 10 years, it has happened to a dentist. A postal clerk. A social worker. A police officer. An accountant. A soldier. A paralegal. An electrician. A Protestant clergyman. A rabbinical student. A nurse. A construction worker. An assistant principal. It happened to a mental health counselor, a college professor and a pizza chef. It happened to a pediatrician. It happened to a rocket scientist.
A number of years ago I wrote an article for The New York Times Magazine examining fatal medical errors, and the changing thinking that assigned blame not to humans but to systems. People are, by definition, fallible, the argument goes. Pointing fingers and punishing them does not prevent the next mistake; creating a system that assumes fallibility and works around it makes a lot more practical sense.
Such is the case with hyperthermia deaths in cars. Closed, glassed-in spaces have always heated rapidly -- it takes but a few minutes for the temperature inside a car parked in the summer sun to rise to the levels used for slow-cooking meat. But children only began dying in cars with alarming regularity in the early 1990s, according to Kids and Cars, an organization which tracks these numbers.
Unintended consequences. It was during the '90s that laws began requiring children ride in car seats, in the back seat, where they were safer, yes, but also less likely to be seen and therefore more easily forgotten. Add to that a parent who, in nearly every case, changes the usual daily routines and simply forgets that he or she didn't already drop the baby at the sitter's on the way to work.
Think that could never happen to you? Read Weingarten's enitre article here. Then come back and tell me you are still completely sure. Think that parents who do this should be tried for manslaughter and sent to jail? Read of how these families punish themselves, and come back and tell me if you still feel the same way.
Yes, some of these cases are muddled. One in North Dakota, in May, happened to a child whose mother had previously been charged with neglect. And one in Illinois last week included the accusation by police that while a 2-year-old died of heatstroke in the driveway, his father lay passed out, drunk, in the house.
But most are like the tragedy this weekend in Florida, where two parents brought their three children to a babysitter before going to a family funeral. They took two cars to the babysitter's, and each parent thought the other had brought the 3-year-old inside. They then left one car -- the one with the 3-year-old -- in the sitter's driveway, and drove to the funeral together. They found their son, dead, when they returned three hours later.
So what to do, systematically, to lessen the chances of such simple but fatal errors? Kids and Cars sums up their suggestions with the acronym BE SAFE:
Back seat: Put something in the back seat whenever you strap a child in, so you have to open the back door, or at least turn around to find that item, when you get out of the car. Your handbag or briefcase, cellphone or employee badge.

Every child should be correctly restrained in the back seat.

Stuffed animal: Keep a brightly colored one in the car seat when your child isn't there. Then move it from the car seat to the front seat after you strap your child in, to remind you when your baby is in the back seat.

Ask your baby sitter or child-care provider to call you within 10 minutes if your child hasn't arrived on time.

Focus on driving: Avoid cellphone calls and text-messaging while driving.

Every time you park your vehicle -- every single time -- open the back door to make sure no one has been left behind.
My heart breaks for the 15 families who have lost children to the heat so far this year and the more than 650 who have done so in recent decades.
Calling the parents inhuman monsters might make us feel better, but it won't save the next child. Recognizing they are human beings just might.
Please check your back seat.