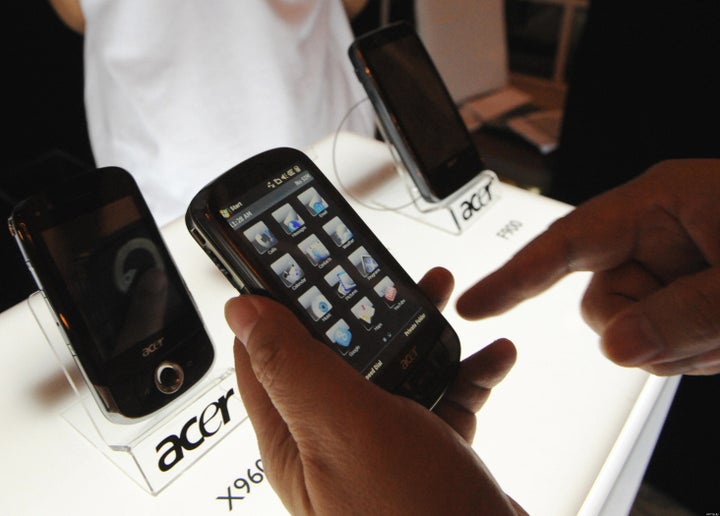 This past week I ventured to the BlogWorld Expo in Las Vegas to get a sense of the state of the blogosphere and broader new media business.
I quickly found myself yearning to rip out my own Flip Video camera. Between the fabulous personalities, quirky characters and dazzling gadgets being pulled out of backpacks, purses and pockets everywhere, one question kept me endlessly curious: What were the biggest bloggers and social media personalities packing?
With all the funky new technology available these days, what is the one thing that the online elite refuse to leave home without? So, I started asking them. And this fun little video is what I came up with.
Richard Jalichandra (CEO of Technorati), Rick Calvert (CEO of BlogWorld) and Joe Morin (co-founder of PubCon) packed light. Hugh Hewitt did too, if you don't count the producer he had in tow, who got stuck lugging an entire portable radio studio for him to Vegas.
The road warriors, Chris Brogan (NY Times bestselling author of Trust Agents) and Brian Clark (Copyblogger) were fully stocked, but impressively compact in their organization ... and total sweethearts to boot, spending hours answering questions and talking to hoards of fans.
Then there were the hard core journalists and bloggers like Howard Greenstein from Inc.com , and Don Lemon, social media savoir from CNN who, god bless him, spent an exhausting day working the expo to promote a big breakthrough Twitter campaign called #beatcancer, which is a new model for charities to leverage social media to raise money. (Click here to learn more.)
Like other social media mavens, Jennifer Iannolo and Chef Mark Tafoya from the Culinary Media Network and the iconic Ben Huh, CEO of I Can Has Cheezburger and Fail Blog (who's sites boast a staggering 200 million visitors a month) were packing some serious hardware. Any one of them, I swear, could have started a 24 hour cable news network from their backpacks. Luckily, among all of the heavy haulers, Mike Dorausch (aka @chiropractic on Twitter) was on hand as the shinning example of ergonomic efficiency (sadly not for adjustments), but to prove that you can in fact carry it all and not kill your back. Props to Howard too for the same sensibilities, though I have to admit, the term "geek chic" did cross my mind when I first saw these two in their whole ready-to-scale-Everest packs stuffed to the brim with laptops, cameras, zoom lenses, video equipment and iPhones. And I do mean that in the most loving context possible, of course. I was even a bit jealous of some of their goodies.
There were a slew of fun little gadgets and gizmos. But some of the most memorable for me wouldn't have been quite as special without their owners and operators -- like dear Warren Whitlock (creator of the Twitter Handbook) who managed to take a hell of a golf swing with a long steel extender rod attached to a friend's mini video camera. (I do hope his friend doesn't see this video!) Clark Kent look-a-like Theron McCollough (People Pond founder) had his own take on tech innovation -- a social media t-shirt complete with Sharpie marker friendly graphics and fields to feature all of your online personalities in one place, like their site. Comedian Adam Corolloa of the famed Loveline, seemed to not only be packing his sparkling personality but also enough wit to fill the convention center. Guess you'll have to catch his new podcast to hear what kind of antics he's packing, since I might get in trouble for printing most of what he said during the show.
Speaking of powerhouse podcasters, I honestly don't remember what Mari Smith (founder of the International Social Media Association) was carrying, but I know everything was matching, sparkly and turquoise.
All in all, my trip to BlogWorld was quite an adventure. I can only imagine that my future attempts to keep up with all this new technology will be too.
+++
Final shout outs to Andre Ragni and Leslie Denson (from Porter Novelli) who helped me breeze through the expo and get access to all these wonderful folks in the first place. To Joe Morin who's raging evening events made it tough for me to concentrate on my interviews in the mornings. My deepest gratitude to Brandy Feuer for the sweet sleeper bed I didn't want to get out of at Planet Hollywood and the spectacular view of the Vegas strip. To bloggers Irene Koehler and Tiffany Monhollon and one of my oldest partners in crime, Jennifer Iannolo for the enlightening conversations. To Gary Ryan Blair (the beautifully suited author of Everything Counts in the video) for the great tips and inspiration and extra love to Mark Tafoya for the late nights he spent making sure this video captured the sprit and essence of BlogWorld 2009.

Related
Popular in the Community