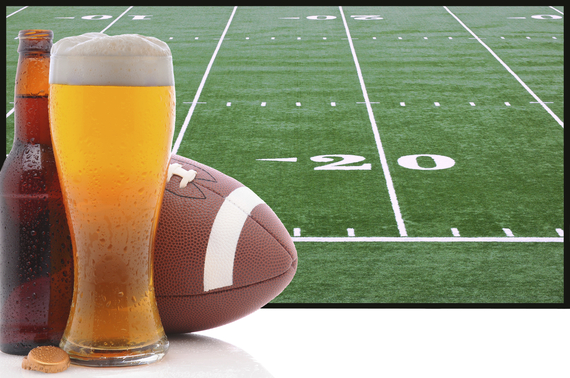 Denver Broncos quarterback Peyton Manning's biggest plays at Super Bowl 50 weren't as an athlete, but as a product pitchman. After winning what most believe to be the last game of his career, Peyton went on to lose, trying too hard to cash in before the spotlight went out.
Guess who received the first kiss from Peyton Manning after the Broncos' victory? It wasn't his wife, a family member or friend. Nor was it one of his teammates, coaches or opponents. Not even a peck from Mrs. Annabel Bowlen, wife of Broncos owner Pat Bowlen, or General Manager and Executive Vice President John Elway.
That magical first kiss went to Papa. Not Papa as in Peyton's father or grandfather, but Papa as in Papa John's Pizza Founder and CEO John Schnatter. It was a strategically placed kiss too. I'm not talking face or butt cheek, but rather audiences. The kiss took place in front of national television cameras.
Then, Peyton guzzled Gatorade in front of the media as the game clock wound down. He chugged like a frat boy drinking beer at his first keg party.
By game's end, Peyton Manning had morphed from classy Super Bowl champion and future Hall of Famer into his dreaded alter ego: a cheesy pitchman I call Peyton Branding.
Peyton owns shares in two Anheuser-Busch distributors in his native state of Louisiana and 21 Papa John's franchises in Colorado, hence the plugs and kisses. It pays to be Peyton Branding, but at SB50, it came with a cost.
Understand that I'm a brand guy. I don't begrudge Peyton for cashing in on his celebrity nor judge any brands for seeking his endorsements. For a professional athlete, Peyton is a likeable winner and safe spokesperson. Yet, the way he tried to sneak endorsements into Super Bowl 50 saddened me.
Peyton cheapened his personal brand for products during what was likely his last shining moment. That is, of course, only until his Hall of Fame induction ensues, and Peyton Branding whips out a Sham Wow to extoll its virtues as he shines his bust.
Peyton seemed coerced at first, as if InBev's ad agency was holding his youngest son hostage for ransom. "Say 'Budweiser' as many times as you can in post-game interviews or we will turn your son into a hideous Mountain Dew 'PuppyMonkeyBaby.'"
Peyton stuck to his Budweiser script looking as genuine as his brother Eli looked in the luxury box as the rest of the family celebrated his Super Bowl victory. The only SB50 moment with less energy and effort was Carolina Panthers quarterback Cam Newton trying NOT to fall on his fumble.
Was Eli's non-celebration an act of jealousy? More likely, he was just dreading a long celebratory night of drinking Buds, eating pizza and listening to his big brother incessantly hum the Nationwide Insurance jingle. Just imagine a drunk Peyton Branding screaming "Omaha. OH-MA-HA!" at the top of his lungs while trying to Dab and dance like Cam Newton. You'd be terrified too.
Many wondered if InBev, parent company of Budweiser, had paid Peyton for his expressions of brand love. Technically they did not; NFL players are not allowed to endorse alcoholic beverages, though InBev spokespeople said they were surprised and thrilled he did. What brand wouldn't be psyched by over 3 million free media impressions that Peyton generated?
I hated the message Peyton's "celebrate drinking" Budweiser antic sent to millions of kids watching. The classic "I'm going to Disney World" had suddenly devolved into "I'm going on a bender." Helen Mirren, the British actress in the Budweiser "Don't drink and drive" Super Bowl commercial, should have given Peyton the same verbal spanking she gave viewers. It was not an accidental slip of the tongue, but a greedy, selfish and calculated message Peyton Branding kept repeating.
While I wish more players had a business mind like Peyton, I never want any endorsement to overshadow a hard earned team victory, let alone a Super Bowl success. Peyton's legions of fans deserved to see him go out throwing footballs, not pitching products. Instead of classy Peyton Manning, we got greedy Peyton Branding who appeared to love money more than the game itself.
Peyton cheapened his image and insulted the audience's intelligence. Will his legacy be Peyton Manning, Super Bowl winner, or Peyton Branding, who blatantly cashed in before leaving the sport? Peyton won Super Bowl 50 but lost something more precious - his dignity.
Calling all HuffPost superfans!
Sign up for membership to become a founding member and help shape HuffPost's next chapter