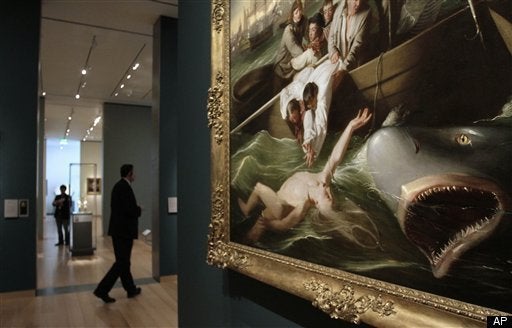 The new Census numbers for Philadelphia are in, and the city managed to actually record a population increase, the first in 50 years. And while the increase was tiny -- 8,456 residents, which represents a .6% increase to 1,536,006 -- the reversal of the decades-long decline is huge. Many older industrial cities are shrinking in population -- Chicago, Baltimore -- so this increase is especially notable. It is also notable because it confirms that Philadelphia has recaptured the "fifth largest American city" spot from Phoenix, which had passed Philly for a few years. (Click here for sample of press coverage.)
There are two big phenomena that jump out as you look at the detailed numbers, by neighborhood and by ethnicity. Clearly, the city is becoming much more diverse, and immigration, especially among Latino and Asian populations are a major contributor to the growth of the city. Philadelphia was a "majority minority" city in 2000 and that trend continues in 2010. The percentage of the population that is Asian has increased almost 50%, from 4.4% to 6.3%. And the Hispanic population had a similar scale increase, from 8.5% to 12.3%. The Black population remained somewhat steady and the White population shrank from 42.5% to 36.9%.
In terms of neighborhoods, there are enormous differences from neighborhood to neighborhood. Several Center City neighborhoods saw large increases. Center City East saw a 25% increase. Large double-digit increases were also recorded in Center City West, Fishtown/Northern Liberties and Bella Vista. The diversity make-up has also seen huge variations by neighborhood. In my neighborhood, Bella Vista, for example, the Hispanic population is up 170%.
Virtually all the neighborhoods that have seen huge population increases during this ten-year period have also seen large increases in the number of arts organizations and artists living and operating in them. This is not an accident. Arts and culture are definitely part of the mix of elements fostering the population and economic resurgence of these neighborhoods, along with retail, restaurants and residential real estate development. Looked at by neighborhood, the population gain has largely been a Center City phenomenon, and there are many reasons for this -- the great work by Center City District, business improvement district (BID) now celebrating its 20th anniversary; the impact of the cultural investments made by the city over the past couple of decades; the support those cultural investments have had from major foundations and individual philanthropists (Pew, William Penn, Lenfest, etc.); the growth of a vibrant Philly culinary scene (we have out own Iron Chef, Jose Garces!); a real estate tax abatement program that helped spur development of new residential condominiums. According to the Center City District, over the past ten years the number of arts organizations in Center City has grown from 314 to 415. Only NYC and DC have more downtown arts groups. The growth of cultural vibrancy in Center City has clearly been a factor in attracting more residents -- and more residents attracts more retail and more restaurants.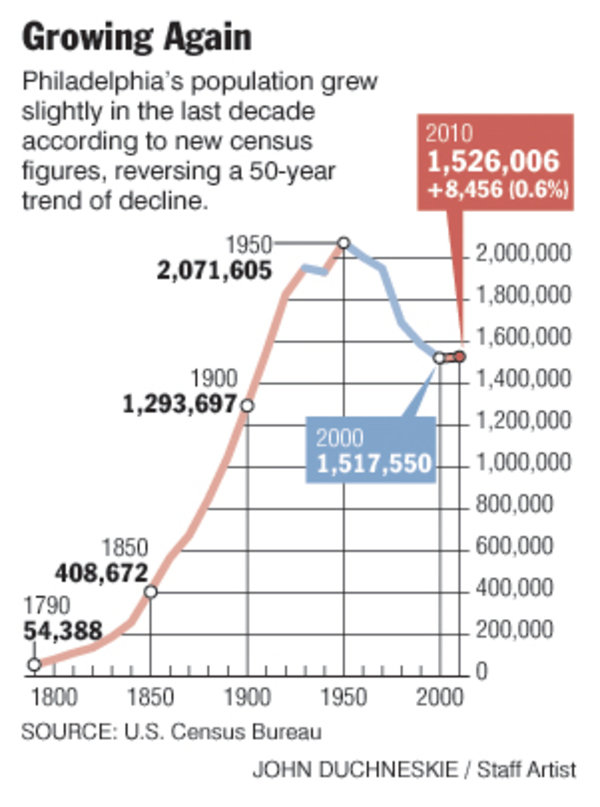 Graph above from www.Philly.com
Many of the city's poorest neighborhoods, however, were population losers, some by as much as 10%. The challenge going forward is how to help make these "shrinking" neighborhoods, many of which are filled with empty lots, abandoned buildings and declining commercial corridors, into good places to live and work. What role can the arts, creative economy and design play in solving this problem? Is there something that can be done proactively, while recognizing that great things can also happen organically (bad things can also happen organically, though...)? A new program initiated by the city, Philly Rising, is an attempt to address some of these challenged neighborhoods in a holistic and strategic way. The arts have been one element of this program's approach. The first commercial area to be targeted, for example, Market Street between 7th and 12th Streets, an area right between our historic district and our newly expanded Convention Center, that has been plagued by homelessness, crime and retail vacancies, will include a program of free outdoor musical performances as a way to create a more welcoming streetscape. The North Philadelphia effort has involved a partnership with the Village of Arts and Humanities.
The connection between the changing demographics of the city and the arts should be obvious. Our "traditional" (i.e. not community-based, not culturally-specific) arts groups MUST find a way to connect with this growing component of the population if they are to survive and thrive. African American, Latino and Asian-American audiences (and donors!) must be engaged -- this is 63% of the market in the City. Our audiences should be diverse not just when we do special "outreach" performances but for our day-to-day offerings and special events.Beyond the imperative to build audiences and supporters more representative of the larger community, the arts also have a role to play in efforts (like Philly Rising) that are seeking to revitalize neighborhoods.
These new Census population numbers are certainly cause for celebration -- both because of the vote of confidence they represent for Philadelphia, and the demonstration of the role of creative vitality in how people choose where to live. But they are also another alert that we must redouble their efforts to ensure that our arts groups better serve the full spectrum of our increasingly diverse City. I expect similar conversations are going on in the arts communities of other cities around the country, as well they should.
Calling all HuffPost superfans!
Sign up for membership to become a founding member and help shape HuffPost's next chapter