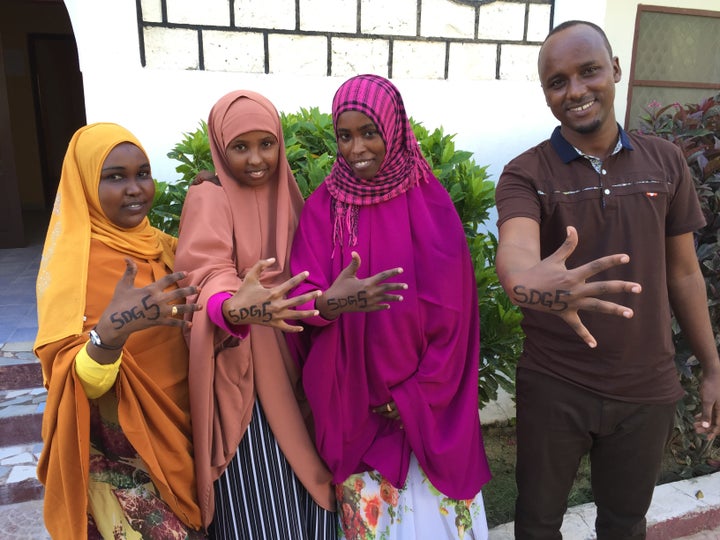 From March 13th to 24th, the 61st Commission on the Status of Women (CSW) will take place at the United Nations in New York. This year, what is usually a global celebration of activism and a yearly get-together for the women's rights community will be stained with frustration and anger.
Why? We will be missing our fellow advocates from Iran, Iraq, Libya, Somalia, Sudan, Syria, and Yemen.
President Trump's #MuslimBan is having devastating effects on families, men, women, and children. It is a huge attack on refugees and their rights as recognized under the 1951 Refugee Convention. On top of this, the ban will also have repercussions on the work and safety of hundreds of women's rights and human rights advocates in the countries that have been targeted.
Women's rights advocates are already constantly targeted for their work. You don't have to be a development expert to understand that those fighting every day for women's rights in the countries mentioned in the #MuslimBan are putting their lives on the line for a greater good every single day. And most of them who do so know that the rest of us – members of the women's rights community, and yes, also United Nations' institutions, champions, and agencies – have their backs. For these advocates, coming to CSW is not a yearly leisure trip. It is the vital pause in their activist life, the opportunity to raise funds for their important work, and the moment to build new alliances and partnerships that will be crucial to their work back home. It is also their right to take part in the processes of an institution created to defend human rights. By forbidding women and men from these countries to come to New York and the United Nations, the administration is weakening the women's rights movement at a time when its strength and sustainability is fundamental to world peace.
Abdifatah Hassan Ali, founder and director of Witness Somalia, is a young advocate from Somalia. He and his team are redefining what advocacy looks like in their country. Not only have they been documenting and calling out human rights violations, they have also been actively advocating for women and girls' rights to take part in national decision-making processes, especially regarding the implementation of Sustainable Development Goal 5 on gender equality and women's empowerment. Witness Somalia took part in our #AchieveSDG5 campaign, sending pictures and sharing their analysis of what needs to happen in Somalia, as well as recommendations to their government. The #MuslimBan means that Abdifatah will not get to come to the United Nations and share his invaluable work, nor will he get to hold world leaders accountable to their promises for gender equality.
Our Alliance members in Iraq have been supporting hundreds of women and children internally displaced by ISIS, providing them with skills, training, and food while advocating Iraqi decision-makers for the need of tailored services on health and education for displaced women and children. We wanted them to join us in New York in March to participate in discussions about how the SDGs could better be leveraged in today's Iraq. The #MuslimBan means they will not be able to come.
The ban means that these women's rights advocates' stories, messages, skills, and expertise will no longer be delivered or shared in person. And while we will always find a way of getting them heard, be it by leveraging technology or representing them, their absence is an affront to what the United Nations stands for, and what the United States, until last week, stood for too.
In the end, President Trump's #MuslimBan will amplify our solidarity with our fellow advocates unable to join us at the United Nations or anywhere else in the U.S.A. The women's rights movement has seen worse and will continue to work closely with its advocates who face travel restrictions from either their own government or a foreign one. The pang felt by the #MuslimBan reverberates around the world and this sends a clear message to women's rights advocates: they can no longer count on the United States as an ally in the fight against gender inequalities and violence against women since it no longer welcomes them on its soil.
Calling all HuffPost superfans!
Sign up for membership to become a founding member and help shape HuffPost's next chapter
BEFORE YOU GO