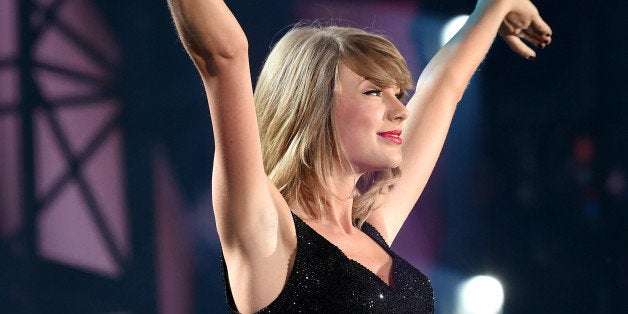 Pride month 2015 is over, and it was one for the history books culminating with a victory in the decades-long battle for marriage equality. I had so much I wanted to say throughout June, yet my emotions were so intense that nothing I wrote could capture the entirety of my thoughts. But Tuesday night, at a Taylor Swift show at Nationals Stadium in Washington, DC, I found my voice.
During the concert, I didn't think twice about putting my arm around my boyfriend, Jake, or giving him a kiss as we danced to "Shake It Off." But, it was what happened after the show that shook me. As the crowds were preparing to leave, a family two rows back in matching homemade pink and white shirts asked us (and all their neighbors) to autograph the shirts they'd created to commemorate the special night. We happily obliged and made small talk praising TSwifts performance. A few moments into the climb towards the stadium exit, the mother turned around and walked back to talk to us with a smile (and perhaps a small tear), "You have no idea how much it means to us, what you just wrote on my son's shirt. He came out about three weeks ago." Jake's autograph on the young teenager's shirt said, "Be proud of who you are!"
As we walked home reflecting on what just happened, it occurred to me that three weeks before the concert would put his coming out the same week the Supreme Court issued its landmark decision. Such timing is not a coincidence.
We celebrate Pride because our pioneers couldn't live their truth in public: because they could not hold hands, they raised their fists in protest. We celebrate Pride because nearly an entire generation didn't survive to celebrate with us. We celebrate because of all that we have accomplished in our generation. We have repealed Don't Ask Don't Tell, made gay bashing a federal hate crime, and created a country where nearly everyone -- including the Supreme Court -- believes we should have the right to marry who we love. Pride celebrates our achievements and our history: marriage equality was born of ACT UP, Stonewall and the Black Cat Riots.
We also celebrate Pride because we have so much left to do in the fight for equality, from employment non-discrimination, to cultural acceptance in sports, to reaching further into every community in the country -- from the rural to the urban, the South to the Midwest. And, we celebrate so that the next generation can see us and know that they have a community where they can live their truth, find their love; and they can be inspired to continue to make the world a more loving welcoming and better place for the kids who come after them.
Generational stewardship isn't just an activist's platitude. I was reminded of the real impact Tuesday night: it is the 13-year-old who sees hope in 26 million rainbows lighting up Facebook and witnesses love and acceptance at a Taylor Swift concert. To that young man -- we are proud of you. Likewise, your mother's pride was visible. All of us together -- activists of past, present and future, along with our allies -- will continue to make the world better. Tuesday night, I couldn't be more proud of our movement, which every day and everywhere gives inspiration to the next generation.
I think I'll listen to Taylor Swift each June from here on out to celebrate and commemorate what I saw at the concert -- and to remind myself what Pride is all about.