Champions of social justice and equality awoke on Wednesday, Nov. 9 to the stark new reality of President-elect Donald Trump. Rev. Jacqueline Lewis, a New York-based pastor and activist, confronted the new dawn with resolve and did what she does best: preached a gospel of love.
Lewis was among a group of faith leaders who organized a multifaith gathering in Washington Square Park Wednesday afternoon to bring people together across faith lines in solidarity after the election. The event, she told The Huffington Post after the fact, illustrated why Trump's election is poised to usher in not just a new reality for American democracy ― but a new era of American Christianity, too.
American Christians made up 75 percent of the voting public. The vast majority of white evangelicals ― 81 percent ― voted for Donald Trump, along with a majority of Catholics, Mormons, other Protestant groups and an assortment of other Christian denominations.
Throughout the presidential race, a smaller but vocal contingent of American Christians decried Trump's bigotry, xenophobia and sexism as deeply contrary to the values of their faith. They watched in horror as the results rolled in on election night ― many of them feeling betrayed by their faith communities.
"I'm ready to make allies with anyone who's ready to stand against hatred.""
"This election revealed that a far larger branch of Christianity has been married off to political power than we previously thought," author and progressive Christian Benjamin L. Corey told HuffPost.
Rev. Jim Wallis, author and founder of progressive Christian outlet Sojourners, said he felt Christians who voted for Trump "ought to be embarrassed."
"Donald Trump is the antithesis of every Christian value, from personal life, what he brags about sexually, to his worship of money, worship of power, worship of success," he said over the phone. "And yet that these Christians voted for him, what does that say about them?"
Rachel Held Evens, another well-known Christian author, wrote in an email to HuffPost: "We're about to witness firsthand what happens when the established Church compromises its moral authority and sells out the marginalized ― refugees, immigrants, religious and ethnic minorities, sexual assault survivors, the sick and those with disabilities, and LGBT people ― for the promise of power. It won't be pretty."
Yet for all these Christian leaders and activists, Trump's election also harkens some blessings in disguise. Primarily, it stands to remind progressive Christians exactly what they're fighting for.
"I'm going to fight for people to have jobs, for everyone to have enough," Lewis said. "I'm going to fight against racism and xenophobia. I'm going to fight for black lives. I'm going to fight for LGBT rights. Wherever the anger is, wherever the violence is, I'm going to fight for love."
And she added: "I'm ready to make allies with anyone who's ready to stand against hatred."
"When we stand in solidarity with the despised and the suffering, Jesus stands with us.""
As Lewis experienced on Wednesday, and Wallis, Corey and Held Evans echoed, the call to stand with people in the margins is beginning to mobilize Christians and other people of faith to a renewed fervor.
"Jesus is already present among the very people and places Trump despises as weak," Held Evans said. "When we stand in solidarity with the despised and the suffering, Jesus stands with us."
One thing progressive Christians can start to do, Corey suggested, is evangelize ― among other Christians.
"We need to continue converting Christians to following Jesus," he said. "We need to create disciples, and reach evangelical Christian Americans with the gospel of Jesus."
This is a gospel that has slowly given way to the religious right's gospel of political power going back long before Trump, Corey said. And it breaks down along racial lines. A closer investigation of the exit polls reveals that Christians were largely divided by race, with white Christians leaning heavily towards Trump.
"White Christians voted just like white people in America did, and being Christian didn't matter much," Wallis told HuffPost. "So how do we teach white Christians, white evangelicals to be more Christian than white? That's the issue going forward."
Wallis suggested that this begins with reminding Christians of the tenets of welcoming the stranger and caring for "the least of these" ― which are at the core of the Christian faith.
"Jesus says 'how you treat the stranger is how you treat me,' so we have to take him seriously," Wallis said. That will include holding police officers accountable for brutality against people of color, he said, and offering sanctuary to undocumented immigrants in the churches.
"[Border patrol officers] will have to push the pastors out of the way and arrest immigrants in our churches," he said. "Trump's building a wall, and we'll build circles of protection called churches."
The goal shouldn't be to "mend" American Christianity or build bridges between progressive Christians and Christian Trump supporters, Corey said. "Standing up for what is good and right and just doesn't always mend fences," he told HuffPost.
"We need to reach evangelical Christian Americans with the gospel of Jesus.""
But progressive Christians should be ready to unrelentingly preach love and acceptance, he suggested, even where it may "create some weird bedfellows."
"We had conservatives on the right, like Dr. Russell Moore of the Southern Baptist Convention, who I would disagree with on a hundred other issues who spoke out [against Trump]," Corey said. "Where we can come together I think we must all come together in unity regardless of religious identity or political persuasion."
These coalitions are increasingly going to be diverse, multi-ethnic and multi-generational, Wallis noted. Already the face of American Christianity ― and especially American evangelism ― is rapidly changing, and Trump's victory may be little more than the last gasp of white, Christian, patriarchal power.
"The mindset is that most Christians are Trump people, but no, the kind of faith I'm talking about is growing, the other is dying," Wallis said. "That's the future, that's who's growing ― young, diverse, multi-ethnic people of faith."
"Trump's building a wall, and we'll build circles of protection called churches.""
Lewis suggested that progressive Christians will need to focus less on banding together with fellow faithful than on forming partnerships built on social justice advocacy.
"Maybe what's happening is progressive people of faith are finding ways to connect around our shared beliefs that all people are children of God," Lewis said.
This contingent, she said, includes "people who believe life is precious.. everyone who believes Muslims are our neighbors and our friends," everyone who denounces violence against black people, anti-Semitism, and Islamophobia, and "everyone who believes love is a revolutionary force."
"All of those people are joining together right now, we're crying together, plotting and planning how to resist together," she said. "That to me is the new religion, the new Christianity."
Related
Before You Go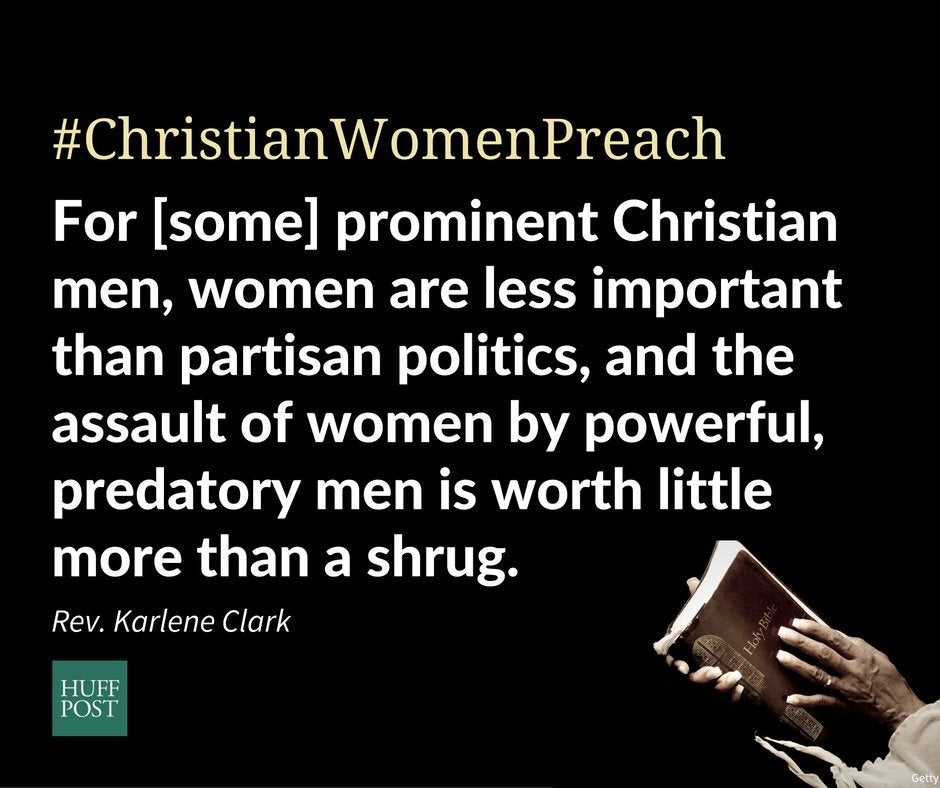 Christian Women Preach
Popular in the Community