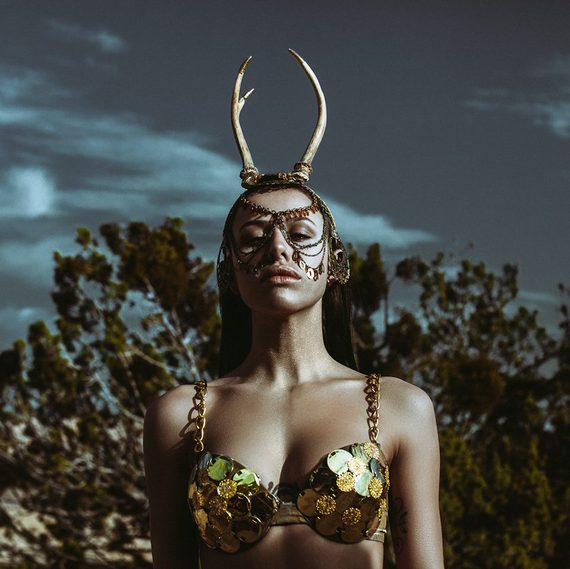 What happens in the dead of night, when all good citizens are asleep in their beds? Well, if you're the experimental - and not a little creepy - pop artist Ramsey's new single "2am," you are up to no good. The Los Angeles-based shock act's new song is a carefully constructed trip to an audible bondage land.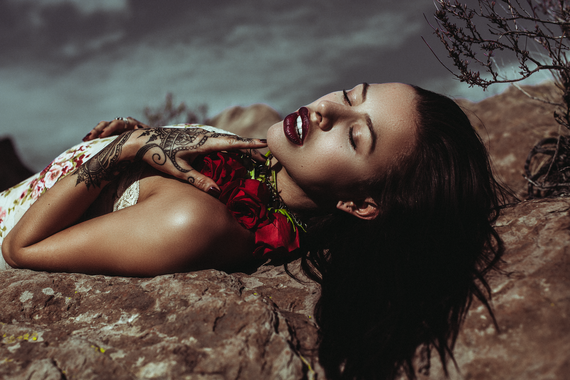 Are you a fan of Marilyn Manson or perhaps someone looking for a sweet new jam to pop in after you get your vampire teeth put in? Giiirl, I got you covered. "2am" takes from many elements to help Ramsey - a talented singer - make her newest single sound like a lurid trip to a bondage den or a bondage cage or a place where you can't get out of but someone is singing. WHO IS THAT?
The lyrics set the stage for a "Fifty Shades Of Gray"-esque montage with one liners like "I become the abyss inside a dark empty prison," "he won't let me come down," and "use me like a doll." While playing the single, fans on SoundCloud pipe up to give kudos to her vocal quality. And for good reason: Ramsey has an entrancing voice that feels like Bjork and Christina Aguilera had Rosemary's Baby together. Ramsey's singing voice is well controlled yet pleading. Through her handful of tracks that are available, she has an ethereal quality that comes off feeling like a slower paced, Britney Spears-esque cousin who slinks and warbles through the majority of the song's cadence.
And let's talk about what that cadence adds, shall we? The slow thump of the backbeat as part of her mix underneath the singer's pleading feels like a slow, steady march to a prison, again enforcing the track's bondage-esque theme.
There's a barely audible whisper of "release me," and later, a second that's just a gasp of air which adds a quiet touch to the already well-painted picture.
As she did in her previous, frightening single "See You Bleed," there's a series in the mix of Ramsey singing in stereo during her ending solo as her own accompaniment. It feels a little eerie here, adding another layer to the blend that the thump plus the lyrics themselves have added.
Like her other singles "Slave" and "See You Bleed," this, too, would be happy at home in the trailer for a new HBO show about a vampire or bondage, or both. Perhaps with cords of garlic.
You're welcome, pilot season.
When listening to this, you hope that Ramsey - when she performs this live - will lean into the stylized presentational factor she emits and do it up in her evil Lady Gaga style. She already is wearing horns like a demon in her cover art, as well as dripping blood in previous singles' design.
If you're in the LA area, there's a chance to see for yourself; April 4th, she plays The Mint at 10:30. Though she says the show is "all ages," I'm guessing you should leave your littlest gremlins at home.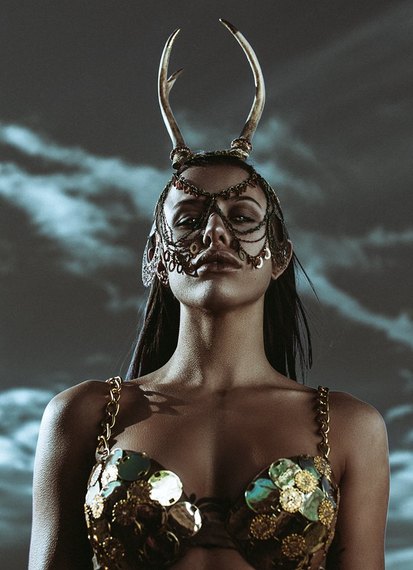 REAL LIFE. REAL NEWS. REAL VOICES.
Help us tell more of the stories that matter from voices that too often remain unheard.