Reality television fans all have assumptions about how much is real or fake in the shows they are watching. Sometimes there are giveaways and other times you just know that so-and-so didn't have that brilliant idea on his own because, let's face it, the guy is not that bright. A producer came up with it and they made it happen on TV. How scripted, or unscripted, a "reality" show may be depends entirely on the format of that particular show, and how the producers plan to edit it.
I've written a number of blogs about participating in a reality television show to answer questions from new "talent" considering a dip in the reality TV pond, and also for their family members who are concerned about how their loved ones' debut will affect their own lives. But the most interesting questions I've encountered have come from my own interns (college seniors) here at Weddings in Vieques.
All our new interns arrive having seen TLC's "Wedding Island" and they don't know what to expect. They quickly learn we run a really organized company and I rarely yell, contrary to the way it looks on the show. They also see that it's very much like the show depicts things - we are located on an island, off another island, and you cannot leave after dark. We work long hours. If something goes wrong, we have to fix it ourselves. Emergencies happens and we manage them. Nothing can wait til the last minute or chances are you won't make it happen at all. After being here, they know "Wedding Island" was as unscripted as it gets.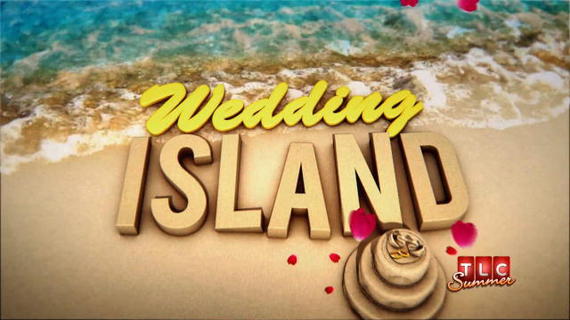 But after reading my last blog about reality TV, this summer's interns sat down to ask me a lot of questions. I was fascinated about the things that interested them most. So I started a list of the 10 things real viewers most want to know about reality shows, as dictated by two millennials who don't even remember a time when TV wasn't almost entirely reality shows. They had a lot more than 10 questions for me, but this is where we'll start:
1. "Is everything on reality TV real?"
After being here for a month, my interns knew the answer to that question even though they both asked it - and we all laughed and rolled our eyes. But there's a better explanation for somebody who hasn't found themselves dropped into real life on a reality TV show they actually watched, like my interns.
How "real" shows are depend on what show you're watching. Obviously, if it's a contest show like "Survivor" or "Big Brother," almost everything is scripted and orchestrated except the contestants' reactions to things and who actually wins. On shows like "Real World" and "Jersey Shore," they're filming 24-hours-a-day just to catch the "talent" doing stupid things that will make for great television. I'm a "Hell's Kitchen" fan but I'd be the first to point out how much we don't see that goes on behind the scenes there. It's highly scripted. But that doesn't mean it's a bad show. It's the formula that works for that particular production.
Lots of home improvement shows are "real," in that they truly show what is being done on a project. But they usually don't show how long it REALLY took to renovate the house, defunk the house (thinking "Hoarders" here), or put it all back together for those final "big reveals." Not everything that's shown to be done overnight actually is.
When you watch real estate shows about people looking to buy homes, they've usually already purchased and renovated their new houses before the filming even begins. The houses they look at probably weren't even on the market when the homeowners were actually house hunting. To even be considered for participation, you have to get a ton of "before" footage the network can use for the production. That's why you keep seeing the same real estate agents and destinations over and over again. They know what B-roll the network needs to make the show look like it happened in real time.

2. "Do you have a hair and makeup crew around to make you up?"
I WISH they provided hair and makeup stylists for every reality show, but that's not something you get until your show has multiple seasons and you can negotiate it into your contract. Some of the bigger shows (think of the "Housewives" franchise) provide those sorts of perks, but for the vast majority of new reality television talent, it's up to you to deal with your clothing, hair and makeup. And to check yourself in the mirror as frequently as possible because probably nobody on the production crew is going to tell you if you look like hell because they'd rather catch it on camera. They only tell you when your hair looks bizarre or your lipstick is smeared when you're sitting there filming hours and hours of interviews that they fill in through the different episodes.

3. "How did you get your own reality show?"
A friend's husband brought a camera crew to our island to film a double-wedding weekend after hearing too many weird and bizarre true stories about things that have happened at weddings I've planned. In just a few days, they caught footage of me executing a gay wedding (with one groom in a military uniform) and a blonde bride who turned her hair completely green two days before the wedding. How could they not sell a show like that? But the short answer is that I didn't go looking to star in a reality show like "Wedding Island," the producers found me.
4. "Do the producers ever tell you what to say?"
To their credit, the producers from 495 Productions never told me what to say when we were filming the show with brides and grooms. Sometimes, they ask you to repeat things if background noise interrupts something really interesting - and we have a lot of weird noises here including big sound trucks that broadcast the local news. They tell you what to say when you're filming the voiceovers during the editing of the production into actual episodes of a TV show. By for the most part, they're asking you to say things you've already said, or things that are obvious statements of fact they need for the storyline. I never had a producer tell me to say something specific and play it off as something I really said. I also never had anybody try to force me to say something I wasn't comfortable saying.
5. "Are you the person actually live-tweeting when the show is airing?"

Yes, I did the live-tweeting for myself during TLC's "Wedding Island" but I'd never been on Twitter until a few episodes in, when my interns insisted that it wasn't optional. They were right. Most of the time, it's the REAL reality stars doing their own tweeting. Unless you're somebody very important with many seasons and a bunch of people behind you, you have to do all your own social media. You have to work to promote your show too. It's part of what you agreed to in most reality television production and network contracts. And it's too your advantage to interact with fans on social media to get the show's name out there.
6. "Do you get assistants while taping?"
Don't I wish! No, production doesn't provide any assistants to make life easier - that wouldn't be reality! The only assistants that I had on my show were the people who worked for me for a paycheck.

7. "Does everyone (characters who return every episode) on a reality show get paid?"
No, only the stars of a reality show get paid unless the show has been on the air for multiple seasons and those people have become important and recurring characters. For example, my employees and interns didn't get paid extra to participate in "Wedding Island," however; I did have to pay them for every extra minute involved in production for the show. If the producers wanted to interview my employees for however many hours, they added it to their timesheets and I had to pick up the tab. It took a massive bite out of what we got paid to make the show. Also, filming everything makes every activity take three times as long as it usually would. That meant that my flower staff and setup guys were getting three times as many hours as usual, all on my dime. And no, I didn't realize that would be how it would go down when I agreed to make the show. It's important for business owners agreeing to do reality TV to be aware of this so they can negotiate extra pay for their staff into their contracts.

8. "How did you and the production company arrange what could be filmed and what could not?"
When I signed a contract with Discovery to make "Wedding Island," I basically agreed to let them film everything that goes on in my office and at my weddings. They could do limited filming of my husband and me at home, but we're not really at home that much when we're making two weddings a week happen like we did for the show. The next challenge was to get 12 of my real clients to agree to sign on to be part of the show. Because the show focused on the planning, and not so much on the couples, we didn't have much problem convincing them. With that said, I refused to allow them to film me when I was talking to non-show clients (brides who had hired me but weren't part of the filming). Even though they couldn't use what was being said by the clients on the other end, I was afraid somebody would recognize me talking about their wedding to them on the phone and feel violated. Interestingly, one of my clients later asked me if something had included him, and I was able to say "absolutely not" with conviction.
9. "Has the TV production crew completely altered and twisted the context of a situation? Have they cut and pasted scenes to change the overall message?"
The show gets put together by editors, some of whom were on set (actually sitting in a control van nearby) when the show was filmed. By and large, they were fairly true to what actually happened and I wouldn't say they "twisted" things, but there was definitely some creative editing. For example, my cake lady wouldn't speak to me for a month after "Wedding Island" first aired because they made it look like she arrived at a beach wedding - late - and honked in the middle of the ceremony to announce her arrival. That didn't happen. She honked when she delivered the cake an hour before the wedding. I felt terrible because she was right - it definitely painted her in an unprofessional light that she didn't deserve. It took awhile to get people to understand that my husband and I had ABSOLUTELY NOTHING to do with the editing of the show.
10. "This question is kind of funny because I saw it on an episode of Keeping Up with the K's but were you ever offended by what the press said about you? Or did you just pull up your big girl panties and ignore it?"
The Kardashians get more press by noon every day than my show got during its entire season so there are a lot more opportunities for them to be offended! But yes, it's hard to read reviews that called me names, made fun of my appearance, and were generally negative. We were on "The Soup" on E three times and having Joel McHale totally bust on me was REALLY painful. But it was the best possible publicity the show could ask for - most people are dying to be ridiculed on "The Soup." I was already good at laughing at myself, but a stint on reality television toughens you up pretty quickly. I learned fast not to respond to "mean tweets" and how to use the "block" feature on every form of social media out there.
The interns had a LOT more questions and maybe we'll use them for another blog, but you can always send me questions about wedding or reality TV or interns to my "Ask Sandy" link and I'll do my best to answer them.
There is no exact definition of reality television and there's definitely no rulebook the production companies follow. Some are more aggressive than others, and they have reputations for being that way. But they make really good shows that people want to watch. Others take a softer approach with their talent during filming, but at the end of the day, they take it all into the editing suite and turn it into whatever vision or storyline they've imagined for your show all along.
Viewers have more opportunity than ever to interact with show's stars via social media such as Twitter, even live-tweeting with them while the show is airing much of the time. The entire cast of BravoTV's "Below Deck" was live online for every episode last season.
The takeaway here is that every viewer has to use their own common sense, and imagination, if they really want to figure out what's going on during a reality show. Not everything can be shown in an episode, and sometimes the sweet, warm and fuzzy stuff gets lost when they're highlighting the drama. End of day, regardless of the show, most reality TV talent participating in them are (or were) regular people before they signed up to do a show. How successful that show becomes determines what comes next and who they become. Heidi Montag of "The Hills" wasn't the bad plastic-surgery-poster-child back when she first signed up to be on TV.
Calling all HuffPost superfans!
Sign up for membership to become a founding member and help shape HuffPost's next chapter