 Today, Roger Penske called off talks for his takeover of Saturn, almost certainly dooming yet another General Motors division.
For so many months, it's seemed like a slam dunk for one of the auto world's smartest and richest executives.
Penske, whose racing team has won a record 15 Indy 500s, had come to agreement with GM to take over their once-vaunted Saturn brand as a distributor, keeping the stores open and workers making cars.
It appeared to be great deal for Penske; he would initially buy cars from GM to sell as Saturns at his stores, then in another two years work with another carmaker which would supply the cars, branded with the familiar "Saturn" name.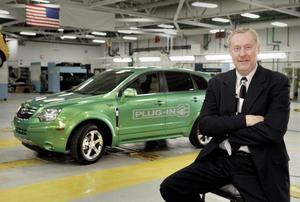 A GM exec with a car which will never be; a 2010 Saturn plug-in hybrid
Though details were never forthcoming, many thought Penske was getting Saturn for next-to-nothing. He would supply the approximately 250 dealers with cars and trucks; he wouldn't have to make the cars, he wouldn't have to sell them; just be the go-between the factory and dealers. He was going to be a car distributor, the same way he's the Smart car distributor for the US.
But that "other" carmaker, never officially named, the one Penske needed to supply him and his Saturn stores with vehicles, dropped out of the negotiations when, according to Penske, that company's board of directors balked.
So as of today, he has nothing to distribute.
GM said after the Penske announcement that they would begin "winding down" Saturn as a corporate division.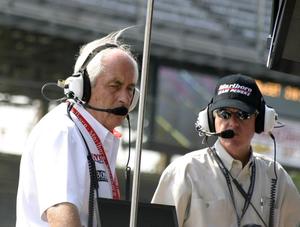 Roger Penske at his favorite weekend hobby; in the pits, running his IndyCar team
It's an ignominious and atypical end to the deal for Penske. He's used to being in close control of his vast business empire (he's one of the world's biggest car dealers, for one thing), and that another carmaker's board of directors would doom his dream must especially chafe.
Penske's failure will almost certainly result in Saturn's demise, and publicly, officially and finally ends the Roger Smith era at GM.
Smith (the "Roger" in Michael Moore's first film, Roger and Me) was ultimately considered something of an uninformed buffoon by the time he left his GM CEO position. He didn't speak well in public and always seemed ill-at-ease at media events, But he was also something of a visionary, if not always as detailed as he should have been, with his creation of Saturn and he was a tough political in-fighter who held some sway over GM for years after he officially left.
Smith created Saturn in the early 1990s specifically to do battle with the Asian imports. Dealerships would be open and friendly, prices would be "no haggle" and buyers would be treated with respect.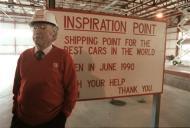 Roger Smith at the Saturn factory he built
Smith built a dedicated factory which would make only Saturns in Spring Hill, TN, a hint of the industry's future moves to southeast "greenfield" locations. The contract between Saturn and the United Auto Workers was way ahead of its time and is still considered a model of fairness.
Smith didn't want the GM name associated with Saturn at all; he even hired an ad agency with no automotive experience, Hal Riney and Associates of San Francisco as Saturn's agency. Riney himself did the voiceovers for the spots, classics of the sort (his company also created and he voiced the infamous "It's morning in America" ad for Ronald Reagan).
Even when things went wrong, Saturn seemed able to turn it into a positive.
When a customer in Alaska had a problem with their car's seats, Saturn flew a technician there from the Lower 48 to make the fix, and that made national news (and a good TV spot). When the occasional recall hit, dealers would hold cook-outs when owners brought their cars for repair to strengthen their bond with their customers. And things were fixed right, the first time, if at all possible.
Perhaps most surprising, for several years "Saturn Homecoming" conventions were held at the Spring Hill factory, with thousands of owners driving from everywhere in the US and Canada to attend.
This is something you expect at, say, the Corvette plant in Bowling Green, KY -- not at a factory building cars selling for around $20,000.
Saturn indeed became an American phenomenon, and there was a major reason behind their success: they built pretty damn good cars. Combined with the dealer attitude towards customers and the great PR the company was getting, GM appeared to have a winner, possibly a huge one.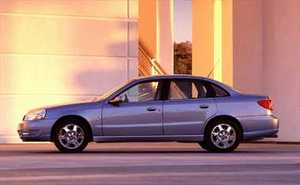 A 2003 Saturn; the company was on its fatal downturn by this point
GM started running out of money a long time before the current depression. As the 21st century approached, GM's board apparently chose Saturn to suffer most from the downturn.
Saturn dealers started selling cars and trucks not built in Spring Hill and available in other GM stores under other names, and those cars were not covered with what had become a Saturn trademark --- plastic body panels to ward off parking lot dings.
Though the dealers stayed loyal to Saturn's original concept of treating the customer like they'd never been treated at a car dealer, since 2000, new product barely trickled into the stores (this is how a carmaker can punish dealers or an entire division) and not-so-slowly Saturn appeared destined for some sort of failure.
Why was Saturn picked by the GM board to suffer? Some think, with a new generation of leaders, it was the company's way of thumbing the corporate nose at Roger Smith, who had embarrassed GM so often and so badly. Others say it was because no one really knew what Smith had spent to create Saturn; many put the figure above $10 billion, in 1990 dollars, and some insiders told me Saturn would always be a liability and never be able to pay for itself, much less show a profit.
Another possible reason: Somewhere in every Chevrolet dealer's contract, it states that Chevy is the "entry level" car for GM. A Saturn store selling a lot of cars and trucks for less than the Chevys down the street didn't engender warm feelings from Chevy dealers towards Saturn. Chevy dealers are the 800-pound gorilla of GM; there are 3,812 Chevy stores in the US, and that carries weight with the corporation. Perhaps those Chevy dealers just wanted Saturn to go away -- and GM wanted to avoid lawsuits.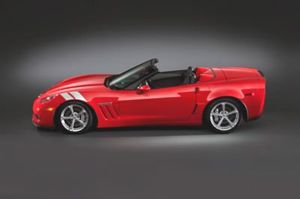 A 2010 Corvette Gran Sport, the modern version of Roger Penske's 1963 race car; both the Corvette and Saturn factories are far from Detroit
It's no secret that Roger Penske has been sought-after by every carmaker in Detroit to serve as a top executive. He's always turned them down, preferring to run his own companies as he pleased and succeed or fail on his own terms. Penske, along with very few others, including Walter P. Chrysler, Pete Petersen in the '80s at Ford, John DeLorean, Lee Iacocca and Bob Lutz, is certainly among the smartest people ever in the car business.
Over 20 years ago, on the day he opened his $100,000-million California Speedway with a full house of over 100,000 fans and great racing events, early that morning I watched Penske drive a minitruck around the track and the infield area, stopping to get out and pick up litter when he spotted some. He leaves nothing to chance; that incident told me all I needed to know about Penske.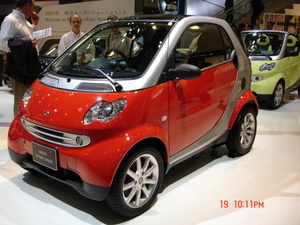 Want a Smart car? Daimler, its owner, distributes Smarts to its dealers in the US through Penske
And he's still going strong at age 72. Daimler picked Penske to distribute their Smart car to its US dealers. Longo Toyota in southern California is reputed to be the single biggest car dealer in the world of any type, retailing a new car or truck every 15 minutes, 24 hours a day, every day of the year. I never recommend dealers because it often turns into a nightmare and I become the bad guy: Longo is the only dealer I recommend and I've never been disappointed.
Penske almost tasted the sweetest irony. He's been on GM's radar since he won the Sports Illustrated Driver of the Year award racing sports cars in 1960, then started a Cadillac dealership in Philadelphia, but GM could never get him to work for them. (Penske even raced one of the five legendary 1963 Gran Sport Corvette race cars, built to take on Ford's Cobra, which they did.)
Then Penske gets a chance, almost 50 years later, to essentially own a former division of that same company. Then, the deal fails because of an unnamed foreign carmaker which couldn't supply Penske with the cars he'd need to get to his Saturn dealers, something out of Penske's control.
He's also known, not surprisingly for a top business person, for a certain steely coldness. When his racing team fired Paul Tracy from his IndyCar racing job, one story says that Tracy was called to a hotel room where he found two seated Penske executives, and he was simply told, "You're through." And that was that.
Automotive trivia lovers probably know that Enzo Ferrari was known as "Il Commandatore." Roger Penske is known as "Captain" to those around him, and his achievements are legion, outliving those of even Roger Smith.
Can Saturn survive? Is there another savior out there with the money, brains and experience to keep those stores open, cars selling and most important, people working? Or could only another car company do what Penske had planned for Saturn?
Popular in the Community