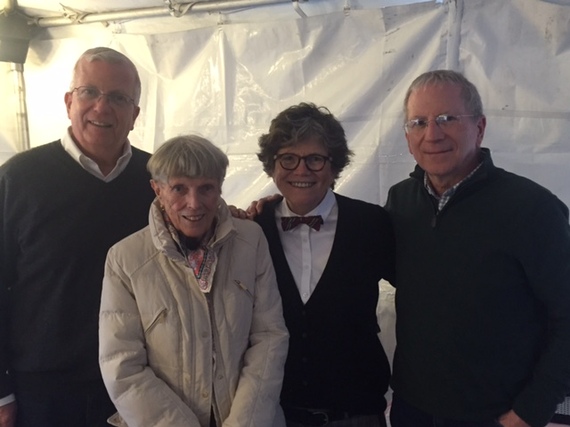 This is not a typical post for me. But yesterday was not a typical day. Not for America and not in my family.
I'd like to talk about the intersections of those things and maybe help you to think about your own loved ones, your life, your community, and the lives you touch in a way that puts yesterday's election results in perspective.
My mother is a feisty, irascible 89-year-old, sharp as a tack. Tough as nails.
She went in for surgery to contend with a pacemaker that needed to be removed and placed elsewhere.
My mom survived, but whatever else could go wrong did. As I write this, she is on a respirator in the ICU at a great hospital and in the best of care.
This is not what she would want. She had a DNR and every imaginable document to keep from prolonging her life but no document could keep doctors from doing what they do best -- save lives. We are now going to take it day by day.
I'm not writing this for sympathy. I'm writing for perspective.
WILLIAM SONOMA AFTER 9/11
My wife Eileen was the Chief Programming Executive at the Food Network from 1997-2005. She brought us Ina Garten, Rachel Ray, Iron Chef. You name it. She understands the central role that food plays in our lives.
After 9/11, she said in what appeared to be a non sequitur, "William Sonoma will not be able to keep roasting pans on their shelves."
"Families will focus inward, on what's important: each other. They will nest. They will roast chickens and come together."
I got it. And as she so often is, she was right. Roasting pans flew off shelves.
FOCUS ON YOUR CORNER OF THE SKY
Here's what I hope you take away.
Control what YOU can control. Clearly controlling Donald Trump is not high on the list of the controllable. Nor are so many things in politics. There are ecstatic Trump supporters among my readers and devastated Hillary supporters too. And maybe nothing will be quite as bad as the ugliest campaign I can ever remember. I don't know.
But here's what I do know.
I have a family so empathetic, kind, wonderful, smart funny, and colorful - I have no idea how I got so lucky.
I have the most wonderful brothers and their wives are kind, good hearted and generous. They have the nicest grown kids and a world of children who bring me joy and hope when I see them in person or on Facebook.
I do work that helps others solve problems in their communities. Feeding the homeless, offering free legal advice for those who need it, educating our kids to be empathic, global citizens of the world, researching to end disease. I can continue to do this work regardless of who lives at 1600 Pennsylvania Avenue.
IT'S TIME TO FOCUS ON THE PEOPLE YOU SERVE
We don't know what's in store but we do know this. Nonprofits were created to fill gaps that government couldn't or wouldn't fill. And that most certainly feels more important today than it did before Election Day.
You, more than any other folks I know, have a mission. You have a way to channel the uncertainty. If you voted for Trump, you have a mandate to do more if the government will do less.
And most importantly, you have the remarkable opportunity to work to change the part of the world that you can actually control. Your community, your animal welfare shelter in your town, your food pantry.
You can use your bully pulpit as a person of faith to remind people that our society is made of families and communities and when these are strong, so too is our country. Regardless of who occupies the White House.
I do hope you will remember this today and in the days to come. Remember, your work is about repairing the world - in ways large and small.
And we need this kind of work now more than ever.
Please, no regrets. Call your family. Stay in touch with them even if they annoy you from time to time. I myself am off shortly to the ICU to read my mom the new Carol Burnett book. I hope she can hear me.
Invite your friends and family to dinner and don't talk politics. Talk about what we can control to make the world a more generous and compassionate place.
And besides, I hear there is going to be a sale on roasting pans at William Sonoma.
Popular in the Community