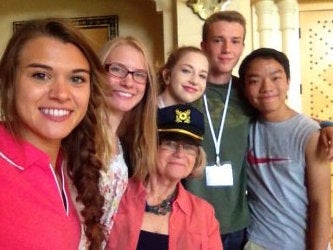 October is National Bullying Month and it's important to shine a light on the fact that 4,400 children choose to take their own lives in the USA every year.
The statistics speak for themselves: Studies show that 49% of kids have reported being bullied in school, which causes emotional turmoil for the children as well as absentee and administrative issues for the schools. In a school of a 1000 high schools students, bullying can cost 2.3 MILLION per/year. And, worse yet, bullied students are 2-9 times more likely to take their own lives.
One study even showed that bullying has a greater impact on long-term mental health issues than child abuse. Dieter Wolke, a professor of psychology who was a researcher in this study says, "Being socially excluded and being a social outcast is about the worst stress that we can experience, more than other pains."
Beyond the physical, social, and emotional bullying at schools, with the advancements in technology, this behavior carries on beyond school walls and shows up as cyber-bullying in the world of social media and texting. And, often anonymously. All have devastating impact on a child's self-esteem and emotional well being. Parents, teachers, and school administrators all need to become active participants in becoming part of the solution.
The effectiveness of current anti-bullying programs at school is widely debated, showing that results take much time and consistent effort to manifest, if at all. One study, conducted by the University of Texas at Arlington, even suggests that students were more likely to have experienced bullying at schools with anti-bullying programs in place. This support the notion that something needs to change.
Marty L Ward, founder of the 501c3 Confidence Eliminates Bullying, believes that we've been tackling the bullying issue all wrong. She points out that all of the campaigns talk about "anti-bullying" and "stop bullying," but since what we put our focus on grows, and what we resist, persists, bullying just gets worse, not better. Instead of making "anti-bullying" the main focus of her programs, she create confident kids by building them up from the inside out.
She works with teachers, parents, and children with her signature program which teaches them to do what she calls, "TAG Kids for Success™." TAG is an acronym for Talents, Abilities, and Gifts. The proven theory is that when you acknowledge your Talents (what you do: Leader), your Abilities (the ingredient it takes to perform that talent: Creative, Inventive, Imaginative, Intuitive) and your Gifts (what you give the world with as a result: Encourage, Support, Inspire Teams), you automatically increase confidence and feel better about yourself.
When children (and even adults) feel good from the inside out and believe in themselves, the words of the bully lose their power. This even works on the "bully" who, with a new sense of confidence, loses the desire to hurt others.
Marty's programs are making a difference as far away as Tanzia Africa with the Maasai tribe. She is based in central Florida, where she works closely with parents and school officials, and has recently launched nationwide programs to help save lives.
For more information on creating confident kids in home and at school, and how you can play a part in helping to reduce the number of tragic child suicides each year, visit www.confidenceeliminatesbullying.com
(Dawn Gluskin is a truth-digger, storyteller, and word wizard that helps heart-centered entrepreneurs tell their stories that need to be heard. For more information visit www.BlissedCommunications.com and follow on Facebook and Instagram).
Related
Popular in the Community