Seven months ago, I lost my dearest brother Wyatt. Wyatt and I were like twins, yin and yang, two halves to a whole. Our father had died when we were barely one and three years old, leaving us alone with our young, 21-year-old mother. We helped raise eachother. He was my hero, my guide, and my biggest champion. I was his wingman, his protector, his devotee.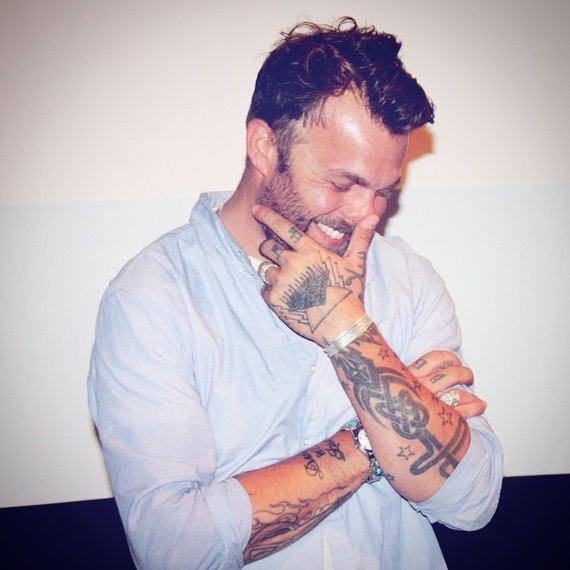 In June of 2015, at age 42, Wyatt died of an aneurysm while doing one of the things he loved best: exploring the open road on his motorcyle. In his pocket, he carried carefully chosen shells and stones he was bringing home to his beloved children, Takota and Stella. Wyatt was a deeply committed, loving father, and had sworn to devote his full heart to his family so that his children wouldn't suffer what we had as children. No, they wouldn't lose their father like we had. (The parallels of this are a story for another day.)
And then in an instant he was gone.
Traumatic, sudden, early loss like this is very hard to describe. The suffering is violent in nature. The physical, let alone emotional and psychic pain, tears your insides apart and dares you to keep living. I have only recently begun to emerge from the haze of shock, pain and disbelief. I can only now maybe, sort of, believe he is gone.
Throughout this time I have spent many long days and nights searching for meaning. I have read beautiful books, taken some incredible grief and spirituality courses, written hundreds of pages.
One of the most powerful lessons I've learned, that I would like to share today, is about perception versus reality. About who we are in this world versus who we think we are. That we are, in the end, not much more than our essence.
Wyatt was a badass, a warrior, a fighter. He questioned all the answers and pushed everyone around him to do the same. Through his photography he captured America the Beautiful in all of its rowdy, raunchy, and also breathtakingly beautiful discontents. He made people mad, but he also inspired them to be their best, to set their goals higher, to not succumb to apathy about the injustices around us.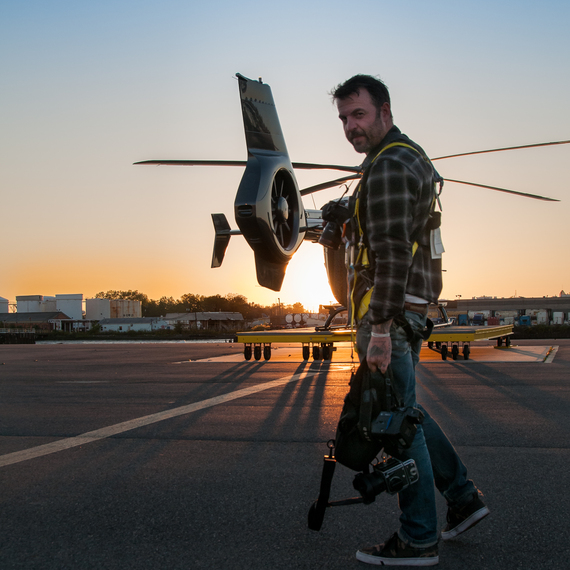 Wyatt was also all heart. His greatest desire was to become a father, and be completely present the way our father couldn't be for us. Anyone who knew or followed him (#dadlife) witnessed the full-hearted, more than all-in way he approached fatherhood. He also devoted a huge amount of attention to being a hero to others. This became intensely apparent after he died -- we received hundreds of stories from people he had counseled, rescued, empowered, seen and heard with a totally open and non-judgmental heart.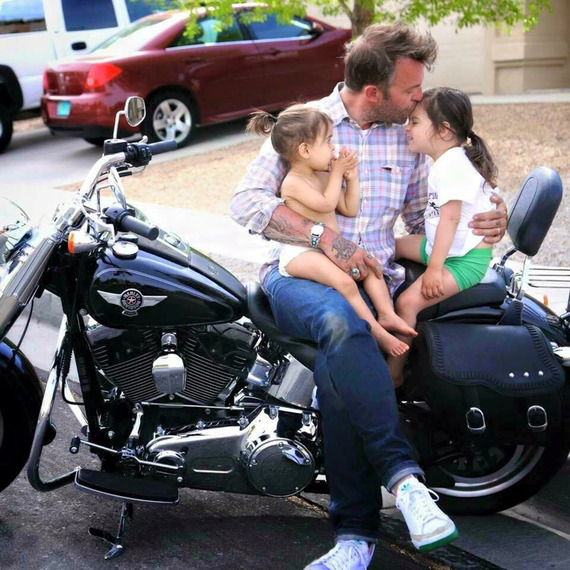 This was Wyatt. A warrior, artist and lover.
Yet what do we, especially as adults, spend the majority of our time focused on? Our careers. Our success. How others see us.
One year ago, Wyatt and I took a long hike and had one of our epic brother-sister take-stock-of-life conversations. Who are we? How can we be more successful? Where are our lives going? Will we ever reach the goals we set for ourselves? Obviously, given our ages of 39 and 42 there were some serious midlife-crisis overtones... which we saw and laughed about... but we both felt true concern about our legacies. Maybe he should have gone full-hog into his image/life/work as a motorcycle enthusiast (road warrior) and artist (photographer) instead of going into advertising. Maybe I should have dived head-first into Ayurveda and healing rather than getting enticed by power and influence in the realm of politics.
Now here we are. We find ourselves remembering the huge, tumultuous, heart-filled life of Wyatt.
His impact on those around him. How he made people feel. His bottomless love for Jena and the kids. His stunning artistic eye and talent as a photographer. His brilliant mind and unceasing humor.
In this, we remember him exactly as who he hoped we would: as a warrior, artist and lover.
This legacy has nothing to do with what he worried about vis-a-vis his career success and work in advertising.
His legacy is shaped by who he was as a person. His essence.
It is our essence that matters.
So let me ask you this: how can you step outside of yourself, while you still have time, and get very honest about who you really are versus who you want to be/want to be perceived as?
If you can identify that, and then spend your days amplifying that with love, focus, pride and true self-acceptance.... not even the sky is the limit. You will become boundless.
Because this is who you already are. I repeat, this is who you already are.
Learning to embrace, maybe heal the broken parts, own and love your essence is the greatest gift you will ever give yourself, your loved ones, the world.
Wyatt was on his way to doing this, and I hope that wherever he is now, he can see that he was exactly where and as he was supposed to be. His essence shone through in brilliant technicolor.
This post is part of Common Grief, a Healthy Living editorial initiative. Grief is an inevitable part of life, but that doesn't make navigating it any easier. The deep sorrow that accompanies the death of a loved one, the end of a marriage or even moving far away from home, is real. But while grief is universal, we all grieve differently. So we started Common Grief to help learn from each other. Let's talk about living with loss. If you have a story you'd like to share, email us at strongertogether@huffingtonpost.com.