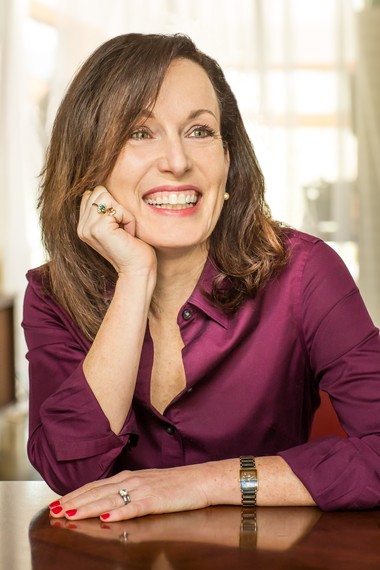 Bestselling author Alison Gaylin's first book, Hide Your Eyes received an Edgar Nomination. Her Shamus Award-winning novel, And She Was, was nominated for the Thriller and Anthony Awards. Her previous book, Stay with Me was nominated for both and Edgar and Anthony Awards. Alison is the author of the popular Brenna Spector series. She is a graduate of Northwestern University and Columbia University's Graduate School of Journalism.
What Remains of Me is a psychological suspense novel featuring Kelly Lund, who, one night at a party, shoots and kills Oscar-nominated director John McFadden. She does not reveal her motivation for the killing, and is imprisoned for twenty-five years. Five years after her release from prison, her father-in-law, a movie legend, is shot dead in the same manner John McFadden was killed thirty years earlier. Kelly becomes a suspect, but this time, she has allies who believe she's innocent of both killings. The novel steams ahead with twists, leading to a stunning conclusion.
What Remains of Me shifts back-and-forth between 1980 and 2010. Do any structural difficulties arise when you use shifting time frames?
When I first began writing the novel, I knew I wanted to tell the story that way. I anticipated it would be more difficult with shifting time frames but thought it was a more intuitive way to tell the story. I outlined each story--the 1980 and the 2010 elements--but wasn't sure when I would shift back and forth in time. I felt there would be a more interesting payoff for the reader if I told more of the 1980 story. At the end of the first draft, I thought I would have to do a ton of rewriting, but it came out much cleaner than I had anticipated.
Some authors worry they'll lose the reader by shifting time frames. Did that concern you?
I worried about it a little, but I couldn't figure out a better way to tell the story. There were two mysteries unfolding simultaneously. I felt if I kept writing flashbacks, I would lose readers. Having both stories unfold in the 'present' seemed the best way to maintain tension and interest.
What Remains of Me deals with many issues including the keeping of secrets. What do you think makes secrets so intriguing?
The fascinating thing about secrets is everyone has them. Most of our secrets are a lot less damaging than a murder. I think readers can relate to a character with a secret because it's basically the idea of having something so important and private, you don't want anyone to ever find out about it. Most people will do almost anything to guard that kind of secret. Some people fear embarrassment if a secret is revealed, while others hold a secret so dire, they feel their lives will be destroyed if it were to be exposed. In a way, I think the issue of having secrets is a universal one. I wanted to write a book with many unreliable narrators, including members of the press, who are also unreliable narrators.
There are many twists in What Remains of Me. Do you plan these in advance, or do they occur as you're writing the novel?
It's a mixture. I knew some of them from the beginning because I had plotted out what each character's secret would be. Other reveals occurred when something dawned on me while I was writing. One twist came to me as I was writing the second draft of the book.
There's one character in the book I really disliked. Did this character come from something you tapped within yourself, or is she partly based on someone you know?
My characters aren't based on people I know. There are certain aspects of my own personality I don't like so much, so I sometimes draw on that. Instead of creating a psychopath or a monster, I often look inward to create someone who's not so likable but who has reasons for being that way, even if the reason is selfishness or some other fault. It's like the secrets we spoke about--it's something we can all relate to, but perhaps I magnify it a bit to make it more dramatic.
I know you have various sources for ideas. What's the best source for your novels?
I get many ideas from news stories. I'll occasionally get an idea from a magazine article. Or, there might be a true crime story that captures my attention. It can make me wonder how I would feel if I were in a similar position. For What Remains of Me, inspiration came from several news stories where the press created a persona because the accused didn't act according to some prescribed script. The trial of Amanda Knox comes to mind. That story inspired me. If your exterior isn't viewed as likable, or if you don't seem as contrite as people think you ought to be, a narrative builds up around you, and you become a 'monster.'
Having done a great deal of work in entertainment journalism, I'm fascinated by how the press can create a public narrative.
What's a typical writing day like for you?
I start writing in the morning. I look things over with a clear head and rewrite scenes I wrote the night before. My inspiration phase seems to be more at night, but my editing phase--which is where I get the most work accomplished--is in the morning. If I'm stuck on a manuscript, I'll go for a walk or to the gym, to clear my mind.
I have to balance my fiction writing with other obligations: three days a week, I work at an entertainment magazine; I have freelance writing assignments; and I teach at an academy a few times a year.
When you're writing, do you find yourself dealing with the nearly universal tendency to procrastinate?
Yes, absolutely. (Laughter). That's especially true with social media. I can fall into a hole on Facebook or looking at news stories online.
How about writer's block?
I definitely get writer's block and it's really frustrating. If I go through a period of not being able to write, I get sort of depressed. The only cure for it I know is moving around, exercising, and then sitting in the chair and writing a really bad scene. It's better than writing nothing. There's always rewriting and revision.
How did you first make the transition from journalism to writing fiction?
I always wanted to write fiction. I started out wanting to be a playwright. When I graduated from college, I got a job reading scripts at a theatre in Los Angeles. I then got a job reviewing films for small newspapers. That's how I got into entertainment journalism. Then, I went to journalism school at Columbia, but in the back of my mind, I wanted to write fiction. I attended some fiction writing workshops, so it wasn't really much of a transition.
Who are the authors you read most often now?
I read many of the writers in my genre. My favorites include Laura Lippman, Megan Abbott, Gillian Flynn, and Alex Marwood, a British author.
What's coming next from Alison Gaylin?
I just turned in a proposal for another standalone novel. After that, I'd like to get back to writing more Brenna Spector books.
Congratulations on writing What Remains of Me, a highly imaginative tale of revenge, betrayal, family ties, and forbidden secrets which has been compared to the writing of Laura Lippman, Gillian Flynn, and Harlan Coben.
Mark Rubinstein's latest novel is The Lovers' Tango