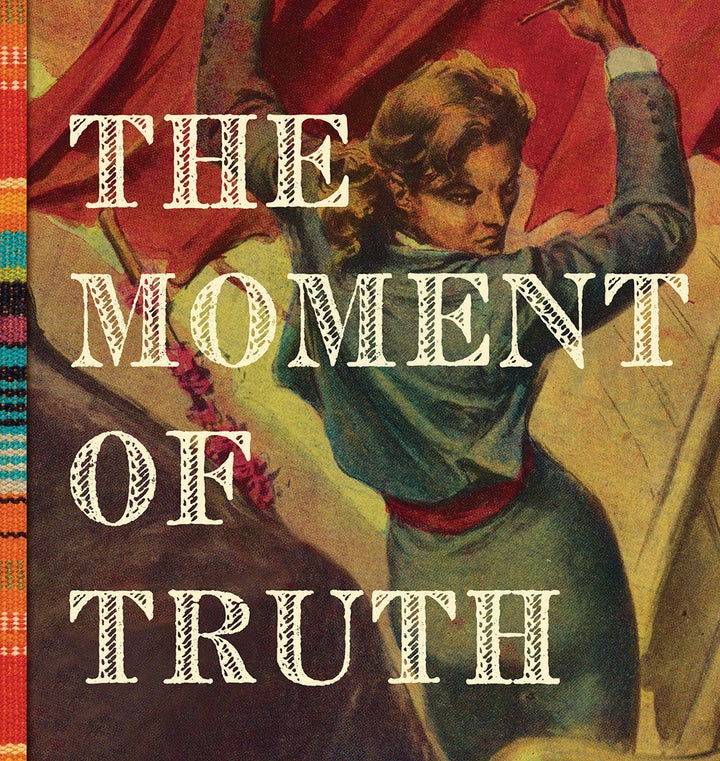 Discrimination came into my life in war-torn Northern Ireland. It informs my life, its ugly face in the casual racism, sexism, and classism I and those around me face every day. And it informs my writing. How could it not?
I first explored the challenges a young boy faced growing up gay in a very conservative Northern Irish community. Then, having grown up in a family with two independent-minded sisters, I wanted to explore sexism and gender inequality, to try to understand — and express — what they face on a daily basis. But I could never find the right way to begin a story.
A couple of years ago, I read the obituary of America's first female bullfighter and the veil lifted. Patricia McCormick eschewed convention and went to live in Mexico to train as a bullfighter in the 1950s. She was glamorous, of Irish-American heritage, and lived most of her adult life in Texas.  The bulls were not McCormick's only opponents, however. She could never shatter the glass ceiling. Rising from the amateur ranks to professional matador required the sponsorship of a full matador at a special ceremony, and no man would sponsor her. She was destined to remain a novillera — a novice — because the men in her field either feared risking their careers to sponsor her or were weighed down by the all-too-familiar sexism and bigotry leveled against a woman who had the temerity to want to compete in a traditionally male domain. Carlos Arruza, a famous Mexican matador of the time, once said, "Her only defect is that she is a woman."
I had found someone to model my heroine on, and bullfighting was the perfect career choice through which to explore issues of female ambition, male chauvinism, and the fight for equality. But a host of issues lurked behind that lifted veil: issues about animal cruelty and glorification of the sport. Another complex issue was whether I, a man, could write about the subject of bigotry against women. Discrimination had stormed over the hills, meadows, and sleepy towns of Northern Ireland during The Troubles, from the tip of Belfast Lough to the serpentine border with the Irish Republic, but it was of the sectarian kind, and my family encountered it personally when I was 14. My middle brother sustained terrible injuries in a traffic accident caused by the van driver employed by a powerful Protestant firm. The injury killed part of his brain; today, he still cannot walk properly and has formidable memory issues. Though Northern Irish tort law allocates responsibility among all the parties involved on a percentage basis, when the case went to trial, it was heard before an all-Protestant jury, whose members came from a sectarian part of Belfast. They unanimously denied my brother justice. The barrister was astonished and apologized to my parents on their behalf. This act of hatred affected my father adversely to the end of his life, filling him with burning anger and the feeling that he had failed his son.
As I grew older, my eyes opened wider to the discrimination meted out to the nationalist community by the dominant Protestant culture in Ulster. The local authority had intentionally surrounded my Catholic high school with a Protestant housing development to prevent expansion. Later, my father started a business and was denied lucrative government contracts on many occasions due to his religion. He also had to endure taunts from bigoted Englishmen, constantly referring to him as a "Paddy" when he went to their office to collect checks for a contract his firm had honestly executed.
At 18, as a young, gay man, I learned firsthand about the fear and hatred of gay people through the late Reverend Ian Paisley's campaign to "keep sodomy out of Ulster." He and his ilk despised gay people to the extent that they didn't want them to exist, never mind having any rights in society. Of course, in this regard, the oppressed also became the oppressors, as the Catholic community had no compassion for the silent queer community, either.
Slowly, I became aware of a subtler, equally insidious bigotry, one where women were hemmed in by a patriarchal society's expectations of what they should or should not do in their lives. Growing up, I knew that both Catholic and Protestant women did all the cooking, washing up, and cleaning. Dinner was expected to be on the tables when the farmers returned from the fields, though women also helped clean the barns, milk the cows, and "foot" the turf, of course. While men sired offspring, it was the women who exclusively raised them. Nor were girls allowed to play soccer or Gaelic football, as it wasn't viewed as feminine. They had to content themselves with participating in hockey, camogie, or netball, which were always regarded as inferior. So ingrained was this belief that even many women regarded female sports as inferior, too.
But does having firsthand knowledge about one kind of bigotry allow an author to write about the discrimination faced by another group? I worried that my writing about women's issues would be viewed as a form of theft, the type of cultural appropriation that Lionel Shriver referred to in her 2016 Brisbane speech as "identity politics." Shriver was criticized by some for concluding that fiction writers should continue to write characters of any and all backgrounds, regardless of their race, sexual orientation, gender, or other denominators in order to tell the story as the writer envisions it. I agree wholeheartedly with this outlook, especially in the case of historical fiction.
The years of the Second World War ushered in an unparalleled period of growth for women, a period in which they gained true independence. WWII afforded opportunities for women to prove (unwittingly in some cases, perhaps) that they could do the same work as men. Unfortunately, their independence was terminated abruptly and without their consent when the men returned from the European and Pacific theaters. Working women were expected to turn their work over to the men and leave the factory floors without complaint, ready to resume their duties as housewives and mothers. But the genie could not be put back in the bottle as the patriarchy wanted.
These rapid changes and the resultant conflicts of the late 1940s and 1950s were too compelling for me to ignore. I sought to tell the story of Kathleen Boyd, the daughter of one of these discarded women, a young woman determined to pit her drive and skill against men in an overwhelmingly masculine environment and prove she could do exactly what they could. Like McCormick, she was not content to work a socially acceptable job until marriage and then settle quietly into domesticity. I found my heroine, and our journeys through hatred ran parallel to each other. I had to tell her story because I needed to show readers that she — that we both — could triumph. I'm a man who told the story of a woman, and I'm happy I did. I'll leave it to others to continue debating my right to do so.
Damian McNicholl was raised in Northern Ireland and worked as an attorney in New York City. The Moment of Truth is now available wherever books are sold. His critically acclaimed first novel, A Son Called Gabriel, won awards and recognition, including an ABA Booksense Pick, a Foreword Magazine Book of the Year Finalist, and a Lambda Literary Awards finalist in the debut novel category. Pegasus Books will reissue the novel with an Afterword by the Author in September. Damian lives in Pennsylvania. Visit him at www.damianmcnicholl.com.
REAL LIFE. REAL NEWS. REAL VOICES.
Help us tell more of the stories that matter from voices that too often remain unheard.
BEFORE YOU GO