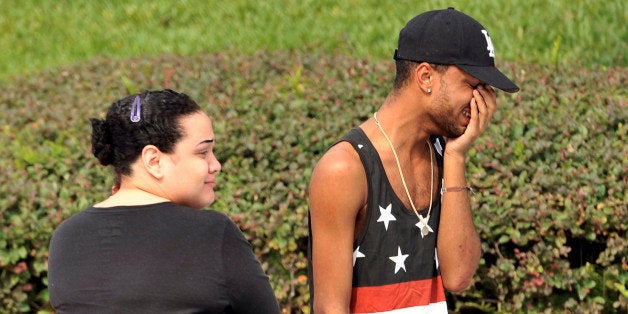 Here we sit, yet another tragedy striking this country again....
You know what scares me most about all of this though? The fact that over 50 people are dead from a single mass shooting, and I doubt I will hear ONE word about it when I go to my workplace tomorrow.
People will talk about their weekends, about the great weather, how someone with 50 items went into the 10 or less checkout at the grocery store. But chances are, nobody will talk about this shooting.
Why? Is it because they don't care? They don't watch the news? They are anti-gay?
No, I don't think it's because of any of these things.
I think our hearts, our minds, and our souls are tired of this violence. We're tired of waking up day after day, hearing about mass shootings and lives taken too soon.
We're tired of fearing for the safety of our children when they leave for school in the morning, or when we take them to the movies or an outdoor festival.
We're tired hearing of tragic stories where people's lives are taken for no reason, and without any warning. Where senseless murders and rampant violence are so common among the news stories, that we glance right over their headlines.
The violence and hatred has become so prevalent that we don't even address it 98% of the time. We don't even bring it up in conversation amongst our families, our co-workers, or our friends. Simply put, it's nothing new. We have become a nation that is desensitized to the violence.
Sometimes this hate just becomes too much to bear, too much to process day in and day out. So we start to avoid the news, and try to focus on the feel-good stories, that seem to come few and farther between.
While our hearts and minds are hurting from all this pain, it seems easier and less tasking to not focus on them as much. To just put a filter over our facebook picture to show that we care, and move on.
As much as we can't bear to handle any more stories filled with anger, pain, and malice; in the same breath we cannot be immune to their effects on us any longer.
We are better than this. Better than this world that breathes so much hate and evil into the lives of so many. We cannot change this overnight, but something needs to be done.
This is about the epic struggle for good over evil. This is it folks. This is where we are at. If this is not a turning point, what will be?
Our children deserve better than this. The future of mankind deserves better than this.
In the most simplest of terms, and yet the hardest battle to wage: love must win.
We need to step up. As a community, as a nation, and as the hope for our future.
Related
Popular in the Community