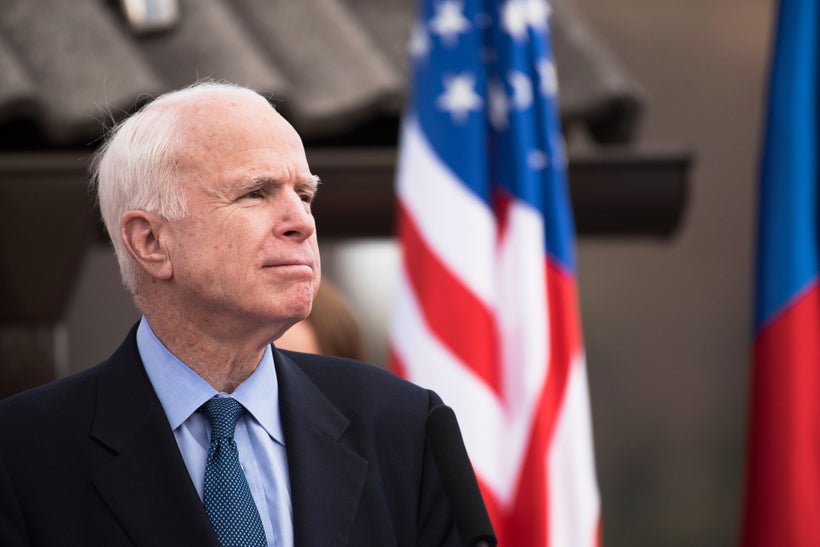 McCain is a brave war hero who needs to be around as long as possible to provide a sensible Republican counterweight to Donald Trump. It is impossible that McCain endured five years of torture to sit idly by and watch Donald Trump and his band of Goldman Sachs cronies destroy our democracy as well as the working middle class.
I am pleading with the senator, his family and their doctors to read the results of a recent study by GW Pharmaceuticals, which documented 40 percent greater life span after diagnosis of glioblastoma in those given conventional treatment plus a tincture of whole-plant cannabis, as opposed to just conventional treatment alone.
This result occurred even though the researcher used much lower doses than recommended on the internet for full extract cannabis oil (aka FECO, RSO, Milagro Oil). GW used 75mg a day each of THC and CBD. Lay healers treating cancer with their own interpretation of how to use FECO, on the other hand, may use anywhere from 300-700mg of THC and CBD.
And, even these high doses of cannabis cannot kill you.
There are so many other great studies being conducted all around the world on this; check out the decade-plus long work of Dr. Manuel Guzman in Madrid. Look at the 2008 literature review article on cannabis and cancer written by scientists at University of Wisconsin School of Medicine and Public Health, Cannabis and Cancer, Progress and Promise.
Senator, this is your life we are talking about here, not politics. You should really consider using medical cannabis, which is legal in your home state of Arizona and in Washington, D.C.
As Trump once said, "What have you got to lose?" In his case, so far, it looks like potentially to be a lot. But you have nothing to lose by adding this as an adjunctive treatment and potentially extra days, months or years of life. All I ask is that someone in your inner circle take a serious look at this option and that you decide to take advantage of it. Right now there is an ongoing study in Dr. Raphael Mechoulam's lab in Israel, and I am guess they would be happy to fill you in on their protocols and hypothesis.
Good luck. To your good health and long life, L'chaim!
Calling all HuffPost superfans!
Sign up for membership to become a founding member and help shape HuffPost's next chapter
This post was published on the now-closed HuffPost Contributor platform. Contributors control their own work and posted freely to our site. If you need to flag this entry as abusive,
send us an email
.