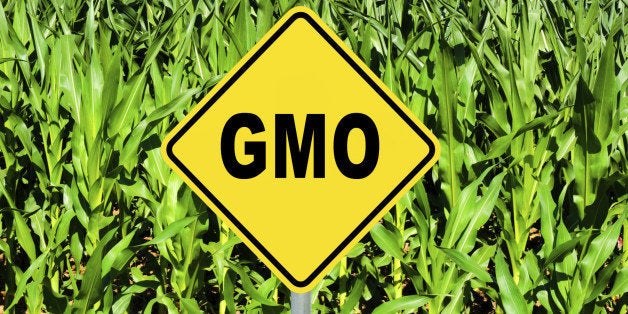 Last week, Sens. Pat Roberts (R-Kan.) and Debbie Stabenow (D-Mich.) announced what they bill as a "compromise" deal that would label GMO foods across the nation. But the advocacy groups that have fought so long and hard for clear GMO labeling aren't cheering: They know the bill is a gift to the agribusiness and biotech industries--not a compromise. That's why consumer advocates have dubbed the bill the Denying Americans the Right to Know (DARK) Act.
Here's what the backers of the bill don't want their constituents to know about the DARK Act:
The Bill Is Not a National Labeling Solution.
The backers of the Senate bill are portraying this as a big victory for those of us who don't live in Vermont, which passed a GMO labeling law that goes into effect today. (The Senate committee's Twitter feed even posted a map showing that their bill would spread Vermont-style labeling across all 50 states.) But this is a misleading claim.
The Vermont law is about clear, on-package labeling, but that's not what the Senate is proposing. This bill is not about expanding GMO labeling; it's about preventing states like Vermont from taking action. As the bill states, it would "immediately prohibit states or other entities from mandating labels of food or seed that is genetically engineered."
The fact is, clear GMO labels are already appearing in stores nationwide, thanks to the Vermont law, because it's much easier for a company to provide GMO labels on all of its products than just the ones going to Vermont. Companies that have publicly agreed to comply with the Vermont law include Mars, General Mills, Kellogg's, ConAgra, and Campbell Soup. GMO labels can already be found on packages of Snickers, M&Ms, Lay's Potato Chips, Cheetos, Doritos, Fritos and Smartfood Popcorn, among others. But this bill would put an end to that.
Furthermore, New York, Massachusetts and other states have ongoing efforts to label GMOs at the state level--efforts that the DARK Act would effectively shut down. Indeed, that is its true purpose.
The Bill Does Not Clearly Label GMOs.
Advocates of GMO labeling have pushed for clear, on-package language, just like what's required under the Vermont law. But the Senate bill would allow manufacturers to post "call for more information" phone numbers or even smart phone "QR codes" if they so desire--meaning that if you have a phone with the right app installed, a steady hand and a solid data connection you'll be able to access a website that will tell you what's in the food you're buying.
That's not a label--that's a hassle.
The Bill Has No Penalties for Violators.
In announcing the bill, Sen. Stabenow said: "For the first time ever, consumers will have a national, mandatory label for food products that contain genetically modified ingredients." But there is no mandatory recall authority if a company does not comply with the suggested QR code or 800 number options (or any of the other vague and meager aspects of the bill.) Nor are there any penalties or fines associated with non-compliance. How can labels be mandatory if there are not even the most modest attempts to require enforcement?
The Bill Does Not Cover All Genetically Engineered Food Ingredients.
A bill that claims to be a "mandatory system of disclosure for food that contains GMO ingredients" must require labels that mention GMOs, right? Not necessarily. As McClatchy reported, "food manufacturers would have wide discretion under the new law to comply, and the now-familiar terms 'GMO,' 'genetically modified' or 'biotechnology' aren't guaranteed to appear."
Furthermore, the definition of "genetically engineered" could mean that some of the most pervasive GMO crops might not require a label. That's why Vermont Gov. Peter Shumlin said the bill "would potentially allow products with a significant portion of GMO ingredients to skate by without being subject to labeling requirements." The bill would not even apply to many forms of genetically engineered food--only foods produced with traditional forms of genetic engineering. This leaves out emerging techniques like gene editing.
The Bill Benefits Corporations, Not Consumers
The industry has been chomping at the bit to repeal Vermont's law. This bill does that. The industry has long said GMO labels should be voluntary, meaning companies get to decide how much information consumers get. That's precisely what this bill does--puts all the power in the hands of food companies, while ensuring that consumers are left wondering what is in their food. This bill is no compromise--it's a gift to agribusiness and biotechnology companies that have fought popular, state-based labeling initiatives for the past five years.
Americans should know this--even if Senate backers of the bill refuse to say it.
Related
Popular in the Community