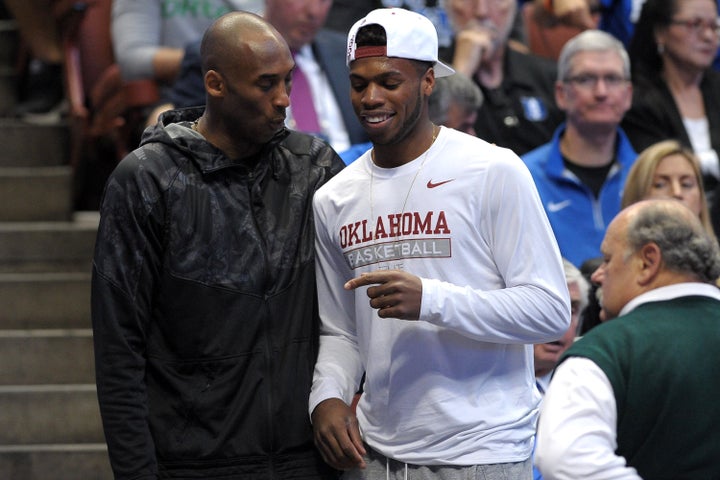 With his latest 37-point outburst over No. 1 Oregon on Saturday, Oklahoma senior Buddy Hield has thrust himself into historic March Madness territory. Suddenly, the comparisons to Stephen Curry are flying in hot and loud. As unfair as it is to link a 22-year-old shooting guard to the reigning NBA MVP, it'd also be a disservice not to adorn him with comparisons as well.
After all, in some ways, Hield is having a better NCAA Tournament run than Curry did during his own iconic turn as a sophomore at Davidson in 2008, when he dropped 40, 30, 33 and 25 points against Gonzaga, Georgetown, Wisconsin and Kansas, respectively, nearly leading his Cinderella squad to the Final Four.
While Curry was amazing, Hield's run is even more impressive once you consider how efficiently he has played. In that respect, he has eclipsed 2008 Curry, which is especially impressive considering 2016 Curry is eight games away from posting the most efficient NBA season ever.
When comparing Hield's 2016 March Madness performances against Curry's 2008, there's not much separating the look of their games and their top-line numbers. Their quick strokes and similar games let them score in comparable bunches -- 32 points per game for Curry in 2008 and 29.3 points per game for Hield so far this tournament. On Saturday, Hield also became the first player since Curry to score 100 points and hit over 15 3-pointers before the Final Four, and the first player to average over 25 points per game going into the Final Four since 1990 -- a distinction Curry would have earned had his Wildcats not fallen to Kansas 59-57 in the Elite Eight. 
Look at the numbers behind the numbers, however, and you'll begin to appreciate just how efficient Hield has become. Curry shot 46.7 percent from the field and 44.8 percent from three in 2008 -- impressive numbers on their own, but slightly less gaudy when compared to the 56.7 percent from the field and 47.5 percent from three that the unconscious Hield is currently shooting. 
To appreciate the percentages, we have to get away from them: Curry took 90 shots to score 128 points in his four games, while Hield's taken only 67 shots to hit 117 total points. A difference of 23 shots is nearly an entire game's worth of shooting, and it has led to almost a 10 percent difference in the pair's true shooting percentage, a metric that accounts for all of a player's shot attempts. Hield, possessing some sort of robotic shooting stroke, has a true shooting percentage of 72.8 percent, while Curry's 2008 percentage was 63.1; an impressive percentage, but again, nothing compared to Hield's.
There are a few simple explanations for Hield's superiority. Compared to Curry, he gets to the free-throw line a bit more (28 attempts for Hield against Curry's 24), makes more of his 3-pointers and shoots way fewer of them -- Curry took 12 more 3-point shots in 2008 (52 versus Hield's 40), but Hield has only made three fewer in total (19 versus Curry's 22 makes).
But individual basketball statistics are also a product of how one functions within a team, and that's where we should give Curry some credit. Hield has playmakers like Jordan Woodard and Isaiah Cousins to his left and right, while Davidson relied heavily on Curry for the bulk of their shot attempts, with guard Jason Richards providing the only other outlet on the perimeter in the 2008 Wildcat offense. With a better team around him, Hield can one-up Curry in another big way: by winning a National Championship. 
By necessity, Curry had to do more, but Hield's efficiency is also a credit to his improved ability off the bounce and inside the paint. Just look at how he made his defender short-circuit on Saturday before draining this jumper: 
Who knows where Hield's NBA career will go. But even if he doesn't become the next Stephen Curry in the NBA, he's already become it in college -- and then some.
REAL LIFE. REAL NEWS. REAL VOICES.
Help us tell more of the stories that matter from voices that too often remain unheard.
BEFORE YOU GO
PHOTO GALLERY
March Madness 2016