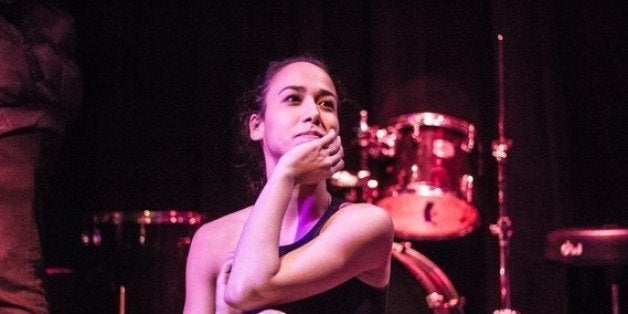 We are a different breed. New York life is distinct from any other because we must allow ourselves to live constantly on the line, both in the literal and figurative sense. On the subway line, standing in an audition line, waiting in line for the Kusama exhibit, walking the line between loving all New York City has to offer and hating the cost we must accept to enjoy it.
It is a balancing act between opposing forces in me and around me. One minute, I delight in New York for the opportunities of spontaneity it provides, but the next minute, I detest it for that same spontaneity or rather, that trait of so quickly lifting you on a high, and then bringing you down with some irritating disappointment, like a delayed commute on the downtown 2 train.
So, why am I here? Why are you here? Is it because we have so many forces, foods, friends and flings to which to say "yes," or "no" to? To love or hate?
I came to New York nearly six years ago. I was a bright-eyed and Central Park squirrelly-tailed freshman at Barnard College with the goal of connecting to the artist within me. I wanted to learn all the techniques with which I could best connect internally with my body to then connect personally with my audience. As I focused on this goal as a dancer, I was reminded that as human beings -- and not just New York human beings, but as human beings -- we seek to and have the power to connect with our bodies, our movements, our words, our voice, our song and any other expression we can create.
After graduating from college in 2013, I chose to say, "yes!" to all the human connections I had made and "no!" to my disappointment at not receiving the dance call backs I had hoped to receive. I, alongside my friend, Tamrin Goldberg, gathered various artists we knew and started a collaborative dance company. I don't want to give New York the credit for the creation of my company, since it doesn't deserve it (can you tell I am in one of my hating New York minutes?), but it's on-the-line-ness did give a lot of impetus to its birth. An artist, whether dancer, musician, actor or singer, uses his or her body to communicate. My dance company, The Rhythm Encompassing Every Sound (TREES) joins these languages in innovative collaborations performed throughout New York City. I seek to bring together these individuals and to create connections of artistic communication while establishing opportunities for artists to speak their voices, in any form, to any audience.
Since August 2014, TREES has connected musicians and dancers who don't always unite creatively, as they collaborated in dance and music for three performances at venues such as The Bowery Electric and the now-closed Spike Hill. In turn, these collaborations have connected with audiences in a more informal and unconventional manner. Because we are all New Yorkers, behind the music and the movement is that strength and yearning to connect that nests inside. You and I have that urge, that inner pull to connect with others that brought us here and keeps us here.
That's the buzz and the effervescence that pulses the summer haze when you walk down Broadway towards Columbus Circle. It makes living here that constant conflict, both exciting and tiring. Numerous connections call to us each day, and it is making the choice of which ones to take or expand as individuals and which ones to not take for the sake of guarding our space that moves us. We are on the line of fighting the urge to push through the waiting commuter peers around us on the platform line versus connecting with them, because who knows what that man with his red Beats and Herschel backpack, or the American Apparel floral dress-wearing bleached blonde, could add to your life?
Connecting with others through this decision has caused me to appreciate the yes and the no... the love and the hate. Yes, I am on the line constantly, emotionally and literally, on this island I call, home, but it is the decision I make in the now either way that takes me off the line and into one direction. Seize the now.
I am grateful for the connections I have made, am making in the now, and will make in the future. I may be living on the line each day in New York, but there is no one line that I have to take, and I'm hoping the one I take is not delayed.
REAL LIFE. REAL NEWS. REAL VOICES.
Help us tell more of the stories that matter from voices that too often remain unheard.