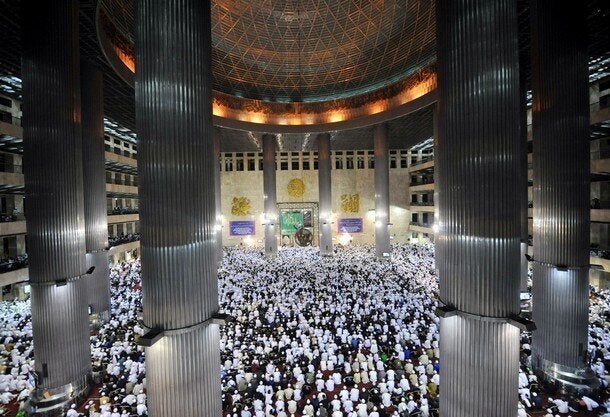 We hear a lot about "firebrand" Muslim clerics calling for the installation of Shariah law. It conjures images of women being stoned and forced into hiding behind burkas and denied educations. We think of beheadings and amputations as a form of justice. And we cringe.
But it is important that we understand what is meant by Shariah law. Islamic law is about God's law, and it is not that far from what we read in the Declaration of Independence about "the Laws of Nature and Nature's God." The Declaration says "men are endowed by their Creator with certain inalienable Rights; that among these are Life, Liberty and the pursuit of Happiness."
At the core of Shariah law are God's commandments, revealed in the Old Testament and revised in the New Testament and the Quran. The principles behind American secular law are similar to Shariah law - that we protect life, liberty and property, that we provide for the common welfare, that we maintain a certain amount of modesty. What Muslims want is to ensure that their secular laws are not in conflict with the Quran or the Hadith, the sayings of Muhammad.
Where there is a conflict, it is not with Shariah law itself but more often with the way the penal code is sometimes applied. Some aspects of this penal code and its laws pertaining to women flow out of the cultural context. The religious imperative is about justice and fairness. If you strive for justice and fairness in the penal code, then you are in keeping with moral imperative of the Shariah.
In America, we have a Constitution that created a three-branch form of government - legislative, executive and judiciary. The role of the judiciary is to ensure that the other two branches comply with the Constitution. What Muslims want is a judiciary that ensures that the laws are not in conflict with the Quran and the Hadith. Just as the Constitution has gone through interpretations, so does Shariah law.
The two pieces of unfinished business in Muslim countries are to revise the penal code so that it is responsive to modern realities and to ensure that the balance between the three branches of government is not out of kilter.
Rather than fear Shariah law, we should understand what it actually is. Then we can encourage Muslim countries to make the changes that achieve the essence of fairness and justice that are at the root of Islam.
Related
Popular in the Community