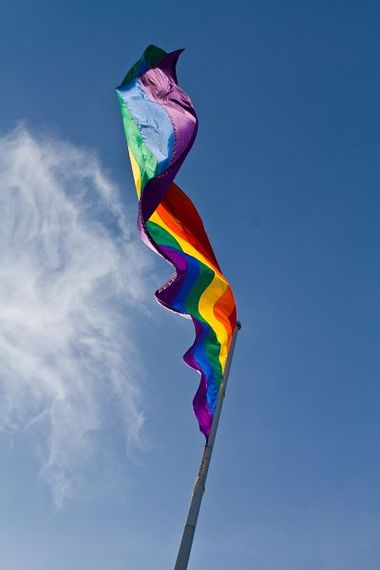 Coming up with a list of colleges and universities for application involves a lot of consideration for every student. Students who identify as LGBTQ have extra best-fit criteria to consider when it comes to finding their ideal schools. Not only are they looking for schools of the right size that offer their desired academic fields, in the right locations, and at the right price, but they are also seeking a healthy, comfortable, and safe LGBTQ community. And this is extra challenging for students trying to figure this out on their own, who haven't come out yet to their parents.
At many colleges, the lesbian, gay, bisexual, transgender, queer/questioning (LGBTQ) community is a visible and valued part of campus life. Students who are questioning or in the closet often find that it's easier to explore and be open about their identity in college. Recently, I spoke about finding the best fit colleges for LGBTQ youth to 2,000 students and parents at a Models of Pride event sponsored by the Los Angeles LGBT Center/LifeWorks and University of Southern California. I walked away wishing that such a gathering was already hatched when I was searching for the right college! The students and parents in attendance were nothing less than some of the most enlightened and comfortable-in-their-own-skin humans I've met to date.
So what should LGBTQ college applicants be looking for, whether they have parental guidance or are working things out on their own?
Active LGBTQ/ally organizations. You can find out online or on campus whether the school you're considering has an LGBTQ student center and/or focused extracurricular groups. This presence lets you know there is a social network, a support system, an opportunity for involvement and a comfort level for LGBTQ students on that campus.
LGBTQ or gender studies department (or at least a few courses that touch on these issues). Even if you don't plan to major in queer theory, you may find a sympathetic advisor in this department if you have questions about campus life.
LGBTQ-inclusive policies. From anti-discrimination language in a school's disciplinary code to access to gender-inclusive bathroom facilities, a school's operational practices can tell you a lot about the campus culture.
**A note about housing: Some colleges offer queer theme housing. Some queer students are more comfortable with roommates of the opposite sex. College and university housing offices work hard to ensure the comfort and safety of all students on campus, so you may want to consider scheduling an appointment to talk through any concerns you may have. It's becoming more common for schools to provide students with the options beyond roommates of the same legal sex.
Symbols of pride. Some schools may display a rainbow flag in their student center, which is great, but I also encourage students to pay close attention to bulletin boards (it's old school -- I know), follow LGBTQ campus groups on Twitter (i.e. @SLCDiversity, Sarah Lawrence College's Office of Diversity and Campus Engagement), dorm rooms while touring campus -- I always take a peek at YikYak when I'm visiting campuses to hear what's on student's minds that minute. Public spaces -- concrete and virtual -- are rife with information on clubs and events, and comfortable students aren't shy about displaying symbols of pride (rainbows, the Human Rights Campaign logos... they'll be right there in your eyeshot. Look for them!) on the doors to their rooms, water bottles, backpacks, and clothing.
Out students and faculty. If you're comfortable speaking with an admissions representative about your identity, she or he is likely to be able to connect you with students and faculty members who can candidly speak about life on campus. If you're not sure that's a conversation you want to have with an admissions officer -- no sweat. Try a little Google sleuthing -- you'll likely find contact info for the student members of the LGTBQ alliance, faculty/administrative allies, as well as lists of campus SafeZones, where LGBTQ students are welcomed at all times.
Social scene. By looking for the other elements on this list, you'll probably pick up clues about the LGBTQ social scene on campus. You should also consider reading up on the town or city where the school is located for local coffee shops, cultural events, or nightlife geared toward the local LGBTQ community.
The Princeton Review Top 10 LGBTQ Friendly & Unfriendly Colleges
Top 10 Friendly:
Emerson College - Boston, MA
Warren Wilson College - Asheville, NC
Sarah Lawrence College - Bronxville, NY
Bryn Mawr College - Bryn Mawr, PA
Oberlin College - Oberlin, OH
Yale University - New Haven, CT
Stanford University - Stanford, CA
College of the Atlantic - Bar Harbor, ME
Wellesley College - Wellesley, MA
University of Wisconsin, Madison - Madison, WI
Top 10 Unfriendly:
Grove City College - Grove City, PA
Hampden Sydney College - Hampen Sydney, VA
College of the Ozarks - Point Lookout, MO
Wheaton College - Wheaton, IL
University of Tennessee, Knoxville - Knoxville, TN
Brigham Young University - Provo, UT
Gordon College - Wenham, MA
Calvin College - Grand Rapids, MI
Hillsdale College - Hillsdale, MI
Baylor University - Waco, TX
Our team at The Princeton Review created some of the first LGBTQ college ranking lists in 1992 by asking current college students to indicate their agreement, on a five-point scale, with the following statement: "Students treat all persons equally, regardless of their sexual orientation and gender identity/expression." We continue to proudly do it today. A great deal has changed -- so much for the better -- since those first rankings published. From my perch, as proudly OUT and responsible for lots of Princeton Review content, I'm so deeply impressed by one thing about college bound students; your genuine fearlessness. You're asking questions and doing lots of research about LGBTQ issues, resources, opinions that I wish I had the courage to ask when I was searching for colleges. Your moxie makes me want to jump up and applaud you on the spot! Sounds hyperbolic, I know, but it's true. You're awesome!
From our full team here at The Princeton Review, please know that our commitment to supplying you (your parents and counselors, too) as much info as possible in finding a best fit school is solid and won't ever change.
Popular in the Community