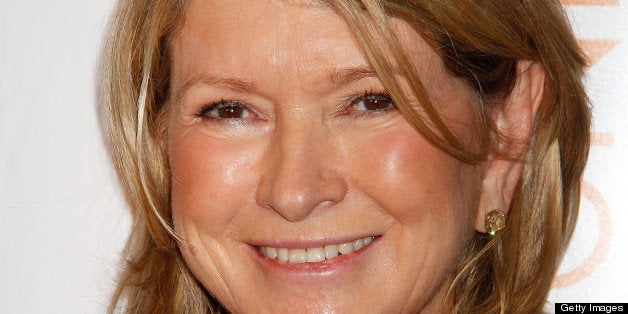 It's official. The Today Show reports that Martha Stewart has changed her mind and decided to become one of the single millions looking for love online on Match.com. The domestic mogul has gone digital and hopes to find a man who wants to date, mate or bed in cyberspace.
On Friday, the news went viral when Martha Stewart first told Matt Lauer on the Today Show that she loves to date and started to create an online dating profile using her real name. She never finished her application and decided not to join. Stewart, who hasn't been in a long-term relationship for several years has had a change of her digital heart.
Match.com's CEO Sam Yagan told Stewart, "What we know we can get you is some great first dates. I think finding a soul mate for you might be a little bit difficult, but I think first dates are easily doable."
"I'd like to have breakfast with somebody," Stewart admitted. "I'd like to go to bed with somebody. Sleep with somebody."
What should Martha Stewart's profile look like?
Although Stewart told the Today Show that she was intending to use her real name, I disagree. Just like all of the other millions of daters, Stewart should have a catchy screen name to find her dream guy. It would be less intimidating. Some suggestions would be:
"LovestoCook"
"DomesticGoddess"
"CookingAuthor"
"Domestic Diva"
Although Stewart is 71, she says emotionally she feels 45-50. I hate to break it to you Martha, but most women brag about looking younger than their age in their profiles and it turns men off. Saying "I'm 71, but feel like I'm 50" would be wrong. Those sayings are too cliché in the online dating world. If Oprah declared that "50 is the new 30," then Martha can feel like "70 is the new 50," but she should keep that thought to herself.
Stewart should be concerned about saying she's looking for someone young. It might send a signal that she's a Cougar looking for a younger guy that she'd support financially. Instead, I believe Stewart should describe the activities that she likes to do and what she'd like to share with her date. Men would then get the signal that no couch potatoes should apply. Stewart should list her desired age range instead, such as 65-75.
Stewart completed the section on her Match profile describing her ideal date as "youngish" and "outdoorsish," really smart and successful. As Stewart's written over 70 books, her editor would slash those words that don't exist in the dictionary. Instead, I think she should say she's looking for an active guy who likes the outdoors to hike and spend time in the garden with. Perhaps she'll end up kissing in the tomato patch.
Stewart should post 3-5 photos, not an entire album. Her primary shot should be a close up on a good hair day looking happy, and she should add a few photos in her garden, outdoors and doing activities that she enjoys. She should steer away from posting photos of her extravagant homes as it would be too intimidating to a man.
Hopefully for Stewart, her new book, Living the Good Long Life, will include finding someone online to grow into the digital sunset with.
What do you think Martha Stewart's online dating profile should look like?