Today was a long day. My children and I attended my great-great-uncle's visitation. An emotional occasion, a ton of people, and an energetic toddler and preschooler. I mean, we're lucky to make it through a regular hour-long church service without making our way to the kid-friendly nursery, nonetheless a somber event at which we were (miraculously) able to stay for three hours. Luckily, my kids were angels, there were several extra hands helping me, and my bag was full of snacks.
After we left the visitation, we still had plenty to do at home before we could call it a night. No one had really eaten dinner (unless mini muffins and fruit squeezers count). Everyone needed baths. The dog needed let out, and she would undoubtedly be high-strung and starving for attention. So, we made it in the door and managed to eat a bite. Baths and showers were given. Church clothes were off, and jammies were on. The dog was chasing everyone around, happy to have us home. I agreed to a rare treat -- they were allowed to watch a show in Deacon's bed if they could agree on one (don't judge me. I don't do Mommy wars.). Astonishingly enough, they agreed (and quickly!) on Mickey Mouse.
I had it all set up and ready to go. I gave out hugs and kisses, too, on the off chance that they might even fall asleep. See, I was going to go downstairs and tidy up the living room and kitchen, put all the dirty dishes in the dishwasher, and maybe even sneak a brownie from Mommy's hidden stash on the top shelf of the cabinet (don't get too jealous; they're the 90-calorie kind. Stupid weight loss kick.). My plans were foiled when two little voices pleaded, "Mommy, lay with us." The grammar may have been off, but the sentiment was perfect and cut straight to my core. How could I say no to my gorgeous babies? Spoiler alert -- I didn't.
I absolutely gave in. I climbed into my son's full-size bed, in between the kicker and the cuddler, underneath his sports-themed quilt that was generously given to us. No one was watching the show, but we were all giggling. The dog jumped up and joined us, too. There we were, all four of us snuggled up close -- a complete family, not by society's standards but by a love stronger than stereotypes -- and that's when I decided to take a selfie. And this is how it turned out: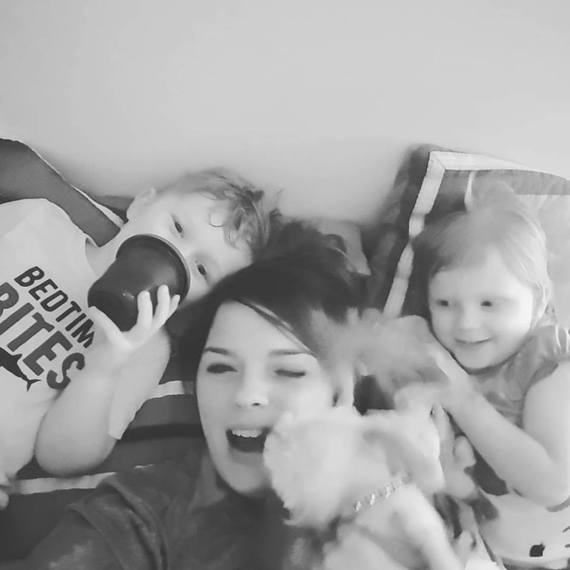 I immediately fell in love with the image. The way my daughter is looking at me. The chaos of my dog wanting to kiss everyone. My son's freshly washed and tousled hair. All of us there together, happy, healthy, and slightly delirious (ok, maybe just me). My kids don't look like they're from a "broken home," and I don't look like I'm reliving the angst of my divorce. What a beautiful picture; what a beautiful life. I looked at the picture and thought: "This is what love is. This is what family means. This is what the single mom life looks like for me."
It reminded me of a post I wrote over the summer -- Embracing #SingleMomLife -- in which I detailed what it was like to spend two weekends a month away from my kids. Per the usual, I tried to look at it in a positive and upbeat way (crazy way to live life, right?). It was not entirely well-received; one commenter compared me to Adam Lanza's mother and claimed I was glorifying something that was "already a cult culture."
First, I know that I shouldn't be reading the comments (bad call, Linz). Second, I realize his comment is absurd and that he had no basis for commenting on my life. But I began to think about this "cult culture" of the single mom life that I was unknowingly promoting. I thought about the stereotypes surrounding single parents, male and female, young and middle-aged and older. These stereotypes that cut across income brackets, races, and religions. And nearly all of them are unflattering.
And then I thought about my picture. There needs to be more of this.
Come on, single parents, share your selfies and your funny stories. Let's show everyone that there's more to the single parent than a sleep-deprived shell of a person wishing life had turned out so much differently. See, it all comes down to this: we're parents just the same. There's the laundry and dishes that are never-ending. We have days where the bickering just won't stop and we count down the hours until bedtime. Like married parents, we still send up prayers for our children's well-being and worry and plan for their future. And then there's the love. Even us single parents aren't deprived of the love.