Everybody loves small family farms, from Republicans to Democrats and hipsters to ultra-religious folks. As a nation, we romanticize them -- the last link to our pioneer past, perhaps.
But in addition to being the salt of the earth, working hard from sun up to sun down, et cetera et cetera, farmers are also small-business owners, albeit ones with a unique set of challenges. I got an inside look at the kinds of things they need to grow those businesses, and it's startling. Just $5,000 can really make a difference!
In general, farmers operate on razor-thin margins and contend with a ton of variables outside their control (drought, floods, storms, pests, and all the rest of those Biblical attackers). Any cash that comes in gets reinvested in the next growing season or goes to feed for the next batch of animals.
The reason I got to peek inside their businesses is because the company I work for was giving away money to help them grow. This year we're celebrating the 15th anniversary of our Farm to Fork program, which I am proud to have helped launch and which now counts more than 1,400 small farmers, ranchers, and food businesses as suppliers. We decided to donate $50,000 in grants of $5,000 each to 10 of those suppliers, who'd be chosen by popular vote by our guests and teams around the country.
The idea was to give back to the farmers whose hard work had helped us grow over the years. We received 171 grant applications total, which is kind of an amazing participation rate for 1,400 farms, and just shows you how much need there is out there. Reading them brought tears to my eyes ...oh, about 171 times.
"Everything is breaking and needs repairing," wrote "a farmer and cheese maker [who's] not good with words" about his 20-year old dairy in Idaho.  "The curd milling machine we use was about 20 years old when we got it, and we have had it 10 years, but they are $17,000...The need is great when you are small."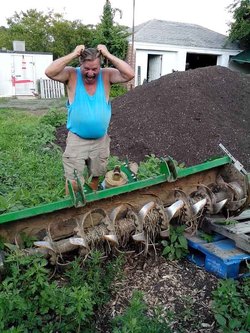 It became painfully apparent that many small farmers are just surviving season to season with the most precarious, cobbled-together equipment and infrastructure. They have no "rainy day" fund (is that where that phrase came from?), let alone a savings account for capital improvements. If a tiller shatters on rocky soil and they can't afford to replace it, planting the seeds for next season becomes nearly impossible.
Photo caption: Mike Kandefer with Urban Oaks Organic Farm's broken tiller
Good fences make good farmers
It was hard, but we narrowed the 171 to 25 finalists whose projects we believed could really make a difference in helping them bring good food to more people in their community.
They weren't fancy ones. "There is nothing romantic or particularly compelling about fencing," wrote Sarah Brown from finalist Diggin' Roots Farm in Oregon. "But it is one of the most integral components of a diversified livestock and produce operation, allowing us to maximize the use of our land and supporting sustainable growth." How many of you, searching out pastured pork at your local farmers market, have thought about how in order to be able to rotate animals on and off pasture, you need movable fencing? I hadn't.
Or take hoop houses. These simple, upside-down-U-framed, movable enclosures can keep crops warm during cool temperatures or shade them during heat waves, extending the growing season, as these 16 rhyming couplets from Vegetable Basket Farm explain. Adding additional productive months, of course, translates into additional revenues for the farm. Or take the simple walk-in cooler, which limits how much yogurt you can make -- a great value-added product for a dairy -- or how much lettuce you can harvest before you deliver it. And speaking of delivery, I was surprised to learn that apparently 95 percent of the small farms in America are delivering their precious goods in ancient trucks with twice as many miles on them as it took for me to reach Premier Gold status on United Air Lines.
Fencing, hoop houses/greenhouses, expanded cooling/freezing capacity, reliable vehicles, and basic marketing assistance: almost all the projects we saw fell into one of those five areas. And all of them could be had for $5,000 or less. (Or, as one explained, that amount would at least be a good down payment on a less-used truck.)
Last Tuesday, on our 10th annual Eat Local Challenge Day, 26,922 university students, corporate employees, and museumgoers and company workers at our cafés around the country cast votes that determined the 10 grant recipients. I'm glad I didn't have to do it. It kills me that this young Colorado farmer, that urban farmer with the broken tiller above, and these lovely Georgia hog farmers won't get that hoped-for cash infusion that would give them a leg up. And that Sarah Brown from Diggin' Roots isn't getting her fencing, or at least not from us.
Local food is the last great value America seems to have in common, that no one wants to see outsourced overseas. Instead of arguing about Main Street versus Wall Street, let's look at the dirt roads leading to dilapidated barns and unfenced pastures.
Instead of crowdfunding yet another tech gizmo or indy film, let's put our money literally where our mouths are. I am just flat out amazed at how far these farmers have gotten on a shoestring with such jerry-rigged systems. Let's help them create efficiencies and get more bang for their very hard work.
For the need is great when you are small.
REAL LIFE. REAL NEWS. REAL VOICES.
Help us tell more of the stories that matter from voices that too often remain unheard.