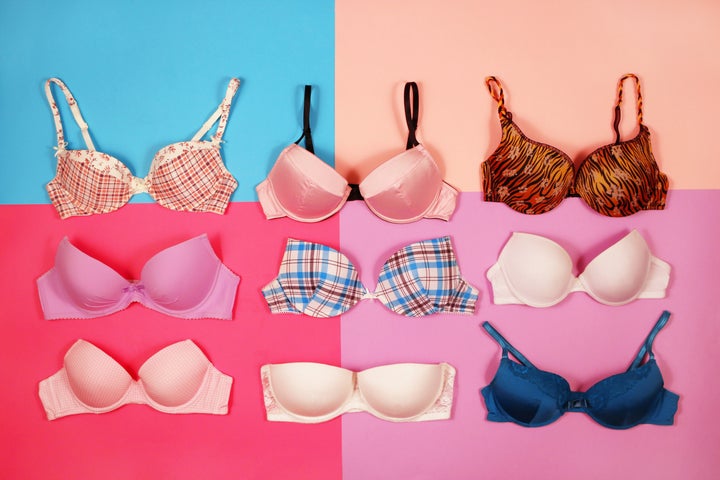 The average bra size in America is a 34E, according to Fast Company, yet plenty of mainstream lingerie brands, like Victoria's Secret and Aerie, don't sell sizes beyond a DDD cup. And the brands that do sell bigger sizes often don't offer designs that are as cute as the smaller versions.
What's the deal? We spoke to two lingerie experts to get some insight on the importance of inclusive sizing and what companies get wrong when making bras for fuller-chested women.
"I've been doing bra fittings for a good chunk of my life now ― over 10 years ― and you really encounter so many different busts and body types in the fitting room and everybody wants the same thing: to look good, feel good, to have support and comfort," Alicia Miller, bra fit expert at Chantelle, a lingerie brand that offers bras in A to I cups, and 30 to 44 band sizes, told HuffPost.
"You really just want to be able to offer that, no matter the size," she said.
If you're a fuller-chested woman, or any woman who's been to a department store's bra section, you've probably noticed the larger options look different than their smaller counterparts.
For example, as Miller pointed out, designers may add elements to E cup (and higher) bras such as an additional support sling in the cup or extra lining at the side of the cup "to center heavier breast tissue and to lift better."
Many larger-cup bras also feature seam detailing, which Miller said is good for offering more support. The band of the bra in an F or G cup may also have an extra layer of lining on the band to make sure it's firm and supportive, she said.
The straps might also differ: oftentimes with larger cup bras you'll see wider straps, though Miller noted that she doesn't see that as much as she used to. (She explained that straps account for just a small percentage of the bra's support.)
Heidi Zak, co-CEO and co-founder of ThirdLove, a direct-to-consumer intimates company, shared similar insights, speaking specifically about her brand's bras. Just last week, the company announced it was adding 24 extended sizes to its offering: it now sells 70 styles, in sizes up to a 48-band size and AA to H cups.
For ThirdLove's larger sizes, Zak said the company incorporates three layers of microfiber on the bra wings (as opposed to the two layers featured on their smaller sizes) to provide more support. They also include a larger hook-and-eye closure (which is padded), a slightly thicker underwire and slightly larger straps.
Zak admitted that yes, it is more difficult ― both technically and design-wise ― to create bras with a larger cup "because they do need to be very supportive and carry more weight."
"That being said, it's certainly not impossible," she added.
Why, then, don't more companies offer bras that go beyond a DDD cup?
Aside from the design difficulties in producing bras for fuller-chested women, Zak suggested other reasons that some brands may not want to produce larger sizes.
"Maybe they feel it doesn't match who they think their customer is, or the aesthetics that they want to showcase," she said. "I don't know because I'm not them, but it is unusual to say that out of all of these brands out there, most brands don't carry these sizes."
Additionally, larger bra sizes, which generally offer more coverage, require more fabric. And as Zak noted, "every cup size you go up, the material cost goes up." Perhaps, then, some companies don't want to incur the cost of making bra sizes beyond a DDD cup.
Miller suggested that maybe a general lack of information is preventing more brands from widening their product offerings.
"I encounter women in the fitting room all the time where I'm changing them from a B or C cup to an E cup and they are just shocked," she said. "I think everybody's so used to shopping at those retailers that they might not even know they need to go past that. And so then the demand isn't necessarily there in those particular stores."
"I think it just takes a while to get there, so I think for some of those companies that have been catering to the smaller bust, it's a big difference to then try to make that leap and truly giving that woman full support," she said. "So they're probably just sticking with what they know and what they're succeeding with."
Sacrificing style is the main thing many mainstream companies and brands get wrong with bras beyond a DDD, Miller and Zak agreed.
"If you go into your average department store, which is really where you might be able to find a K cup if you're lucky, or you go to a herroom.com, which might have a lot of brands, and search for some of the larger cup sizes, you'll find that aesthetically, the product doesn't look as pretty as the smaller cups," Zak said.
"They're just ugly, and they're scratchy and the material's heavy and it's shiny and it's just not attractive," she added. "I can't really answer the why, but it doesn't have to be that way. They don't have to look like that."
Miller echoed Zak, saying that among the biggest complaints she hears from women who need bras larger than a DDD cup is that the larger ones often look significantly different than their smaller-cupped counterparts.
"I think we have to be really careful to make sure that when two friends are shopping together and one's in a C and one's an H that when they try on the bra, to the best of all of our abilities as bra makers, that it looks as similar as possible," Miller said. "[We want to make sure] that H cup woman still gets to feel sexy and have that light feel on the body [as opposed to being] overwhelmed with this big workhorse bra; that she gets to have the same experience whether it be the look or the comfort while still getting the support she needs, but not feeling like she has to wear something she doesn't like because she's got a fuller bust."
Plenty of women still are out there wearing the wrong size bra.
But you don't have to settle. It can't be stressed enough how important (and even life-changing) it is to be properly fitted for a bra. If you can, head to a store that has in-house bra fitters. ThirdLove and Chantelle, as well as Journelle and Linda's Bra Salon, also have helpful guides and plenty of tips on their websites to help you find the correct size.
If you still want more selection among bras with larger sizing, you can check out brands like Rigby & Peller, which offers bras up to an I cup, and Elila, which offers band sizes 34 to 54, and cups from A to N.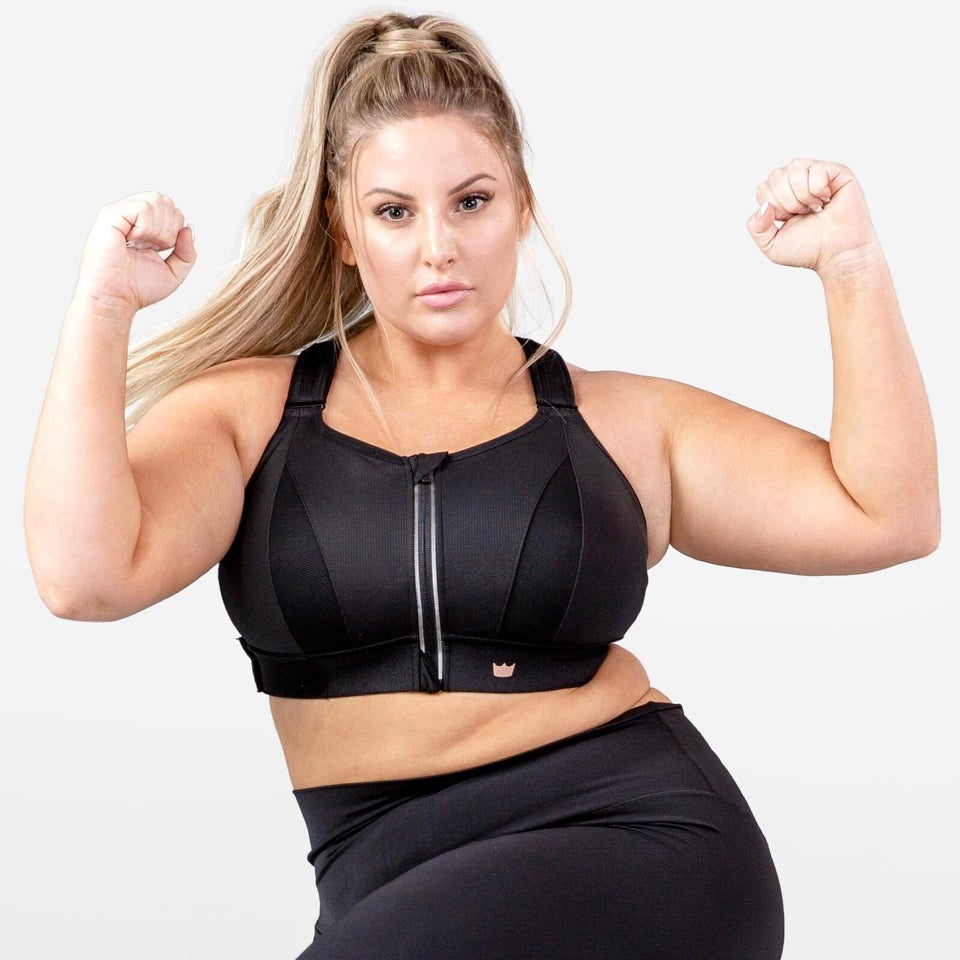 Sports Bras That Hook In The Front