If you've got some time, head to New Mexico.
Fresh data from Spreadsheets, a sex-tracking App launched last August, may show how your state measures up -- endurance-wise -- to its neighbors.
"We're creating a sort of thermometer for sex," co-creator Tyler Elick, 29, told The Huffington Post. In addition to how long you're lasting, Spreadsheets can keep track of thrusts per minute, audio levels, and frequency of sex.
"Our goal is to provide a product that … connects people on an intimate level," he said. Elick and co-creator Danny Wax "saw a need in the market" when they realized that people were already tracking activities like their runs and sleep cycles.
This week, Nerve.com compiled a state-by-state rundown of averaged sex times, which can be seen below. The data comes from approximately 5,000 users and 23,000 individual sex sessions in the U.S. (there are about 10,000 users worldwide). Here's the list, from longest to shortest:
1. New Mexico (7:01)

2. West Virginia (5:38)

3. Idaho (5:11)

4. South Carolina (4:48)

5. Missouri (4:22)

6. Michigan (4:14)

7. Utah (3:55)

8. Oregon (3:51)

9. Nebraska (3:47)

10. Alabama (3:38)

11. Delaware (3:33)

12. Hawaii (3:28)

13. Wisconsin (3:22)

14. North Dakota (3:18)

15. Arizona (3:17)

16. Maryland (3:15)

17. Mississippi (3:10)

18. Rhode Island (3:09)

19. Connecticut (3:07)

20. Texas (3:06)

21. New Hampshire (3:04)

22. Wyoming (3:03)

23. New York (3:01)

24. Pennsylvania (2:58)

25. Maine (2:58)

26. Washington (2:51)

27. Iowa (2:50)

28. Illinois (2:49)

29. North Carolina (2:47)

30. Tennessee (2:46)

31. Kansas (2:38)

32. California (2:38)

33. Massachusetts (2:31)

34. Florida (2:29)

35. New Jersey (2:28)

36. Indiana (2:26)

37. Virginia (2:23)

38. Oklahoma (2:21)

39. Colorado (2:21)

40. Minnesota (2:19)

41. Ohio (2:18)

42. Louisiana (2:17)

43. Kentucky (2:14)

44. Arkansas (2:08)

45. District of Columbia (2:08)

46. Nevada (2:07)

47. Georgia (2:07)

48. Montana (2:03)

49. Vermont (1:48)

50. South Dakota (1:30)

51. Alaska (1:21)
But before you New Mexicans start swelling with pride, (or you Alaskans shrink in embarrassment), keep in mind that it's tough to say what -- if anything -- these stats actually represent.
According to the Nerve.com writeup, these times represent intercourse alone because "the app doesn't cover foreplay," but Elick told HuffPost that's just not true.
"Our app isn't purely about penises entering vaginas," he said. "Our app is more about tracking entire amounts of sexual activity. If that includes foreplay for people, we're open to that."
While a user can set the phone on a mattress to monitor "movement," the timing feature of the app can be used as a simple timer. One user may opt to start the timer before foreplay begins, while a different user could interrupt the mood completely to go fiddle with his phone prior to entering thrust-city.
However, with the median at around two and a half minutes, we really hope people aren't clocking in until the main event.
Elick was quick (but not as quick as an Alaskan -- hey-o!) to point out that some users may also be skewing the results low by pulling out the app to show a friend or partner, and running the clock for only a few seconds.
Either way, though, Elick believes the stats are valuable because of the kinds of conversations they can spark.
"Real data makes people more comfortable and ideally less highly sensitive … or over-sensationalist about physical intimacy," he said.
Elick also wants people to know that he and Wax don't have access to data for individual users or sessions. Instead, they rely on Google analytics, which aggregates the duration and session count for particular regions. "We don't want to be the sexual Big Brother here," he said.
Related
Before You Go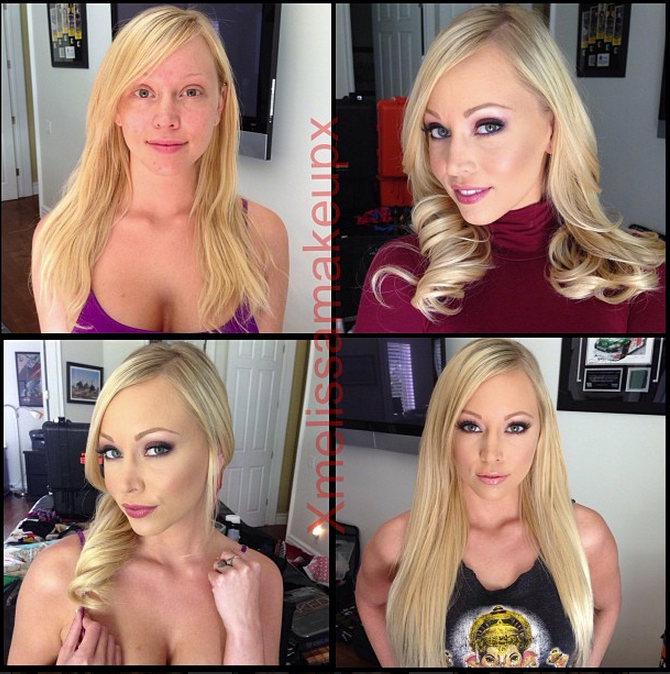 Porn Stars Without Makeup
Popular in the Community