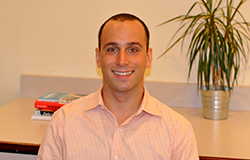 Sitting in the back of the classroom, right cheek pressed to a desk and tears drying on her chin, Mya squeezes a stress ball and smells a stick of lavender while I talk about units of measurement.
"Mr. Cipriani," Jose whispers as I pass his desk. "Read this." He hands me a written note, something I encourage students to do to communicate personal information with me. "I don't know when my mother is coming back to America," it reads. I think about the other note in my back pocket that Mya has given me a few minutes earlier: "The landlord is mad at us again."
"Can I use the bathroom?" Jose snaps my attention back.
"Not now. Let's work through this math first," I respond.
I teach second grade at Orchard Gardens K-8 in the Boston Public Schools, a district with many students who come from poverty and who have experienced trauma. I hold degrees in education from New York University and the University of Massachusetts Boston. Neither had prepared me well enough to teach in the city, and I would wager that America's most recently graduating education majors are not ready for this September either.
My undergraduate requirements focused on educational philosophy and politics, which I would have valued more had I already learned the basics of running a class of 24 children.
"When will we learn about classroom management?" I asked a professor near the end of my junior year. "Later," she replied. "You're going to need a strong philosophical base to stand on when you teach."
When I graduated, my strong philosophical base was not what the New York City public schools needed. "What would you do if a student struggles behaviorally?" one headmaster asked during an interview. "I guess it would depend," I offered meekly. No principal hired me.
My graduate program was stronger. For a full school year, I co-taught a class with a veteran teacher who coached me through challenging situations.
Seven-year-old Xavier tumbled out of the classroom cubbies one day with Thomas, a slight and chronically hungry young boy, in a headlock. Thomas had sneaked into the cubbies and eaten Xavier's lunch during the school's morning recitation of the Pledge of Allegiance. Xavier had caught on. I separated the two, but both were still fuming, so I consulted my mentor.
"Have them explain their feelings to each other," he recommended. "We always need to know the root of behavior, or we can't help students change it."
"I was hungry. We don't have breakfast." Thomas began. "If you need food," Xavier explained. "Just ask. I'll share. You don't have to steal it." They fist-bumped. I felt good.
What I still did not understand, however, is that preventing conflict is more effective than solving it.
My school recently partnered with Vital Village, a community network in Boston. It supports teachers in developing trauma-sensitive classrooms that encourage students to navigate emotions before conflicts emerge.
When something stressful is happening at home, Mya does not have to act out. She can quickly find lavender and soft music in the toolkit Vital Village helped me make for her. Both are soothing. If she is feeling frustrated, there are moldable objects in her kit as well. Clay is something she can shape in a life that may otherwise be out of her control.
Student ownership of emotions is the goal, but often children become frustrated because they cannot explain their feelings. Making emotional vocabulary available in the classroom helps.
In my studies, no professor ever talked to me about how to help children with trauma. There is a lot more that colleges and universities could be doing. Ed majors should have classes on supporting children in distress. Undergraduate and graduate programs should raise teachers' awareness of community support organizations like food banks, homeless shelters, and counseling services so that we can help families make needed connections outside of school. Moreover, universities should survey recent alumni who became teachers about their experiences with teacher training, and accrediting agencies should hold universities responsible for publishing those survey data for prospective university applicants to consider.
I check back in with Jose. "I want to talk about this, but can we do it after our work?" I ask him.
"I feel kind of..." He scans the emotions chart on our wall, "anxious," he concludes. "But I can finish the work." He picks up his ruler. The learning continues and that is a win for both of us.
Jeffrey Cipriani is a 2nd grade teacher at Orchard Gardens K-8 Pilot School in Boston Public Schools. He is a Teach Plus Teaching Policy Fellow.
Support HuffPost
The Stakes Have Never Been Higher
Related
Popular in the Community