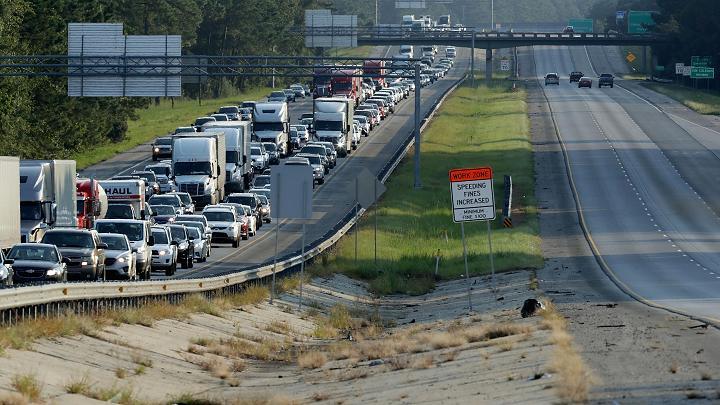 If you're like me, you've been glued to your television watching the coverage of Hurricane Irma. Though certain people who are inexplicably idiotic (Ann Coulter and Rush Limbaugh), most of the population that has the ability to see, hear and feel know that hurricanes aren't a hoax or part of the liberal agenda. Beyond that, it gets a bit more specific.
One of the biggest questions that is constantly asked from someone holding a microphone is, "Why haven't you evacuated?" On the surface, it sounds reasonable: There's a huge storm coming, so uh, why haven't you gotten in your car and driven 500 miles away, or traveled to a shelter, or jumped on a plane?
Again, this all seems obvious. It's the reason why this is the go-to question for the news media to constantly ask people before or after losing half of their stuff. But I first really paid attention to it when a woman who was rescued went off on CNN during Hurricane Harvey:
The CNN correspondent continued to ask questions and touch the mother's arm as she and her daughter were crying.
"We walked through four feet of water to get food on the first day," the mother said, clearly annoyed at this point. "Yeah, that's a lot of sh*t."
"But y'all sit here, y'all trying to interview people during their worst times — like that's not the smartest thing to do. Like people are really breaking down and y'all sitting here with cameras and microphones trying to ask us what the fuck is wrong with us," she continued.
"And you really trying to understand with the microphone still in my face? With me shivering cold, with my kids wet, and you still putting the microphone in my face."
Media outlets tend to shove their microphones into the faces of those who just survived a tragedy or don't know if they will go through one: "Why didn't you leave? What are you going to do if the house you go back to is gone? What was it like having all of your stuff destroyed? What are you going to do next? What's it like not having fresh water? Thanks for your time, and good luck. Back to you, suit and tie. I'll be here standing in the wind and rain for hours."
Why haven't some evacuated? Well, let's look at Hurricane Irma. On the outside, you see a huge hurricane coming at millions of people. They seem to have ample time to get out, but they don't. It's not that simple. The working poor get paid on a Friday, so by the time they finally get their checks and even think of leaving, they see that all the supplies of gas, food and water is gone.
The working poor get paid on a Friday, so by the time they finally get their checks and even think of leaving, they see that all the supplies of gas, food and water is gone.
After that blow, they might think of trying to go to a shelter that's maybe five miles away, but what about their home? Sure, you try to get to the shelter, but your house is gone when you get back. That thought goes through your head where you think that you could prevent more if you stayed. Maybe send the kids to the shelter and try to ride it out.
The main point I'm trying to get through to you here is that some just can't afford to leave. You turn on the television, hear some guy ask someone — with no knowledge of the situation — why they didn't evacuate, and then turn it into an ongoing story.
Sometimes people can barely afford to live when there isn't a storm. It may not be as easy to afford to survive one after a news cycle. Remember Harvey? Yeah, that evaporated on the news faster than the water in Houston.
REAL LIFE. REAL NEWS. REAL VOICES.
Help us tell more of the stories that matter from voices that too often remain unheard.