 The Bible is notoriously hard on women. From seemingly attributing humanity's fall into temptation to Eve in the beginning of the Old Testament to barring women from certain leadership positions late in the New, the Bible is shaped through and through by the patriarchal culture from which is sprang. While Proverbs 31 presents only one of the Bible's many complex passages on women, because it is one of this week's readings in the Revised Common Lectionary that guides the preaching of thousands of ministers, it invites discussion.
The passage describes the qualities of a "good wife" and is a favorite among Evangelicals and Fundamentalists because of its supposed affirmation of traditional gender roles. The good wife Proverbs extols, for instance, is trusted by her husband, adored by her children, works day and night to take care of her household, and even makes her own clothing.
But as New Testament scholar Brent Strawn of Emory points out, she doesn't quite conform to stereotypes about the happy homemaker. While noting the strong patriarchal bias of the passage, Strawn also notes that this wife is a successful business woman and profitable entrepreneur, excelling at various pursuits not traditionally associated with women. But even though it offers a more three-dimensional picture of a wife than we might expect from the Bible, the passage is still problematic in that it's incredibly hard to imagine when this woman ever has a chance to rest. As Strawn notes, she's "working hard everywhere, on everything, for everyone, from dawn to dusk." For a generation of women who have taken on more roles and responsibilities than ever before and yet still report never feeling like they've done enough, this ideal is not just unattainable, but also can be demoralizing.
At the same time, however, historian Amy Oden notes that perhaps what this passage doesn't say about women is as important as what it does. Oden, who serves as Academic Dean at Wesley Theological Seminary, points to three important things made conspicuous by their absence.
First, the passage "doesn't say that a wife's worth is derived from her husband." Rather, she has her own identity and integrity of being, and her value is at no point contingent on or determined by her relationship with, let alone obedience to, her husband.
Second, the passage "doesn't say anything about pregnancy or childbirth, often key credentials for womanhood in the ancient world, and still in our own in many quarters." She is, apparently, a good mother, as the passage states that "her children rise up and call her happy," but that is a far cry from assuming that the point of her being is to bear and raise children.
doesn't say anything about her appearance or physical appeal. There is nothing about weight, shape, clothes, make-up or make-over, the sole topics of women's worth if current popular culture in America were to be believed. Has she achieved "younger-looking skin?" Does she "bulge in the wrong places?" Does she know "what not to wear?" We'll never know.

In this way, as Oden points out, Proverbs offers "a radical counter-cultural message," going so far as to say that "beauty is vain" (v. 29).
As the father of a twelve year-old girl, it's Proverb's focus on a woman's achievements rather than on the importance of physical appearance that I most want my daughter - and all of our wives, sisters, and daughters - to notice. Since the publication of Mary Pipher's Reviving Ophelia first called our attention to the war on our daughters waged by a beauty-obsessed culture twenty-five years ago, things have only gotten worse. Indeed, as the following video illustrates, we have now lifted up not just an idealized version of beauty by which our daughters are invited to compare themselves, but one that is completely artificial.
Yet if Photoshop and the airbrush are powerful weapons in the campaign to create a pervading sense of inadequacy in women - so that, of course, they pay, pay, and keep paying for cosmetics promising to make them beautiful - some are raising their voices in protest. You may have read about thirteen year-old Julia Bluhm's petition to Seventeen Magazine to run one unaltered photo spread per issue. 86,000 digital signatures later, Seventeen's editor pledged that they will no longer use Photoshop to alter bodies and when technology is employed to clean up photos they will note that in the article and direct readers to the untouched photos on one of their blogs.
We need more such voices, and I'd suggest Proverbs 31 - as complex as it certainly is - might be one of them. Think about it: this Sunday countless girls will be sitting in church listening to this passage. How many will hear it interpreted not as one more ideal they can't live up to but instead as a powerful voice that invites them to imagine that they have worth in and of themselves, that they can do anything they set their minds to, and that their value rests in their character and accomplishments, not in the rosy glow of their skin. That's a sermon I hope my daughter hears. And, for that matter, my son as well.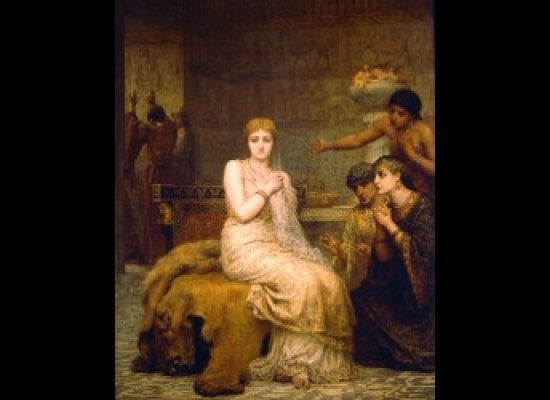 Badass Women in the Bible
Popular in the Community