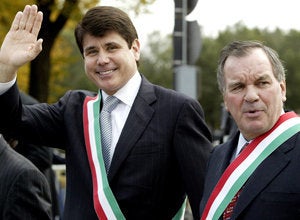 It shouldn't come as any surprise that, in the wake of the shocking allegations against Illinois Governor Rod Blagojevich, observers almost immediately evoked the Windy City's rich, colorful history of corruption. But after a couple of days Chicago Mayor Richard M. Daley, the son of the man synonomous with cronyism and backroom Chicago politics, wasn't about to let the comparisons go unchallenged. At a Wednesday press conference, a subdued Daley, who is bidding to land the 2016 Summer Olympics, went out of his way to distance himself and his city from the stain of the burgeoning scandal. "We don't have the [bad] reputation. We have a good city here. This is all about Springfield. This is not about Chicago."
Any politician, of course, would want to put lots of space between himself and a toxic scandal like this one, in which the sitting governor stands accused of trying to sell President-elect Barack Obama's vacant Senate seat to the highest bidder. Daley, though, has a special interest in trying to draw such a sharp line: not only has his own administration been dogged by patronage scandals and federal investigations, but John Harris, the Governor's co-defendant and chief of staff, was once one of Daley's top lieutenants at City Hall.
REAL LIFE. REAL NEWS. REAL VOICES.
Help us tell more of the stories that matter from voices that too often remain unheard.