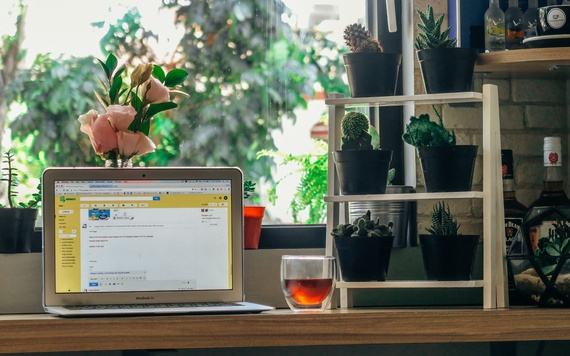 Many people are betting on bots becoming the new apps.
My co-founder and I are two of those people. Before I tell you more about why that is, let's take a paragraph to explain what bots are.
The bots I'm referring to are the so-called chat-bots. They're "smart" programs that you can have a conversation with, and get help from, via the messaging app of your choice. This could be a bot that sends out a survey to your team and then sends you a recap (check out the bot How.dy for Slack). Or it could be a bot serving you with the best personalized news via Facebook Messenger (check out CNN's bot for Facebook).
How bots can change online learning.
When we first founded Daily Bits Of in 2014, our idea was to create a simple format that would help busy people like ourselves to work on their personal development. We knew that there must be curious people out there who felt frustrated about not having enough time to learn new things. We built a simple format where experts easily could turn their knowledge into bite-sized learning chunks. We then distributed the lessons to these people via a platform we knew they used obsessively: email.
Since day one, we have always said "never" to people asking us if we're going to release an app.
I'm not trying to sound conservative here, in fact, I'm the opposite of conservative.
We knew that the threshold to learning can't be low enough. If it's too hard to access the lessons, or if the process takes too many steps, people will move on to something more enjoyable, like staring at food pictures on Instagram.
Learning via email turned out to be a huge success. More than 60,000 people have taken our microcourses. More than seven out of ten users read our lessons every day, and less than 4 percent of people subscribing to a course quit it in advance.
There are however some limitations to email:
Email is mostly used for work.
Email is not very social.
Email is not very popular among people under 20.
We're embracing the bot revolution.
With these limitations in mind, we embrace the bot movement. In short, having our bite-sized courses delivered via messaging platforms will open up a lot of new benefits for our users.
1. The courses will become social.
Imagine talking about something you just learned in a Slack channel or in a group-message in Messenger. This will make our courses like an automated facilitator in a study circle.
2. It will become easier to consume a course via a channel that fits best for the course.
I really believe our work-related courses will be perfect to read and discuss using Slack. The same wouldn't go for our courses on relationships or mental health. Thanks to bots, our learners will have more freedom to choose what they want to learn, where they want to learn it.
3. The courses will become more interactive.
Bite-sized is still our mantra, but in order to take our courses from good to great, we have to personalize them. Thanks to the APIs provided by most messaging platforms, the threshold to creating interactive services has never been lower.
4. Bots will remove some of the friction.
If you ask me, the main feature of any online learning service should be "frictionlessness". This is often done with a mix of smart technology and well-produced content. The bot trend will allow for people to consume learning via a familiar format which in itself reduces a lot of barriers that online learning tools often include (logins, accounts, videos, etc.).
The future of online learning will happen via messaging services.
Old school services like Udemy and Coursera will still be around but mainly to host advanced courses or courses that will get you a special certificate or a degree. For any other kind of learning, a bot with some simple AI will do.
I think we might be on to something.
Popular in the Community