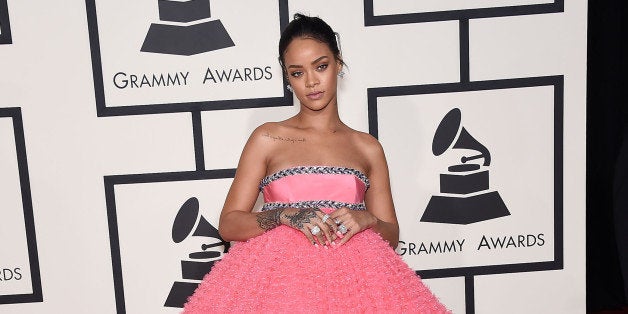 It's getting old and tired.
Sure, both singers are at a state of prominence and achievement that sometimes rival one another. Rihanna has more #1 hits on the Billboard Hot 100, while Beyonce hasn't had one this decade. Beyonce dominates in album sales and accolades, while Rihanna finally reached her second #1 album just recently.
But enough with the industry comparisons, to pit these women against each other is like forcing us to decide between Michael Jackson and Prince -- it's not fair.
"They just get so excited to feast on something that's negative. Something that's competitive. Something that's, you know, a rivalry. And that's just not what I wake up to. Because I can only do me. And nobody else is going to be able to do that."
For some reason, the media loves to position black women in entertainment against each other. As a culture, society won't let us have our ying with our yang while they continue to have all of the variety.
Forcing me to choose between Beyonce and Rihanna is basically implying that there can only be one highly successful black woman in music. I strongly disagree and think it's part of the reason why many of the female artists out now lack in versatility and diversity.
Social media doesn't get enough with comparing every black female artist to one another. I get tired of seeing the memes of Beyonce cast as "better than" musicians that aren't even in her same genre. It's become a headache when I watch award shows where she isn't present and folks still won't give props to some of the black performers who were. A broken record isn't even the sound anymore to describe the persistent online bullying that takes place every time I show love on Facebook to a female artist that isn't Beyonce. For example, I gave a shout out to Cardi B's mixtape...and someone out of nowhere responded "Beyonce's trap music >>>> Cardi B's career."
Was that really necessary?
For some strange reason, we don't ever feel the need to downplay the talent of the over abundance of white women who are celebrated continuously without as much public pressure to be divisive. Black folks love Sam Smith, Robin Thicke (before the scandal), Ed Sheeran, and Justin Timberlake without having to drag either one of them to filth. Adele and Tori Kelly are allowed to co-exist even though they have a difference in sound and persona -- yet we can't let Rih Rih and Queen Bey live?
I've gotten tired of blogs and media personalities comparing every other black female talent to Beyonce or attempting to defame their personal life choices. Rihanna is a single young black women who is unapologetically sexual and in control of her body. She shouldn't be easily dismissed because she doesn't subscribe to the patriarchal viewpoints of society. We we constantly remind followers about the numerous men she has dated but praise Bey for only staying committed to one -- that's making unnecessary judgment calls that we shouldn't be doing.
Mrs. Carter being a proud mother and wife doesn't make her any better than Rihanna choosing to embrace her youthfulness like we all have. Both experiences of womanhood should be accepted by our community and allowed to tell our stories. The slutshamming that has taken place in contemporary black pop culture limits the creative and artist expression of women. It's hypocritical to allow men the agency to share their intimate experiences and afterthought. If Drake and Kendrick is allowed to speak about relationships and the consequences of them -- the vulnerability should be given to single black female artists such as Rihanna.
Furthermore, the comparisons between Beyonce and Rihanna are pretty vapid. What Beyonce gives me is a level of empowerment and soul that Rihanna translate differently through a more contemporary sound. Sure, one may argue that Beyonce dances better and is vocally stronger -- but Janet Jackson never had the pipes that Whitney did and they still both dominated in the 90s.
Music is an aesthetic, not an olympics. Sometimes I just want to be a rocked out hip-hop rebel and twerk out my stress. Sometimes I need an anthem to make me feel like I can take over the world. Black music needs Beyonce just as bad as we need Rihanna. Liberation and empowerment go hand-in-hand. It's time we stop the divide once and for all.
Rihanna Navy and Beyhive, it's time to call a truce.
Let's support both of these talented black women in music and encourage other artists to not feel intimidated by the power of them both. Let's continue to support newcomers like Tinashe, Zendaya, Emeli Sande without putting unnecessary expectations and comparisons on them.
I'm not Team Rihanna or Team Beyonce -- I'm Team Black Women Music. It's time we all start making all black girls rock in entertainment.
REAL LIFE. REAL NEWS. REAL VOICES.
Help us tell more of the stories that matter from voices that too often remain unheard.