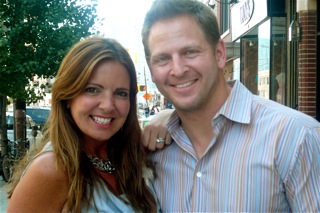 Recently, I wrote about "Man Caves," a topic far more popular than I previously thought it to be. Shortly after my post ran, I was slammed by bloggers, readers and other assorted freaks telling me I was stupid, clueless and insensitive. If I said something like, "Ouch" right now, I'd be lying. Truthfully, I really don't give a shit. First of all, who gets that pissed off about an article on decorating what is essentially a grown man's playroom anyway? Furthermore, I am not only an accomplished designer and media personality, but a licensed general contractor who speaks four languages and has a Mensa eligible IQ. Call me what you want, but stupid isn't on the list. No worries, let's move on!
For argument's sake, let's say I am a moronic, clueless chick who clearly knows nothing about what a Man Cave really is. Could the freaky haters be right? Was I treading in very "manly" territory surely I had no business in? I wanted to find out how far off the mark, if indeed at all, I was. Maybe I really didn't know smack about a Man Cave.
Luckily, I know someone who knows a thing or two about Man Caves.
Enter Jason Cameron. For those of you unfamiliar with Jason, he is one of the hosts of the hit show on The DIY Network, "Man Caves". The other host is NFL legend, Tony Siragusa. Mr. Siragusa wasn't available this week, but Jason was and we got together and discussed this formerly-ununbeknownst-to-me-hot-topic, The Man Cave. Turns out, Jason (and other assorted DIY peeps) read my article and loved it. He thought I was right on the money almost everywhere. He felt I covered most of the broad "must haves," like big screen TV's and cool gadgetry, but he tweaked my list from a guy's standpoint. Jason Cameron is a skilled carpenter, all around rockin' fix it guy and when you look beyond the pretty boy exterior, he is 100% a Guy's Guy. Between him and The Goose (Siragusa's nickname) they've made over dozens and dozens of Man Caves all over the U.S, including Snoop Dogg, Rainn Wilson and Nascar champ, Jimmie Johnson's father. Man Caves is now in it's fifth season and more popular than ever. According to Cameron, he does most of the work and Mr. Siragusa gets most of the glory, but that's a whole other story for another day. Let's stick to the definition of a Man Cave..
According to Jason Cameron, host of "Man Caves" on DIY Network, "A Man Cave is a guy's sanctuary where he can go and relax and just be himself".
What are the necessities of a Man Cave?
Man Cave Non Negotiables:
A comfortable chair. When I asked, "So, seating?" he swiftly replied, "No, more like a chair." This conjured up nightmarish images in my mind of some nasty pleather recliner that smells like beer and dirty socks. Jason stood firm here. A guy likes his own special chair, who knew?
Bar and/or something called a kegerator. I had never heard of this, but my husband had and seemed strangely enthusiastic when I asked him about it. Basically, it's a refrigerator with a beer tap on it. They are very popular in the Man Cave makeovers and I even found a website devoted solely to them, http://www.kegerator.com
Flat screen TV, the bigger the better. We found common ground!
Yes guys, size does matter. Go big or go home.
Mac Daddy surround sound system. Like me, Jason is a big fan of Harmon Kardon and JBL. We also agreed we both love the Omnimount Power 55 remote TV mount and Sonos' ridiculously awesome products.
Lastly, the guys "ultimate thing" that defines the room. All Man Caves must have a theme or they're just tricked out media rooms, according to Jason. Past themes have been everything from music, poker, sports and the like.
Just a side note-I love the theme thing, because it has a slightly feminine air to it. It reminds me of The Food Network's Rachael Ray and Sandra Lee's theme based dinners. I'm sure this never crossed their minds, but it seems there's a little bit of a woman's influence in there. I'm just saying..
What is never allowed in a Man Cave?
Jason really let loose here. I couldn't write fast enough. He has a running list of items that are never to be allowed in a Man Cave. We also think there are probably a few more we could/should add to the list and we invite you to do so!
Man Caves must never allow:
Candles or room scents of any sort
Chotchkies
Throw pillows
Doilies (Seriously? Who do I look like, Martha Stewart?)
Anything pink or any other chick based color
Crafts of any variety
Flowers
Pacifiers, baby blankets and baby toys
Also, Jason informed me of the Man Cave decor basics. They always use earth tones as their color palette, although I don't think they use that term. They are partial to steel, chrome, rock, stone and granite. When I told Jason I used Eldorado stone in a big basement project for NBC recently, his eyes lit up. "Oh yeah, we like that stuff!". Not surprisingly, there are no women working on the set of Man Caves. What's up with that? Although there was a mention of someone named Hilary who works behind the scenes. The only information I could gather on Hilary (last name unknown) was that she is a designer and we think she lives in New Jersey. So at the end of the day, these very manly Man Caves are getting a little help from the women, too. Hilary, if you're out there I am giving you your much deserved props!
There you have it, straight from the Man Cave Guru himself, Jason Cameron.
To Jason, thanks for clarifying what a Man Cave is! Keep doing your thing.
You can catch "Man Caves" on the DIY Network every Friday at 9pm EST. If you don't receive the channel you can watch it on HULU or http://www.diynetwork.com/mancaves

If you'd like to keep up with Courtney Cachet, you can join her Facebook page, follow her on Twitter and check her out online at http://www.courtneycachet.com