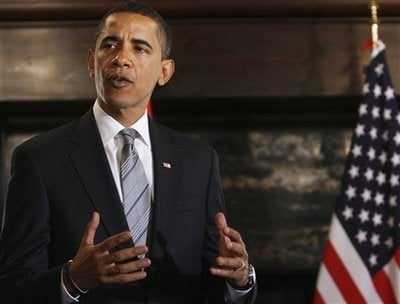 As Dr. King said in his "Mountain Top" speech, I see God working in this period of the 21st century in America, and I thank Him for allowing me to witness its citizens respond. It was a privilege to join the millions who knocked on doors in the cold and rain, volunteered our time, donated money and use of our homes, and voted this transcendent phase in American politics and history into life. The significance of President-elect Barack Obama's inauguration as the 44th president in our nation's great history resides in the sweat, blood, and tears shed by our forefathers so that people of all races, creed, color, and gender could share in the American inheritance.
I imagine Harriet Tubman, no longer troubled by the epilepsy and migraines brought on by the steel weight her master used to fracture her skull, conducting a new railroad; one which carries heroes of the American freedom movement. In the last car Abraham Lincoln and Frederick Douglass sit across from each other playing chess, the game as equal as their intellect, still discussing what could have been done differently to save the Union from war while bringing about freedom for all its people.
In another car forward sits Goodman, Chaney, and Schwerner with Medger Evers discussing registering voters in the Mississippi of a more dangerous time. "All in all," Medger concludes his argument, "Nothing matches the will of people in the South to overcome." Then, winking at Chaney, he starts another debate, "And nothing matches the magnificence of watching the sun kiss the Delta at dusk!" Schwerner says, "The Delta?! Nothing beats the breeze off the Atlantic...", before they are startled by a loud scream from the adjacent car.
It is four little girls -- Denise McNair, Carole Robertson, Cynthia Wesley, and Addie Mae Collins, dressed in their Sunday best, cackling loudly as they surround a young boy who has taken off with one of their hair ribbons and dangles it playfully over their heads. "You ca-ca-can't ge-ge-get it!" he stutters. And as a broad smile crosses his handsome face, he takes off running into the next car.
Hearing the commotion, a little old lady quickly lays down her crochet and stands up, of her own volition, and placing finger to mouth says, "Shhhhh, Emmett! Don't you see the doctor is resting?" Turning to her car companion, she says softly, "Martin, we're almost there. Aren't you excited?" Without opening an eye, he awakes from his dream and peacefully replies, "Yes, I am. But remember Mrs. Parks, I've already seen the Promised Land."
In the front car reserved for the most distinguished guests, sitting side by side are two of the least known passengers, Ann Dunham Soetoro and Lorraine Wilson Patterson, my mother. While not well known, these two remarkable women, both returning to their maker 53 years removed from their birth, spent their lives preparing their children to forge ahead in the America of Dr. King's dream. They are representatives of all our ancestors, native, immigrant, freeman and slave alike, who worked tirelessly to make America, in Dr. King's words, "what it ought to be."
"I am so proud of our sons, all of our children," Lorraine says through tears. "So am I," replies Ann softly. Beginning to cry herself, she continues, "What do you think you'll miss the most about not being there?" Lorraine's mind rushes from witnessing this historic occasion with her beloved husband, her five children, her two grandchildren, including her only granddaughter -- who was named posthumously for her -- before arriving at an answer. "You know," she says smiling so broadly her dimples show, "I never got to hear Aretha sing live." "Amen, my sister!" The next president's mother exclaims as they embraced while laughing. "Amen."