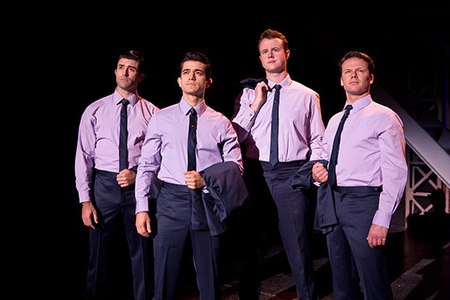 I first saw the hit Broadway musical Jersey Boys in mid-July '06 -- not late December, back in '63. Memorable songs like "My Eyes Adored You" and "Cry For Me" punctuated the storyline surrounding the crackerjack successes of four young men (Frankie Valli, Bob Gaudio, Tommy DeVito, and Nick Massi) singing under a street light in Belleville, New Jersey. A tale about blue-collar boys from the wrong side of the tracks becoming one of the biggest pop music sensations of all time is a plot that just writes itself -- or does it?
Today I view Jersey Boys through a Kafkaesque legal lens. In 2011, Donna Corbello filed a copyright infringement action alleging that the musical was based in part on an unpublished autobiography about Frankie Valli and the Four Seasons that her late husband, Rex Woodard, ghostwrote. Back in 1988, Woodard, a lawyer and journalist, entered into a written agreement to ghostwrite the autobiography of Tommy DeVito, one of the original members of the band that shot to stardom in the 1960s. Pursuant to this agreement, Woodard and DeVito would split the proceeds from publishing or otherwise exploiting the manuscript.
The crux of Corbello's argument is that Tommy DeVito registered a work in 1991 that appeared to be an almost exact copy of her late husband's work with the U.S. Copyright Office. In the registration materials, DeVito claimed only he had authored the work.
Corbello filed a federal complaint for, among other things, breach of contract, copyright infringement, and equitable accounting. In an order dated May 20, 2011, U.S. District Judge Robert C. Jones rejected Corbello's claims and granted defendants summary judgment. That decision would not be the end of the Jersey Boys copyright saga.
On February 10, 2015, the United States Court of Appeals for the Ninth Circuit in Donna Corbello v. Thomas Gaetano DeVito, et al. overturned a lower court ruling in favor of Valli and Gaudio and sent the case back down for further proceedings.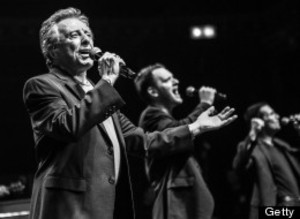 Let's Hang On: Under U.S. CONST. art. I, § 8, cl. 8, the Copyright Clause of the United States Constitution seeks "To promote the Progress of Science and useful Arts, by securing for limited Times to Authors and Inventors the exclusive Right to their respective Writings and Discoveries." The heir to Woodard's estate has decided to hang on and protect her husband's creative work that in her eyes was precious (and lucrative) enough for others to try and steal.
Can't Take My Eyes Off You: A smash hit on Broadway is a target for litigation, and Jersey Boys was no exception. The show about love, family, drug use, bad loans, and mob connections is celebrating its 10th year on the Great White Way; it opened to critical acclaim on November 6, 2005 and won four Tony awards including the 2006 Tony Award for Best Musical; it has been staged all over the world from Las Vegas to South Africa; and Clint Eastwood directed a film released in 2014 based on the stage version. Perhaps the most surprising aspect of this case is that someone did not claim ownership to the material that formed the basis for Jersey Boys sooner.
Beggin': Corbello may have to resort to some begging if she wants to prevail on the merits since copyright law generally does not protect facts. Corbello, who inherited Woodard's copyright in the DeVito autobiography when her husband died, did not control or own the facts to DeVito's life. Consequently, Corbello must show some idiosyncratic characteristic or creative quality about how the work portrays actual events. Without an original voice or structure, the law does not deem a work worthy enough to protect. The law will uphold the brainpower of the artist when the artist has something pioneering to say.
The falsetto-infused soundtrack to accompany this lawsuit could be a ballad in the style of "Fallen Angel" or an upbeat, toe-tapping number that channels "Walk Like A Man," depending on who the final victor is.
Calling all HuffPost superfans!
Sign up for membership to become a founding member and help shape HuffPost's next chapter