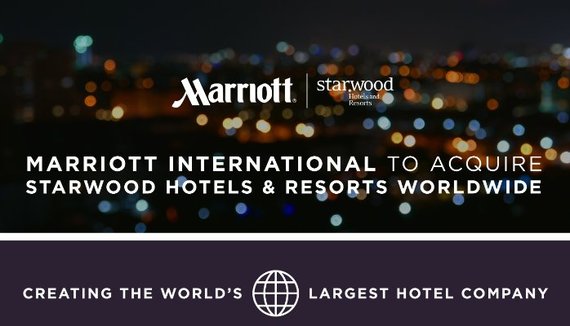 Earlier this week, Marriott agreed to purchase Starwood in a $12.2 billion deal expected to close in mid-2016.
If this transaction closes, it will create the world's largest hotel company. Undoubtedly Marriott's decision comes in response to an increasingly competitive landscape, where online travel providers are taking a significant share of margins, peer-to-peer services such as AirBnB are rapidly capturing more market share, and high-tech companies like Google and start-ups are finding new ways to disrupt the more traditional hotel industry.
Starwood has been shopping a sale for some time, but attractive market conditions were one catalyst behind the timing. Marriott's determined that it needs scale to compete. It also seeks to appeal to a younger demographic through Starwood 11 brands, including St. Regis, W Hotels, Westin and Sheraton.
Arne Sorensen, Marriott's CEO, said: "Today, size matters." Sorenson expanded that "to be successful in today's lodging space, a wide distribution of brands and hotels across price points is critical." Marriott was also drawn to Starwood's large international presence, strong rewards program and its popularity among younger travelers.
For now, Starwood and Marriott will continue to operate as two separate companies. Even after completing the merger, it's likely to take time to determine how the companies will integrate and the impact on travelers, but here are some possibilities.
Does Size Help Travellers?
Size matters. At least to the economics expected by the market. Unless there's more activity, the new hotel chain will be the world's largest. Marriott has a worldwide portfolio of about 4,300 hotels, and Starwood approximately 1,200. The combined hotelier would be the only hotel company to have more than 1 million rooms (1.1M), ahead of Hilton, their nearest competitor.
Marriott plans to cut at least $200 million in annual costs by 2018 seeking further economies of scale. "By being bigger, our hotels can be made to perform better," Sorenson said.
But will any savings be passed along to travelers? Recent trends in the airline industry suggest that mergers don't necessarily benefit travelers. Passengers are suffering from lack of choice, pricing increases and lack of innovation. While Marriott's committed to maintaining a wide variety of brands and choices (over 30), it's hard to imagine that prices won't start to rise if record hotel occupancy and rates continue. Regulators will likely closely scrutinize the proposed merger before approving.
Starwood Preferred Guest Program (SPG) and Marriott Rewards
Both Marriott and Starwood have huge loyalty rewards programs -- with 54 million and 21 million members, respectively. Members of each are already asking about how the merger will impact the benefits they worked (or vacationed) so hard to earn.
It's hard to imagine anything but good news for Marriott Rewards members, who will have access to Starwood's upscale portfolio. An upside isn't such a sure thing for SPG's more generous program, which was essential for the smaller company to remain competitive. What is clear is this - Marriott finds the SPG program appealing, including the loyal members and attractive affiliate programs that come along with it, including its relationship with Amex.
Sorenson has promised to "take the best of both . . . programs and make sure that those bests are preserved and that the program is enhanced." If you're an optimist like me, you're expecting Marriott to operate the SPG program alongside its own. Admittedly, that's far from a sure thing.
On a related note, the word on the street is that all of the credit card s associated with both rewards programs will continue for now. It may be a good time to lock up one of the more rich offers in case they disappear.
Technology, Innovation and the Future
While there hasn't been a lot of attention paid to Starwood's commitment to develop and utilize technology in their offering, they are strongly committed to innovation. The results are apparent when you look at how well they have connected to millennials. Sorenson does seem to recognize this asset, saying "Whether you look at their app, which I think is a wonderful, inspirational travel planning app; if you look at a little bit the way that SPG skews a little bit younger in some respects; and very valued by elite travelers -- we think that there is great value . . ."
It's interesting timing that Expedia just announced they would acquire HomeAway for nearly $4 billion. Now, Hyatt, Hilton and IHG, each having previously taken a look at Starwood, will certainly feel pressure to show growth or consolidate. And home sharing and technological innovations play an ever-increasing role in the market, it's likely we'll see further investment to ensure brands preserve their future. This may come through further consolidation or by investments in technology or innovative models that focus on sharing rather than owning a real estate portfolio.
While undoubtedly size provides more scale and more leverage, perhaps one blind spot of the tradition hoteliers is that growing numbers of travelers are looking for the authentic and meaningful experiences through a seamlessly connected interface, not a brand. And that shift may not bode well for brands that rely on and expect blind loyalty.
Jim Pickell is the President of HomeExchange.com, an advisor, angel investor and frequent guest lecturer. He joined HomeExchange.com as the chief operating officer in January 2014 and immediately made his mark by spearheading three acquisitions, contributing to the doubling of the company's membership, to include 66,000 listings around the world.
Previously Pickell founded several companies including OpenEnglish.com, Latin America's leading online language school, now with over 2,000 employees. He served as the Senior Vice President of Sony Connect in L.A., where he was responsible for leading the digital distribution of films, music and eBooks. He started his career as an attorney focused on mergers and acquisitions but ultimately sought to collaborate with like-minded thinkers and create ideas that influence positive change. His quest lead him to HomeExchange.com, first as a Member and now as a core part of what he calls "a 23 year-old startup".
Pickell holds a degree in economics from UC Berkeley, a law degree from Loyola Law School, and an MBA from the Anderson School at UCLA.