I am part of an army of moms dedicated to documenting my family's life with gorgeous photos. Those of us who are really dedicated go beyond just buying the "fancy camera" and take the time to learn how to use it and make the most of that knowledge by taking it just about everywhere. If this sounds like you, or a mom in your life, there are some great options for gifts guaranteed to make her quest easier and put a smile on her face.
If you are going to take your camera with you everywhere a bag that you love is a must, as is proper protection for your gear. Fortunately, there are tons of options out there in every style and price point.

SHUTTERbag: SHUTTERbag is one of the few companies making all genuine leather camera bags. The timeless style and durability of SHUTTERbag make it a worthy investment. The Heirloom is a sleek bag bound to get compliments. It's big enough to tote along not just your camera and extra lenses, but also the kid-gear you always need. Thoughtful details like an attached lens cap holder, separate compartments for personal items, and pockets for things you may need to reach for quickly make this a very user-friendly bag. And, if it gets heavy, extra straps allow you to use it as a backpack or wear cross-body.
Epiphanie: Epiphanie bags are some of the most popular camera bags available because of the wide selection in style and color available at a reasonable price point. Several styles appeal to pros, including the Clover. The Clover is not just fashion-forward, but is a larger bag able to accommodate extra lenses and plenty of gear. Internal padding is adjustable and outside pockets can hold small props or personal items. Epiphanie is set to release some new styles soon as well!
Miggo: Already have a bag you love? The Miggo is a pretty neat invention that allows you to zip your camera into secure padding so that you can carry your camera in your favorite purse or diaper bag worry free. Worried you will loose it when you remove your camera? The Miggo actually plays double-duty by transforming into a super-sturdy and comfy strap so you'll never loose it.
Domke: Not all moms with a Camera want a camera bag that looks like a purse. Domke's new Next Generation line has several cute options that aren't too "girly." I love the Director since it's very stylish, has extra pockets, and has nice details like a zip-open top so that you don't need to reveal the entire contents of your bag when out shooting with the kids.
Tripods are a must for any mom that wants to be in family photos and for those times you want to use a slow shutter speed, such as shooting at night or in the awful light of school performances.
BeFree: Manfrotto is synonymous with quality when it comes to tripods and reliability is paramount when screwing your pricey camera and lens onto metal legs. Recently, Manfrotto has introduced the compact, lightweight BeFree line that is perfect for the Mom who wants to be in photos on the go and at home. The Carbon Fiber version weighs under 2.5 pounds and can fit into a larger camera bag. It's also super-easy to set-up which is essential when you want to jump in a photo with the kiddos. A slightly heavier aluminum version (in many colors) is also available.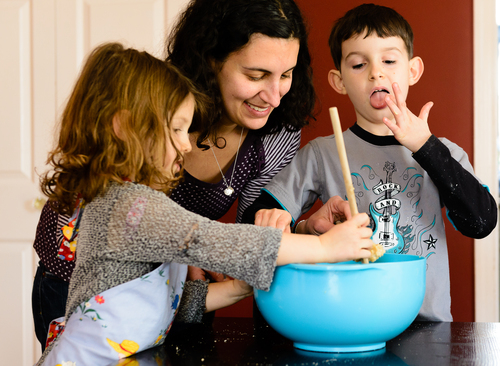 Learning
One of the photos taken with my BeFree

Most moms start off wanting lovely portraits of their kids but taking pictures of your daughter with a bow in her hair or your son in a button-down shirt gets boring quickly and does little to capture the essence of family life and childhood that most moms really want to preserve. Surprisingly to many it's not always intuitive about how to best capture these moments that make up daily life.
Everyday Beauty: Ginger Unzueta's wildly popular online class Everyday Beauty shows moms and pros alike how to see the beauty in their everyday lives, from capturing the smallest details of your child's personality through storytelling using a short series of photos. Ginger offers wonderful, personalized feedback on every photo submitted. As an amazing bonus, past students are invited to join the collaborative project Cherish This Day, which provides not just inspiration for capturing everyday moments but also fantastic eye candy.
Your Family in Pictures: Me Ra Koh's latest book is filled with tips and photo recipes for everyone ranging from the Mom with her first camera (even a point-and-shoot) to the more experience DSLR user. She offers tips such as choose a weekly story tell, such as a softball game or ballet lesson, and how to take better holiday photos, including not waiting until Halloween night to take photos of your child in his costume. Me Ra's tips, from the technical to the general, are always accessible and easy to understand making this a great choice for a Mom at any skill level.
It's a risk to buy new gear for a photographer unless you know *exactly* what they want. It never hurts to pry. New lenses are always a hit and can greatly increase creative power. Sigma lenses, with their reasonable price points and consistently good reviews are always a good bet. Lensbaby lenses are incredibly fun and offer endless opportunities for truly unique and stunning images.
Whether you are buying a gift for yourself or the special woman who has taken on recording your family's memories there is something fit everyone's need and style.