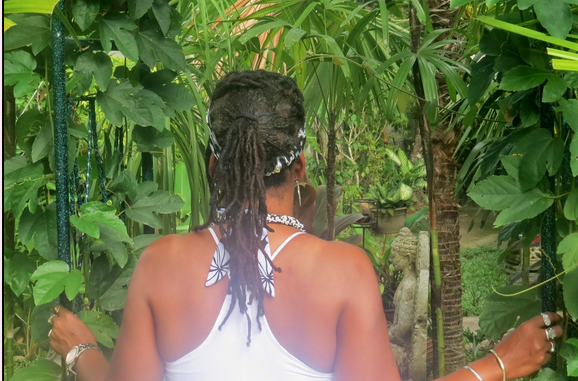 Of late, there have been stories about young Black women who are being chastised for wearing their hair naturally ― namely in braids, afros and other natural hairdos. Essentially, they are wearing their hair in various styles, per the texture of it, as it grows out of their scalp. As a Naturalista (a Black woman who wears her hair naturally), I personally find this opposition to natural hair, appalling. I wore a full head of locs (sometimes spelled locks, that is locks of hair, or short for dreadlocks) for 25 years, until a recent decision (about a year ago) to take out some of them and let the remainder gradually depart on their own time. This was a personal choice to try something new while simultaneously keeping my hair natural. My ultimate goal will be various styles from free flowing curls and kink, including an afro, twists, braids and whatever I please. This choice to wear one's hair in natural styles is about freedom to be who we are naturally.
When I read some of the articles below, my heart went out deeply to these young women, which led me to the conclusion that it is time to collect our stories, essentially our natural hair narratives. If you have been humiliated, harassed, shamed, embarrassed, isolated, criticized, or treated/spoken to negatively in any way for wearing your hair naturally, anywhere, anytime or anyplace, by anyone, this is an invitation to share your story with comments to this post or at Natural Is Cool Enough. Also, enlighten us about how you handled the situation because above all #LetsTalkAboutSolutions. There is a place in history for these important stories, so that generations to come will know how the hair of Black people, in its natural state, was (is) viewed in our society. This effort will also serve as an opportunity for us to tell our young sisters, in the articles below, that we love them in all of their natural hair glory and that we are not accepting of what they are experiencing.
In your natural hair glory, I support you young sisters,
I hear your stories and I care.
Always know that no matter who says otherwise, anytime, any place or
Through your stories, the Natural Hair Narratives have begun,
and we know that based on the beauty and history of our natural hair,
in terms of this natural hair war nonsense, we have already won!
We can share our natural hair narratives knowing that doing so is happening within a warm embrace of support because we must deeply believe that in terms of our natural hair, Natural Is Cool Enough and of course, that is N.I.C.E.! We cannot be accepting of this continued crisis of natural hair denigration. Let's send our young sisters and brothers love so that stories like those above and below will no longer be just another piece to read but a call to action to ensure that this happens no more. Through our stories, let's understand, what the natural hair is going on and move towards solutions.