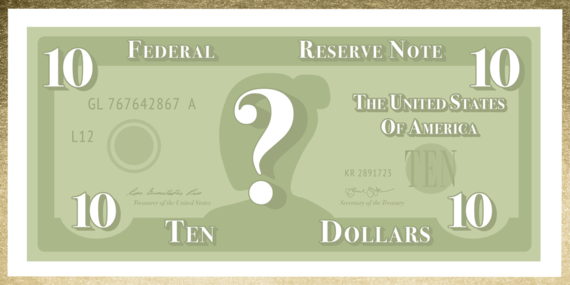 If you know me, you've heard me say, "you can't be it if you can't see it." I share this mantra in speeches, at Girls' Lounges and on my social media all the time because I know it to be true-- women need to be visible in order to be equal. Gender equality depends largely on equal visibility, which is part of the reason why the new $10 bill is so exciting to myself, to women and to the next generations of our daughters.
Last June, the US Treasury announced that for the first time in over a century, a woman would be printed in the portrait position on the new $10 note scheduled to be released in 2020, but recent news is suggesting that it might not be on the front of the bill. According to recent statements by US Secretary of the Treasury Jack Lew, "Alexander Hamilton is not leaving our money." If Hamilton remains on the front, where will the woman be? On the back of the bill?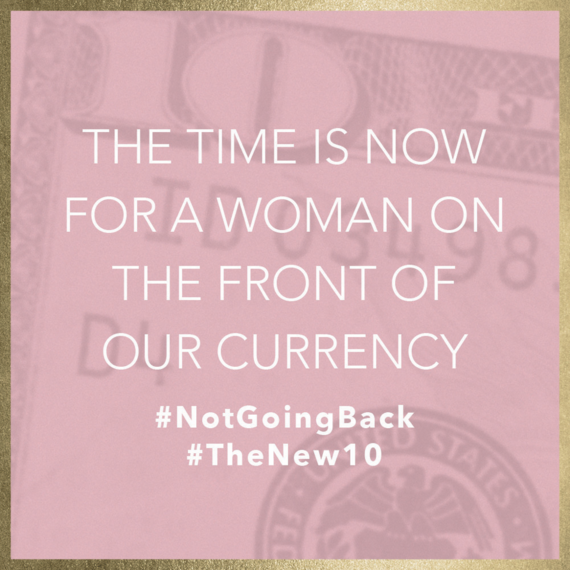 Do the women that shaped our country deserve to be on the back of the bill? The long and short answer is no, absolutely not. Among the women considered for this honor are Rosa Parks, Eleanor Roosevelt, Harriet Tubman and Susan B. Anthony. These civil rights activists, suffragettes, humanitarians and leaders were instrumental in shaping our great nation with the same passion, purpose and strength as the men we celebrate in our history. Their work has made historical and lasting changes for the better in America. Gender has nothing to do with influence, impact and change.
Is the back that bad? Plenty of conversations around the new note could play out around this question, after all, adding a woman to our currency, wherever she appears, is progress itself, isn't it? No, it isn't. When a young girl holds her cash allowance and only sees our founding fathers representing our nation, what does that tell her? How can that not reinforce the notion that these men are more important than the women shown elsewhere? The back side is the second thought, the final glance, the overlooked place. This is less about ego and more about the effect of unconscious bias: by considering the back to be acceptable, we're accepting that the contributions of this woman are second to the contributions of the man on the front. As a parent and as a woman, that's hardly a lesson that I want my daughter to learn when they see and use the new $10. This is not a women's issue, but rather a human issue, one that affects young girls in real, impactful ways.
What about Hamilton? Hamilton is undeniably a great figure in American history. His work shaped our nation, and his impact is not being discussed. Shifting the conversation to him is undeniably ironic: what started as a conversation about equality shifting back to a narrower view of history. Hamilton's contributions to the Federalist Papers and the founding years of America shaped this country-- but were they more or less impactful than Rosa Parks refusing to move to the back of the bus? Than Susan B. Anthony campaigning for women's right to vote? There are no answers to these questions, which is why they are not the right ones to ask. Instead of weighing who contributed more or who was a better American, our new currency should be celebrating America's rich history and democracy with visibility for historical figures to inspire current and future generations to chase their dreams.
The new $10 has been a collaborative project since it was announced. US Treasurer, Rosie Rios said in an announcement video, "We'd like to ensure that our next currency design best represents the value of democracy and the diversity on which this country was founded... That's why the Secretary would like to hear from you." The response was enormous. Over 1.5 million Americans contributed ideas, suggested powerful women from history and joined the conversation about #theNew10. A recent study from The Girls' Lounge confirms that America is ready for a woman on the front-- 60% of Americans surveyed said they want her, whoever she will be, to be printed on the front of the new $10.
It's up to us to keep this conversation moving. It isn't over yet, but the time to have it is now. A huge part of the reason that I founded The Girls' Lounge was to create a strong and powerful voice for women and men so that we could work collaboratively to make real change happen. In inspiring and impactful fashion, we've activated around the new $10 note because we believe that the women who made our country what it is deserve to be seen, celebrated and remembered.
Join us by signing a petition that will be delivered to the White House stating that we stand for a woman on the front of #TheNew10.
Share #NotGoingBack on social media to activate your own community.
Together, we have the power of the pack to make real change happen. There will be a woman on the front of new $10, and she'll stand for all of us.
REAL LIFE. REAL NEWS. REAL VOICES.
Help us tell more of the stories that matter from voices that too often remain unheard.