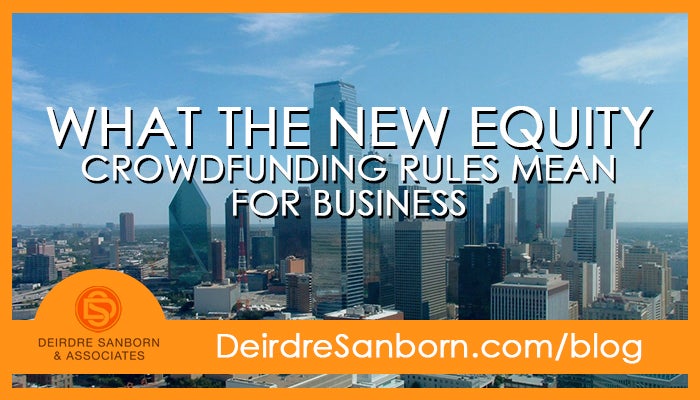 In May 2016, the new federal regulations written by the SEC became effective, establishing the ground rules about how business owners can access equity crowdfunding capital for their privately-held businesses.
Crowdfunding is not a new concept. The Texas State Securities Board (and many other states) were ahead of this trend, having set intrastate crowdfunding regulations to allow investments in private businesses, In Texas' cases investments of up to $5,000 per investor could be made under certain conditions, but it was only available to businesses and investors within the state of Texas, which limited the number of eligible investors.
Now, the new regulations allow business owners to get equity from crowd sourced investors across the U.S. While the long term implications of this have yet to be seen, small investors are excited because it gives them an opportunity to invest in small companies nationwide.
I spoke at length with Dallas-based attorney R Shawn McBride about the impact these new rules will have on local business owners and potential investors.
While rules around crowdfunding for pre-sale of products (i.e. most KickStarter campaigns) remain largely unchanged—what we have now is the introduction of and possibility for investments and part ownership in small businesses at a micro level, where this was previous cornered by more sophisticated private equity firms or large investors.
If you're looking for potential new avenues of capital or have been eager to invest in a promising startup, here are a few things you should know and consider in 4 Simple Tips.
Brace yourself for a lot of paperwork.
To be eligible, the SEC requires the disclosure of a significant amount of information about your business. From full disclosure on the price you are offering the stock to financial statements (and possible audit) to information on owners and directors.
Your information is placed on a centralized site, where the information collected is openly available to interested investors - these platforms are referred to as "portals" and they are highly regulated.
This is a fantastic system for investors to get better disclosure for analysis and risk assessment, but it also means that you, as a business owner, can initially be hit for thousands of dollars just to be eligible to use these crowdfunding rules.
Crowdfunding may be more expensive than more traditional sources of funding. It is important for business owners to consider the cost/benefit of crowdfunding before embarking on this path.
Another consideration, is the potential for multiple investors. If you are successful at a crowdfunding offering you will likely have many small investors.
Crowdfunding brings the benefit of multiple, small investments and a diversified stockholder base, as opposed to one powerful partner. *click to tweet*
However, think of the compliance, which could get expensive -- doing a mailing to all of your investors for an action like a stockholders meeting or a merger could be very costly. And each of those small stockholders may be owed fiduciary duties -- meaning they could sue you if they think you aren't running the company to further their best interests. We'll discuss this more later.
What is unclear is how other pre-existing equity partnerships are impacted by crowdfunding sources. You may or may not have to get the approval of your existing partners. And using crowdfunding may block you from using angel investors or private equity investments in the future. There has been a good deal of talk that some traditional investors may not want to invest in crowdfunded companies.
Lastly, Shawn advised that you bear in mind that typically your fiduciary duties (those trustee type duties of care that people running a business owe to the owners) will extend to all investors—your actions must be in the best interest of all your stockholders, otherwise you could face potential lawsuits.
Don't expect to be grilled, or have to fill out all the paperwork and do all of the ongoing compliance, like a public company or have to sign Sarbanes-Oxley ("SOX") forms, but do consider that there will be increased liability concerns if you attempt or complete a crowdfunding offering.
What Investors Need To Know
Independent investors in this new "crowdfunding" system have the potential to earn significant return by investing in the early stages of a company's growth. For the first time many smaller investors might be able to get into newer companies very early.
But, buyer beware! As with any equity investment, there is a still the risk of losing everything you invest, so be sure to do your research.
So... be prepared for a lot of reading! The new regulations will provide you with access to a lot of information about the prospective investment. With this information, you will be able to better inform yourself about the risk/reward of every crowdfunding opportunity.
Thanks to the release of the new federal regulations, you are going to continue to hear a lot of buzz about crowdfunding, but that doesn't mean you need to jump on the bandwagon right away.
Shawn encourages you to think about what's best for your company—not you, not potential "special interests" - but what is best for your business in the long term. Consider all of your potential funding sources and consider what is best for the needs of your company.
Crowdfunding can bring you a new wave of investors, but you may want to consider a silent partner who might give you the initial boost and stability you need to get your business off the ground. Stay attuned to all the resources available to you and don't believe all the hype that's out there.
Ultimately, crowdfunded equity is just one tool in your business toolbox. Don't treat it as anything more than another option to consider as you set out your goals and future plans.
Are you looking for help in knowing which tool in your business toolbox is the right one to use at the right time? Check out this strategic consulting program and be sure to follow what other business leaders in the Dallas-Fort Worth community are talking about by listening to the Ambition Show Project. And if you don't want to miss a show, be sure to subscribe.
As a business consultant and speaker, Deirdre Sanborn helps business owners establish the mindset and methodology to improve business performance and profitability.
Deirdre is also the host of The Ambition Project Show, a podcast that features ambitious Dallas business leaders who share their stories about how they've grown their business and achieved success. Subscribe to her podcast on iTunes or on the web at www.TheAmbitionProjectShow.com. You can also find Deirdre on Twitter at @deirdre_sanborn or on the web at deirdresanborn.com.
Popular in the Community