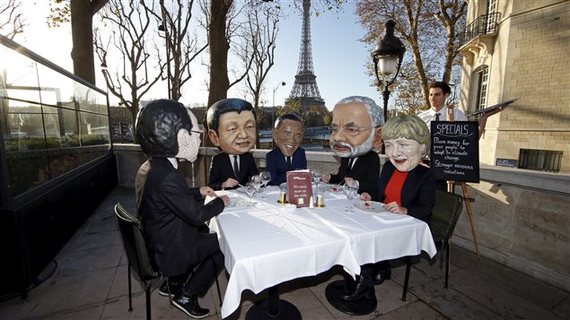 Activists from global anti-poverty charity Oxfam, wearing masks depicting French President Francois Hollande, Chinese President Xi Jinping, U.S. President Barack Obama, India's Prime Minister Narendra Modi and German Chancellor Angela Merkel, stage a protest ahead of the 2015 Paris Climate Conference (known as the COP21 summit), in Paris, France, November 28, 2015. CREDIT: © Benoit Tessier/Reuters
In the midst of relentless bad news about human conflict and humanitarian crisis, all of us breathed a huge sigh of relief when negotiators announced that agreement had been reached between 195 countries to fight climate change and cut carbon emissions.
Having been in Paris at the beginning of the month during the negotiations, I was moved by the world coming together to address a common threat facing humanity. It was after all, where 150 heads of government gathered - the highest number of world leaders ever gathered under one roof -- and more than 190 countries made pledges to cut emissions, covering 94% of all GHG emissions.
Along with governments, hundreds of companies and CEOs made pledges in Paris to reduce their carbon footprint. This includes 115 companies who committed to align their emissions reduction target with the level of decarbonization required to keep global temperatures increase below 2 degrees Celsius. This is encouraging but they must take actions to back up their words now that the meetings are over.
After 21 years of hard negotiations, we have achieved the incredible feat of a global climate change agreement. But is the deal really enough to solve the climate crisis and help millions of vulnerable people around the globe adapt to the ever changing climate?
While the deal is historic, the sad reality is that even with all of the commitments to cut greenhouse gas emissions, we are unlikely to avert dangerous climate change impacts. And the poorest among us who have done the least to contribute to the problem are the most likely to be impacted. As we reported during the Paris talks, the poorest half of the world's population - 3.5 billion people - is responsible for just 10 percent of carbon emissions, despite being the most threatened by the catastrophic storms, droughts, and other severe weather shocks linked to climate change.
Three out of four natural disasters are now climate related and since the first Climate Change Conference in 1995, 606,000 lives have been lost and 4.1 billion people have been injured, left homeless or in need of emergency assistance as a result of weather related disasters. An overwhelming majority of lives lost have been in developing countries. The UNHCR estimates that 26 million are displaced every year due to natural disasters, a figure that is set to rise because of climate change. The capacity of countries to deal with rising disasters has been severely stretched for years and the international humanitarian system can simply not cope any longer with the rapidly growing needs.
While the Paris agreement recognizes that the climate change threat to global food security could be a game changer for the 800 million people still suffering from chronic hunger, as well as for the 80% of the world's poor who survive as small farmers in rural areas, there's not enough funding to help farmers cope. As I write this, the climate change-fueled Super El Nino is wreaking havoc on millions around the world, from Southern Africa to the spine of Central America, from South America to Asia and the Pacific. In Ethiopia alone, more than 10 million people currently need help due to a drought that has deeply affected farmers. Rains have been poor and erratic in Southern Africa, with corn production in Malawi and Zimbabwe down by 30 and 35 percent. In Central America, 3.5 million people have been affected. In all, Oxfam estimates that by early next year, some 40-50 million people across the world are likely to be facing hunger, water shortages and disease.
So it is now up to countries, including the US, to take action to help millions of vulnerable people around the globe build their resilience and adapt to the changing climate. The US Congress began to do its part last week by paving the way for the US to deliver a lifeline to poor and vulnerable communities suffering from the worst impacts of climate change. But Congress will need to continue to appropriate funds on an annual basis for those on the frontlines of climate change.
The global deal was a huge win for our fight against climate change, but we still have a lot more to do to help poor communities adapt. So the fight doesn't end here. It's now up to all of us to keep up the momentum and to keep fighting.