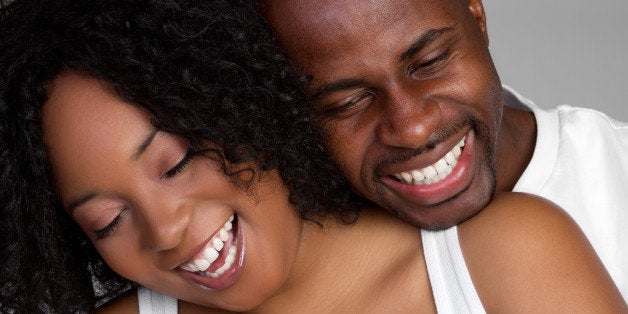 I have followed The Root columnist Demetria Lucas D'Oyley since 2010, when she was a mere Belle in Brooklyn. I admire her wit, humor and no-nonsense approach to relationships. And while I respect her work, I must respectfully disagree with her recent article, 7 Ways to Make The Perfect Guy Less Horrible. The piece outlines Lucas D'Oyley's discontent with the blockbuster The Perfect Guy. No spoilers here, but we all know that the movie tells the story of Sanaa Lathan's character, Leah and her love triangle between Carter, played by Michael Ealy, and Dave, played by Morris Chestnut. In her article, Demetria partially accepts the rapid speed at which Leah and Carter's relationship develops and ultimately disintegrates. Demetria says, "I was fine with the sex on the first date, even in the club bathroom. Even the speed at which Leah introduced Carter to her friends."

Here's my problem with that statement. Sex complicates things unnecessarily. Being intimate with someone can impair good judgment and makes it harder to see things for what they are. Many times, sex is the reason we find ourselves in those "how did I get here" situations. I don't agree that Leah should have given it up on the first date. If Leah had gone on even 3 consecutive dates with Carter, she might have realized that things weren't adding up. Rushing into a sexual relationship made her highlight all the wonderful things about Carter. And perhaps if she had gotten to know him without the physical distractions, she could have focused on learning more about her new guy's character, family, friends or lack thereof.

I spent 6 years of my adult life not getting any. And by any, I mean SEX. You may be wondering why anyone would subject themselves to this and it simple: I wanted a long, lasting relationship. According to the CDC's National Vital Statistics System reporting on National Marriage and Divorce Rate Trends, almost 900,000 marriages ended in divorce in 2012. I didn't want to jump into a relationship so fast that I didn't count the cost and make a truly informed decision. Furthermore, I didn't want to let sex cloud my judgment for determining who was worth my time and who wasn't. The National Marriage Project reports that couples who wait to have sex later in their relationship report high levers of marriage quality. I wanted to give myself the best chance of real love. And even The Economist highlights how holding off has benefits. Sometimes getting to know someone needs to happen without the haze of sex. The fact of the matter is that intimacy breeds connection. And no matter how cute or how strong the initial chemistry, some people should not be a connection. Carter is a perfect demonstration of that. Are there people who have sex on the first date and end up married? Yes. Is it the exception and not the rule? Absolutely!

Steve Harvey famously advocates the 90-day rule, but in true prude fashion, I think it should be even longer. I think you owe it to yourself and the relationship to give yourself time and space to truly know one another. This will allow you to see if there is lasting potential and to make an informed decision without the distraction of sex. Is it difficult to hold off? Yes. Impossible? Not exactly.

Perhaps in the sequel to this movie or at least the made for TV version of the story, Leah will learn to take things slower. She will spend time getting to know her beau before jumping in between the sheets. She will ask the questions that matter and be able to clearly determine if her man is cra-cra. And then maybe, she won't find herself disillusioned by what seems like the perfect guy.

D.S. Coleman is a writer who did the dating scene, had her heart broken and lived to tell the story. Through her experiences, she birthed www.courtshipchallenge.com, a blend of her faith and lessons learned in relationships. Find her on Instagram and Twitter: @Courtship101.
Calling all HuffPost superfans!
Sign up for membership to become a founding member and help shape HuffPost's next chapter