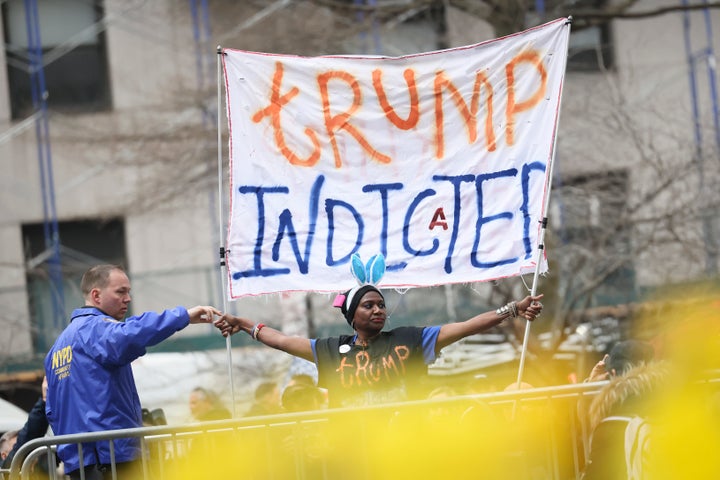 Former President Donald Trump is in New York, ready for arrest and arraignment Tuesday on charges relating to hush money paid to porn actor Stormy Daniels shortly before the 2016 election. Though the exact details of the charges are still unknown, news of the first-ever indictment of a former U.S. president has had time to sink in with Americans, and media organizations and polling outfits have had time to conduct detailed surveys about how they feel.
It's difficult to significantly sway opinions on Trump. He has been a celebrity for 40 years and arguably the dominant figure in American life for the past eight. Most Americans have a relatively firm stance on the former casino owner, pop culture mainstay and right-wing politician.
Combine that with the fact that details of the Daniels scandal — a famously wealthy man allegedly had an affair and then paid the woman hush money to stay quiet — have been known since early 2018 and don't exactly cut against Trump's libertine image, and that's a recipe for stasis.
Still, the polls out in recent days can tell us a lot about how Americans are viewing Trump, the indictment and the 2024 presidential election. Here are four takeaways:
Americans think the indictment is warranted.
In three polls released since word of the indictment broke on Thursday, pluralities or majorities of the public have approved of the grand jury's decision to indict — 51% of voters in a Morning Consult poll, 45% of Americans in a ABC News/Ipsos poll and 60% of Americans in a CNN/SSRS poll. In all three, between 30% and 40% of respondents disapproved of the decision.
Both the Morning Consult and ABC News/Ipsos polls gave respondents a "don't know" option, while CNN did not. In the ABC News/Ipsos poll, 23% said they didn't know if the charges were warranted, while 12% said the same in the Morning Consult poll. (The gap between the two could come down to differences in the respondents. Morning Consult surveyed voters, who tend to have stronger opinions and more information than nonvoting members of the public.)
The CNN survey also found that only a 10% sliver of Americans held Trump blameless for the payment to Daniels, while 37% thought his actions were illegal and 33% thought they were unethical but not illegal.
They also think the indictment is political.
At the same time, the public believes politics played a significant, driving role in Manhattan District Attorney Alvin Bragg's investigation and the grand jury's decision to indict. In the CNN poll, a 52% majority said politics played a "major" role in the decision to indict Trump, while 76% said it played at least some role. The ABC News/Ipsos poll found that 47% of Americans thought the charges were politically motivated, while 32% did not.
Morning Consult's question on the matter was more evenly split: 46% said the grand jury's decision was primarily due to "Evidence that he [Trump] committed a crime," compared with 43% who said it was primarily due to "Motivation to damage his political career."
Polling from Navigator Research, a Democratic group, recommends that party officials combat Republican messaging about politically motivated charges by emphasizing that "no one is above the law, not even a former President."
It may be helping Trump among Republicans.
Even before the indictment, surveys in recent weeks had shown Trump building a substantial lead over Florida Gov. Ron DeSantis (R) in GOP presidential primary polling. The indictment, which prompted DeSantis to defend Trump even as a super PAC aligned with Trump attacked DeSantis, is not likely to change that dynamic in the short term.
Polls show that Republicans, especially GOP primary voters, strongly disapprove of the indictment. In Morning Consult's poll, for instance, just 19% of GOP primary voters approved of the indictment, while 70% disapproved. A survey from Marist College, NPR and the Public Broadcasting Service — released just days before the indictment — found that 80% of Republicans thought Trump was the victim of a "witch hunt."
The impact on the 2024 general election might be minor.
Right now, Trump is the favorite to win the GOP nomination and challenge President Joe Biden in his expected 2024 reelection campaign. Polls generally show a prospective matchup between the two to be close, and the indictment has not immediately changed that.
Roughly a third of Americans had a favorable opinion of Trump in CNN's latest poll, while 58% had an unfavorable opinion. That's not a huge change from the previous time it asked about the former president, in January, when 32% had a favorable opinion and 63% had an unfavorable opinion.
Morning Consult asked voters whether Trump should be running for president again, and 58% said he should not, while 37% said he should. That's basically the same as the previous time it asked, in early March.
It's worth remembering that the indictment is not the only trouble Trump faces. Legal experts consider an ongoing investigation into Trump's efforts to overturn election results in Georgia — along with Justice Department probes into both his role in the Jan. 6, 2021, insurrection and his handling of classified documents — to be more serious than the case in New York. An additional indictment in the future could damage Trump in a substantial way.
Popular in the Community