The roof of a church-like structure protrudes from behind a highway overpass in one of the quieter parts of Birmingham, Ala. Look closer at the building and you'll see a Pride flag flapping, dicing the humid air. This is Spike's — Alabama's only leather bar.
Inside, two cages rest against the wall, propped on a stage. You'll also find a boutique stocked with high-quality sex instruments — floggers, whips, chains, harnesses. There's a bar complete with vodka bottles in every color, forming a glass-bottle rainbow. Top 40 pop music bounces through the space, which feels both cavernous and comfy.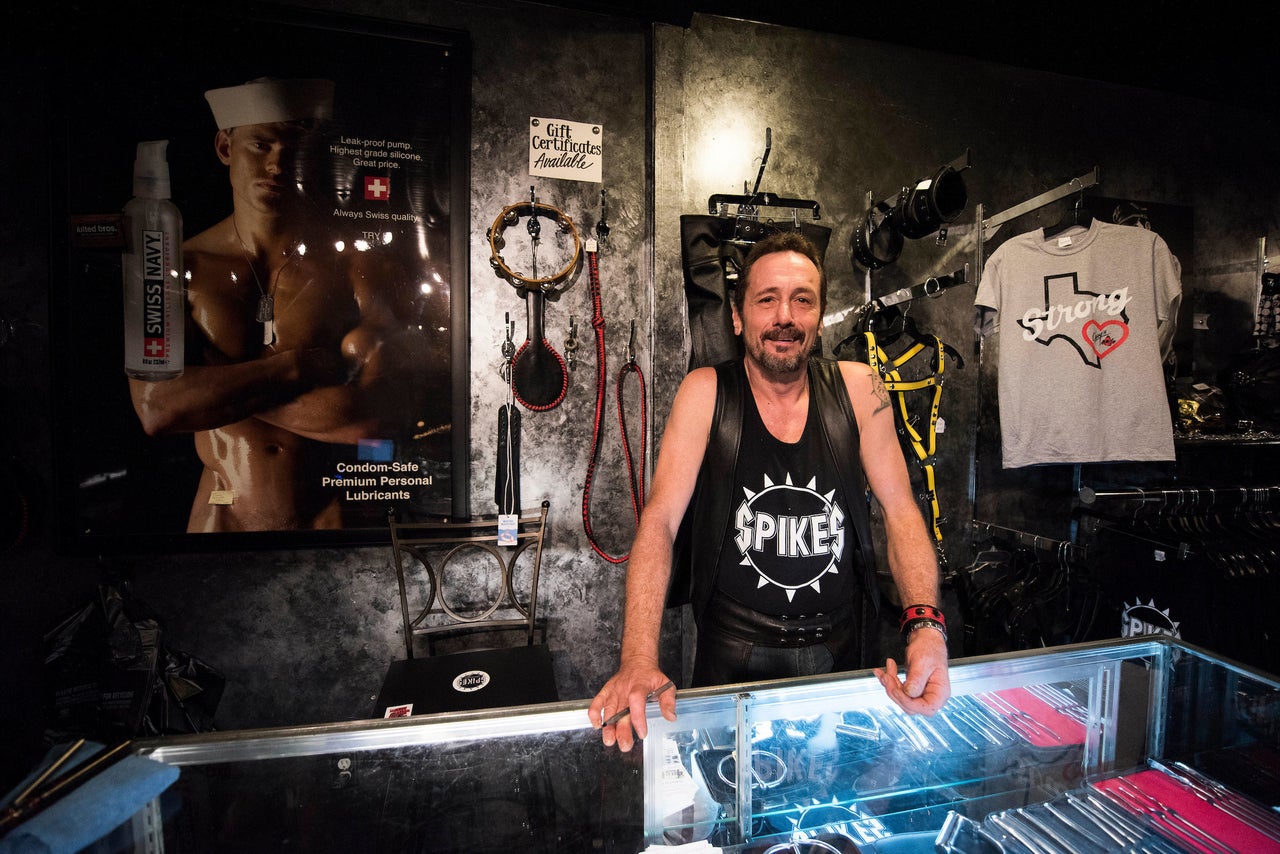 Before Spike's opened two years ago, leather wearers in the deep South, both queer and straight, would typically trek to Nashville or Atlanta, among other places, to convene in brick and mortar leather establishments.
Those not in the community might look to cities like San Francisco as a place where the leather community thrives, especially as it's home to the annual Folsom Street Fair. But as BDSM has slowly gained mainstream acceptance, some leather bars have shuttered their doors. More recently, Colorado's Denver Eagle closed in 2016. New York bid adieu to Rawhide, an institution in the Chelsea neighborhood, in 2013. Today, New York's "last stalwart," Eagle, continues the city's leather legacy. Who would have guessed Alabama would be on the same playing field as famously progressive NYC for leather wearers?
One of Spike's owners, Rod Caldwell, who is gay, insists, perhaps surprisingly, the city of Birmingham didn't give them much pushback before opening. This could be, partly, because he and Ivan Reyes, the other owner (who is also gay), market Spike's as a place for anyone — not just those in the LGBTQ or BDSM community, which often overlap. The bar conducts massive foam parties (a millennial staple), sells local art and hosts informational sex workshops aiming to attract other communities in the city.
Michael Meadows, dubbed Mr. Birmingham Leather at Spike's Leather Club, poses for a photo in Birmingham, Ala.
Could Spike's have existed five, 10 or 15 years ago, especially before marriage equality became the law of the land in 2015? Possibly. But the increased visibility of the LGBTQ community in pop culture and legislation over the last few years certainly don't hurt Spike's chances of survival.
"[After] the Supreme Court ruling… I'm not scared to give my husband a kiss or a hug in public," admits Adon Spears, a resident of Birmingham and friend of Rod Caldwell's who frequents Spike's. "I'm not scared of holding hands. I don't feel like I'm going to be shot. But that's inside the city of Birmingham, walking down the street. It's not in a rural county."
Spears paints a fairly accurate image of Birmingham. It's a college town with a handful of gay bars and queer spaces. It's home to Magic City Acceptance Center and other LGBTQ organizations and charities. In the city, it's not unusual to find signs in coffee shops that designate themselves as "safe spaces." And Birmingham's new mayor, Randall Woodfin, received endorsements from the Human Rights Campaign and Equality Alabama.
"Within the state, as in all states, you have cities with pockets that are more liberal... Birmingham is one of those. I believe that is one reason that the bar is doing as well as it is," says Brandon Morrison, a bartender at Spike's.
Brandon Morrison, a bartender at Spike's Leather Club, poses for a photo.
The Human Rights Campaign ranks Alabama as "high priority" for achieving basic LGBTQ equality. The state fails to offer protection from discrimination based on sexuality or gender, leaving tens of thousands LGBTQ individuals vulnerable in the workplace. Several months ago, Gov. Kay Ivey signed legislation that permits religious adoption agencies to refuse service to queer parents on the basis of religious freedom. Last year, AL.com reported that probate judges in at least eight Alabama counties refused to issue any same-sex marriage licenses. Most notably, Roy Moore, one of the most homophobic candidates in the country, defeated Trump-backed Sen. Luther Strange and secured the GOP nomination for the Senate in Alabama.
"I'm just not scared anymore and I've been scared all my adult life.""
Caldwell told HuffPost that Moore's nomination is a "kick in the nuts."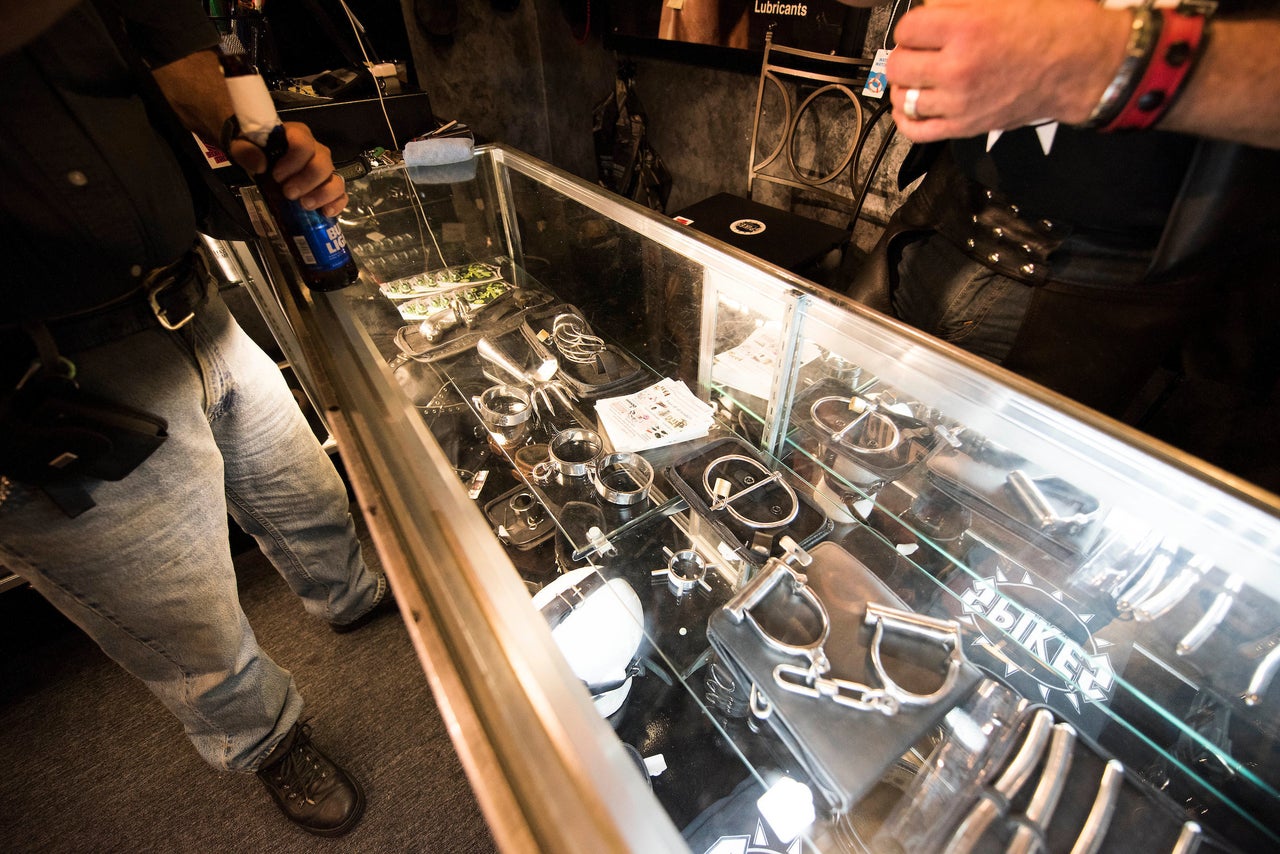 If Moore wins the special election in December, it's hard to predict precisely what he'd do policy-wise, but based on his public record, the LGBTQ community will be on guard.
Caldwell says Moore's nomination "instilled a bit of fear in [him] that [he] did not have before." Spears, agreeing with Caldwell, also asserts that he's come too far to let this fear consume him.
"I'm just not scared anymore and I've been scared all my adult life," he said. "I am not worried about Judge Roy Moore — he can't do any worse... I'm worried about all of the Judge Roy Moore's in the senate. Their population is growing amongst the GOP."
Ivan Reyes, co-owner of Spike's Leather Club, poses for a photo in Birmingham, Ala.
Still, while the fate of LGBTQ Alabamians remains somewhat uncertain, Caldwell, Morrison and Reyes are committed to Spike's. They still plan on serving as a beacon for those in the leather, BDSM and queer communities ― whether they're from Birmingham or beyond.
"We're not going to do anything differently," Morrison said. "We'll still follow the bar's vision."
This means Spike's will warmly receive newcomers and the families formed at the bar will press onward, together. They'll dance in cages and hold hands under the bar. On karaoke night, they'll belt out "Sweet Home Alabama." It's just uncertain if the rest of the state will be willing to sing along with them.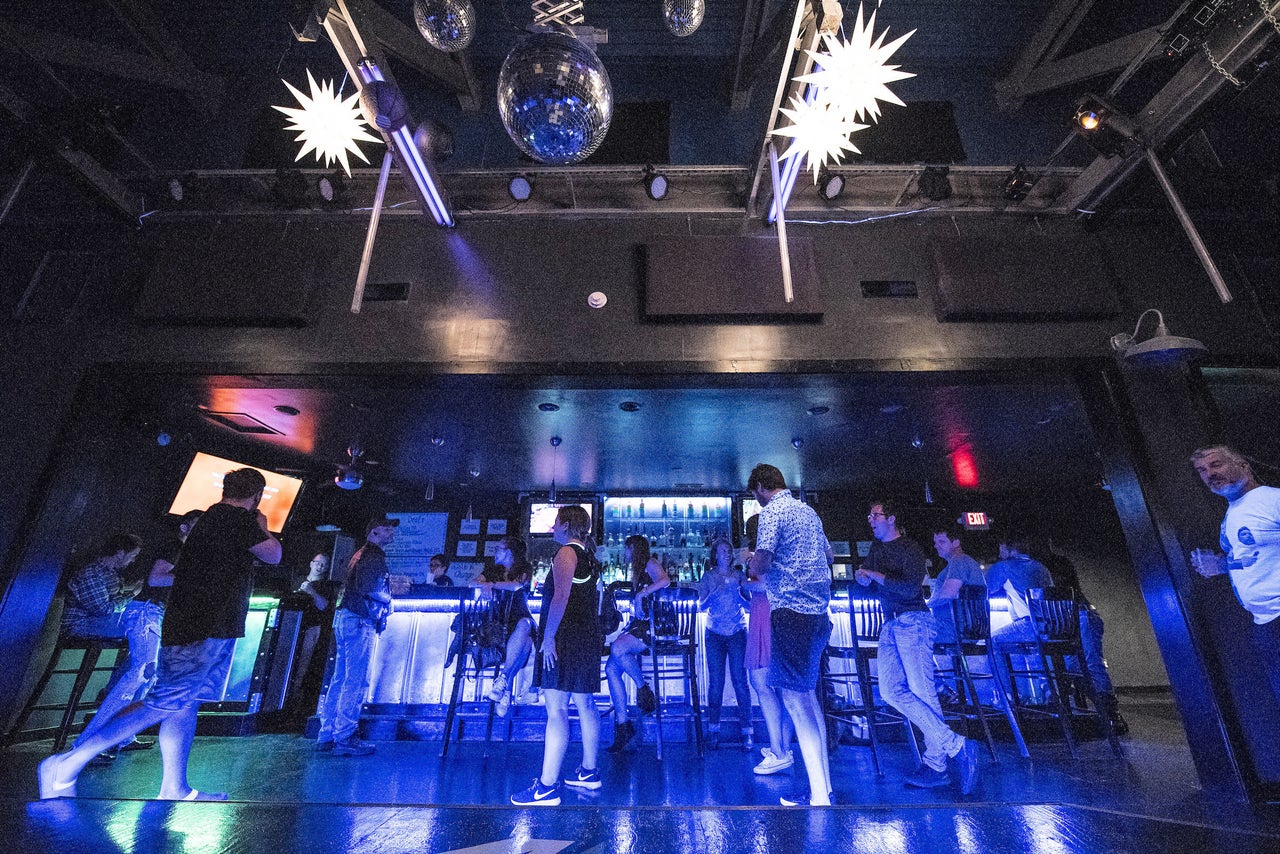 Popular in the Community