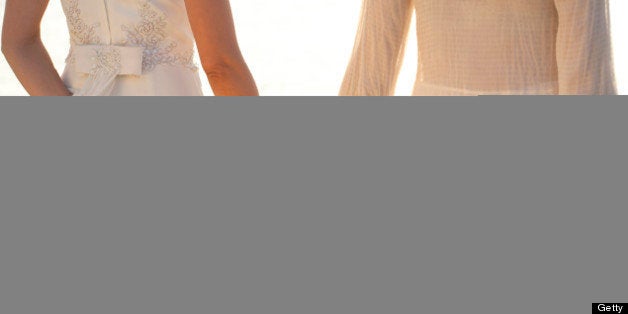 Today, the U.S. Supreme Court (SCOTUS) issued a ruling overturning the federal portion of the Defense of Marriage Act (DOMA), a discriminatory federal law which prevents same-sex marriage from being recognized by both the federal government and individual states where it's not legal. They also declined to rule on a case challenging Proposition 8, the discriminatory ballot initiative which banned same-sex marriage in California after 18,000 couples legally married. What does this mean?
Let's start with Proposition 8. Because SCOTUS declined to issue a judgment, that means the previous ruling by the Court of Appeals goes into effect and same-sex marriage will return to California. Soon (date TBD) once again, same-sex couples can legally marry in California. Equality will be restored and the gay weddings can resume! Amazing.
The other good news is that SCOTUS overturned the federal portion of DOMA. This does not mean that gay marriage is legal nationally. What it does mean is that same-sex marriage will be recognized by the federal government, giving same-sex couples the 1100+ rights that married straight couples get, rights such as social security benefits, Family Medical Leave Act, tax benefits and many more.
Keep in mind that the state portion of DOMA was not challenged. This means that a same-sex couple from Texas who marry in New York will still not be seen as legally married by the state of Texas. So while it's not full equality, those federal benefits are significant.
There will surely be more gay weddings in California. And there will be more gay weddings in the states where it's legal, states such as New York, Maryland and Washington. More same-sex couples from states where it's not legal will travel to make it legal, just for those federal benefits. Some will bring a big group of family and friends and have their reception in the legal state, and some will simply elope and have their party at home. The wedding industry is going to benefit either way.
Because of the couples traveling to make it legal and spending their wedding dollars outside of their home state, there will be increased pressure on the states where it's not legal to play catch up. After all, they are losing money. All of the studies of the economic impact of same-sex marriage, couple with these losses, will mean that states will start to legalize same-sex marriage at an exponential rate.
With more and more same-sex couples being invited to participate in the rite of passage that is a marriage ceremony, it can only be good for our society.