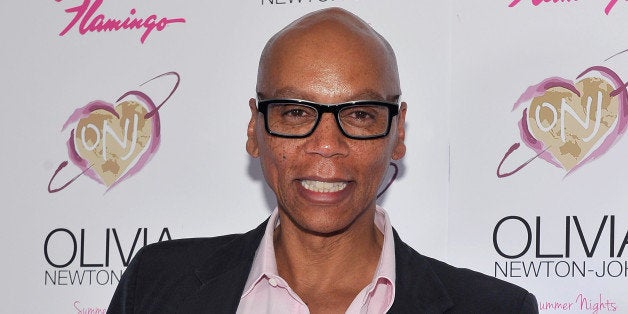 By now, everyone who keeps up with the television industry knows that RuPaul's Drag Race won for Outstanding Reality Series at the 2014 Television Critics Association Awards. The Hollywood Reporter called it a "historic win" and even deemed it a complete surprise. It wasn't a surprise to me, though. I've been a longtime fan of the show since its first season, and each year the support and attention RuPaul's Drag Race receives is a testament to the way people view and consume television entertainment in our rapidly changing, social-media-driven climate.
I'm more surprised that, over the past six years, this is only the second formal accolade for what is, in my opinion, one of the best competitive reality shows on TV. If you know nothing about RuPaul's Drag Race, think Project Runway meets America's Next Top Model. Incorporate the makeup artistry and talent that comes with transforming into female impersonators, add the world's most famous drag queen as host, main judge, and eponym for the show, and voilà! You've got television gold. Each season the contestants vie for the title of America's Next Drag Superstar, and each year the bar is raised on the challenges.
The sixth season of RuPaul's Drag Race, which aired earlier this year, brought about an intense competition just with the caliber of contestants who appeared on the show alone. The advertising and marketing for Drag Race was the most aggressive Logo TV had done to date, and the media gave both RuPaul and Drag Race more mainstream visibility. Magazines and television shows provided national coverage. Not bad for a show that features drag queens competing for a title and cash prize on a gay network.
Of course, this higher level of visibility can also bring about criticism and controversy. A mini challenge on one of the episodes was deemed insensitive by some due to its titling, and this also brought about the end to a tagline that the show had used since its launch to announce on-screen messages from RuPaul.
However, RuPaul is resilient -- and loved -- and not only did he weather the storm (as well as a mid-season time change from Logo), but the show increased in popularity and garnered nominations from both the Critics' Choice and the Television Critics Association. Unfortunately, it was overlooked again this year when it came time for the Emmy nominations, but the TCA win for Outstanding Reality Series solidifies the fact that RuPaul's Drag Race is a key player in the reality TV genre. It's got a winning formula, and World of Wonder (the show's production company) understands the blueprint for a successful competition-based show. With Drag Race returning for a seventh season in 2015, I believe this will put it in a new stratosphere and help it reach a larger audience, as well as gain more recognition from the television industry.
Drag is all about illusion, and RuPaul's Drag Race showcases what goes into making illusion so believable. Film and television are built on a series of illusions; as a matter of fact, they are cornerstones of the business. A show that sheds light on what it takes to pull off a convincing transformation might not sit well with everyone; however, sometimes you have to pull the curtain back and reveal what makes illusions so powerful in order to fully appreciate them. That's what makes RuPaul's Drag Race such an amazing and entertaining show. On top of those qualities, it also does a great job at teaching acceptance and embracing the differences that exist within humanity. The viewers already knew that, though, and now the TCA has acknowledged it. It's only a matter of time before Emmy comes around.
Calling all HuffPost superfans!
Sign up for membership to become a founding member and help shape HuffPost's next chapter