As part of our Blended Family Friday series, each week we spotlight stepfamilies to learn how they've worked to bring their kids together. Our hope is that by telling their stories, we'll bring you closer to blended family bliss in your own life! Want to share your story? Email us at divorce@huffingtonpost.com.
Caitlin Grace and her husband Rob have been a couple for 23 years -- but they didn't marry until about six years ago. Why wait so long?
"Taking our time joining our families together was a big thing for both of us and I don't think it should ever be rushed," Grace told HuffPost.
Below, the wellbeing coach and author of The Goddess Guide to Sex, Love and Life tells us more about taking things slow while raising a stepfamily. ("Stepfamily" is used there intentionally -- Grace never really did take to the phrase "blended family." Read on to find out why.)
Hi Caitlin! Please introduce us to your family.
We have seven kids between us. He has four girls and I have three boys -- kind of like the Brady Bunch except ours don't match up in ages! When we got together, the youngest was 6 weeks old and the oldest was 17. Today, they kids are grown and we have 12 grandchildren too.
What went into your decision to wait to get married?
We left out the "getting married" part for a long time and we were asked by a lot of people why were even bothering to do it at this point. We didn't want to rush into it. I know that it was the right time for us. We wanted to let our kids know that relationships do last and marriage is a good thing.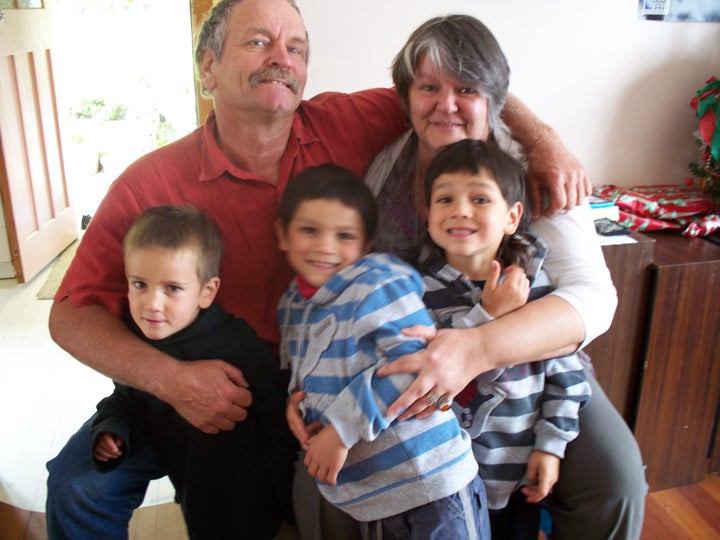 What have been some of the biggest challenges over the years?
Because of the range in ages, getting the whole family together in one place has been a major challenge. Rob's daughters traveled a lot when they were younger and now it's my youngest child Zak's turn to head off and roam around the world so gathering them all together can be tricky. Now that we have 12 grandchildren to add into the mix, family gatherings can be chaotic.
What's the best part of being a parent in a blended family?
To be honest, I actually don't like the term "blended family." You know when you read a recipe and it will say "blend until smooth"? I don't think a stepfamily ever really gets to the "smooth" stage. There are always rough edges and lumps and bumps that won't disappear and that's actually OK. Having a family made up of disparate parts is the greatest journey of self-growth and discovery you will ever embark on. Learning to love and accept someone else's kids breaks your heart open and gives you much more compassion for other people in the world. I think that is a great gift.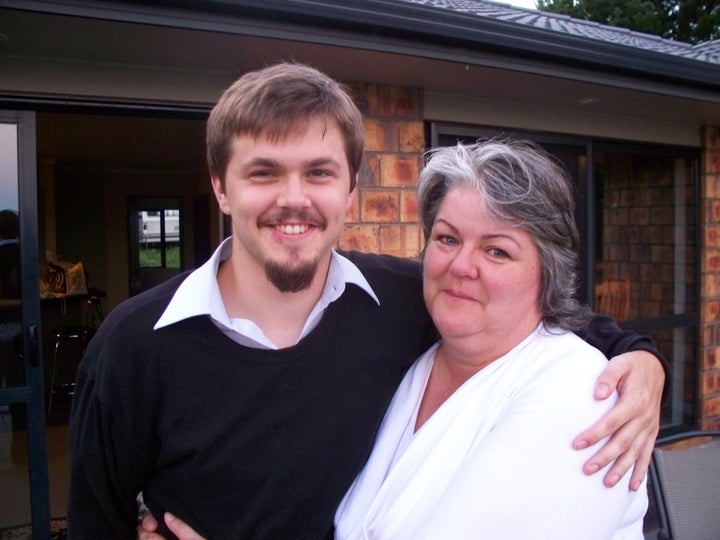 What makes you proudest of your family?
One of the proudest moments for me was the day that we got married. We really wanted it to be a family affair and have a little fun with it at the same time so we had a fairy wedding. And because I'm a bit of a hippy we did a blessing ceremony before everyone arrived and while we were in the circle and I was calling on the Angels, one of my grandsons added "and Michael Jackson," which was just priceless. We had two of my granddaughters as flower girls and two of his grandsons as the ring bearers. My eldest two boys walked me down the aisle and gave me away and Rob had his eldest grandson as his best man.
After the ceremony, we released a bunch of helium balloons: one for each of our kids, one for every year we had been together and one for each grandchild. It took a while to achieve lift off and then it soared into the sky which felt like a perfect metaphor for our relationship.
What's your best advice for parents who are struggling to keep the peace or adjust to stepfamily life?
Early in our relationship, I thought that a "family meeting" might be a good way for us to air our differences. I remember one of the kids said, "This isn't a family and will never be a family," to which I replied, "Well, then think of us as a pod of whales. We might not all be related but we can swim in the same direction." As I said before, it won't always be smooth sailing but at the heart of it, it's two people who deeply love and commit to each other and that is what you need to hold onto. That's why you're in this in the first place -- for the love.
More From HuffPost: