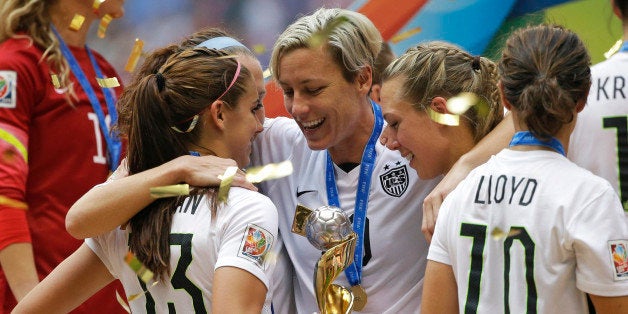 It's no secret that there are inequalities in sports for women. Women's events are generally less talked about. When they are talked about, people are quick to criticize. They say that female athletes aren't as strong or as important as men. We see comments that women's sports aren't even real.
In a 5-2 win over Japan that blew up TV ratings, the USA women had won the World Cup trophy in a dominating fashion. Having the women's World Cup get so much attention brought female athletes to the forefront of conversation. They saw an amazing performance from a team of women who not only found common ground, but embraced their differences.
At the end of an incredible game, Abby Wambach rushed to the stands to kiss her wife in front of over 50,000 people. I think that's the bravest, strongest, and realest I've ever known. It was the visibility of a champion embracing all that life has to offer. It was a thunder punch to the gut of anyone who thinks openly gay athletes don't belong in sports. You can be gay, and still compete at an elite level.
Having out athletes on a championship team like the USWNT can mean a lot for young women who aspire to succeed in sports. For out athlete Megan Conger, it was jaw dropping and motivating:
They inspire us, motivate us, and encourage us to be who we are and be the best we can be. They make us believe that anything is possible. This third star is a huge defining moment in so many aspects, but it is a huge step for the LGBT community. This team just took on the world, and did it with the biggest smiles on their faces.
And that's exactly what we have to do. Take on the world with a smile and confidence. Show them who we are and that we belong.
This group of women took on the world, and they won. This should send a message to men and women both. Love each other for everything you have to offer, because that's what makes us work well together. Acceptance and teamwork is what led to their joy and the smiles on their faces.
For young athletes especially, this was a big moment. Mai Foringer, an openly gay woman and recently graduated athlete from Germantown Friends School, found inspiration in these women playing the game and being their true selves:
Look at the 99ers, they inspired this current team to play the game and want to be champions. Now we can look at the 15ers from other angles, like the number of out players on this team. That inspires young female athletes to keep working to get to that next level and be their authentic selves simultaneously because these women have already done it. They've won. And they didn't have to change who they were or who they loved to get that third star.
We can't just sit back and give up when we don't meet others' expectations of who we are supposed to be and what we are supposed to look like. If you want to make a difference, you have to be different. We should be changing the game, not each other.
When we work towards inclusion and acceptance, we win championships. We bring out love in all of its forms and light up the world with it. We can see all of the good in each other and appreciate the way it changes lives.
So be strong, confident and beautiful in every way that you are. This is what we should want each other to look like: Happy, free, and proud of ourselves regardless of skin color, gender identity, or sexuality.
If we can do that, then maybe we can help the millions of women who struggle to feel important. It can help those of us who still face hate and discrimination. We can show them that life doesn't have to look limited.
Lauren Neidigh is the Director of Social Media for GO! Athletes. She was a Division I swimmer at the University of Arizona and is starting her masters this fall in criminology at Florida State University. She can be  reached on Twitter @l_e_neidigh; facebook.com/lauren.neidigh; or Instagram (/lneidigh).
Calling all HuffPost superfans!
Sign up for membership to become a founding member and help shape HuffPost's next chapter