I joined about 6000 other delegates from around the world this week for the first ever World Humanitarian Summit. While 350.org doesn't provide humanitarian aid, we're increasingly concerned with just how hard climate change is biting, and committed to supporting people-oriented responses to the impacts of climate change.
With 2016 already carrying a 99 percent chance that it will be the hottest year on record and is close to breaching 1.5 degrees C of warming, we've now moved beyond the early stages of dangerous climate change. That's being acutely felt by those in Pakistan facing deadly heatwaves, to the tens of millions in need of food aid in Ethiopia. It's widely recognised that the current humanitarian system is not adequately resourced or structured to meet the current crises, let alone future ones. In 2015 alone, manmade and natural disasters left 130 million people in need of humanitarian assistance, costing a record $28 billion. Alarmingly, there is an estimated annual shortfall of $15 billion in funding that aid.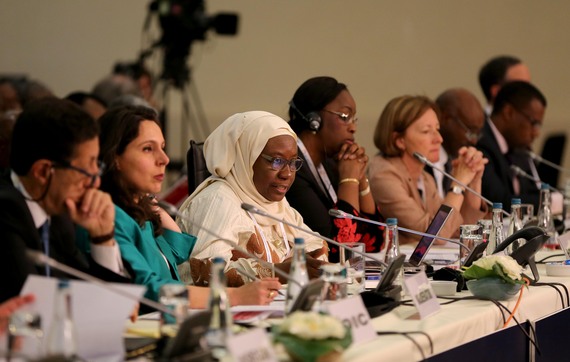 Photo credit: World Humanitarian Summit
As actress Ashley Judd said at the opening of this week's World Humanitarian Summit, the 'way we respond to crisis is itself a crisis'. So as I walked the halls over two long days at the crisis of crises summit, I was curious to see the trends and initiatives emerging that will shape the future of how we respond to the impacts of climate change.
With a focus on climate change, here are four key trends and outcomes that emerged through the summit:
1. Rebalancing of power to local actors
The humanitarian system has been widely criticised for keeping resources and power vested within large UN agencies and NGOs, rather than local communities or local governmental players. Globally, just 2% of humanitarian funding on average goes to such local responders. Some NGOs are showing leadership in rebalancing this. For example, Oxfam recently committed to increase the amount of its funding that goes to local actors to 30 percent by May 2018.
While the summit was an important focal point to progress the decentralisation of power to local actors, it remains critical that this continues. The Overseas Development Institute provides a recipe for the continued letting go of centralised power in the humanitarian system, calling agencies to work toward the letting go of power and control, perverse incentives, and divisions to embrace differences.
2. People-powered disaster response in the age of smartphones
The rebalancing of power toward local actors is also being rapidly driven by the burgeoning age of smartphones. Paramount in any disaster response situation is the ability to communicate, collect information about who is affected, how, and where, and manage response logistics. In the age of smartphones, many of these basic needs can be increasingly deployed by local actors, while supported by global agencies and networks.
The Innovation Marketplace was full of interesting examples of new technologies and systems that can empower responses that are 'as local as possible, and as global as necessary'. Here are three examples.
When it comes to building infrastructure in response situations, from shelter to toilets, a new tool called HHOT provides step-by-step practical guidance on how to build structures that are accessible by all. Anyone can download the information and follow the steps.
Recognising the gap in funding systems that are needs orientated and rapidly deployed, group of international NGOs have banded together to form the Start Network. Amongst other things, the Network provides "small-scale grants for small to medium scale emergencies that often receive little funding. Projects are chosen by local committees, made up of staff from Start members and their NGO partners, within 72 hours of an alert."
In the case that cellphone networks are taken out in a disaster situation, a smartphone app in development at the moment, called Firechat Alerts enables people in high density situations to create their own communication network. It uses the radios already in smart phones to connect directly with one another. This app carries the caveat that it only works if there is a suitable density of people with the app using it. So in rural settings, it is unlikely to be of use.
These are just a few of the innovative technologies that are emerging to empower local people and organisations as first responders, while being supported by networks of people and organisations around the world.
3. The global architecture for responding to the impacts of climate change
While much of the work around adaptation and redress for loss and damage from climate change has developed through the United Nations climate talks, the summit progressed some global mechanisms that are critical for confronting the impacts of climate change. During the summit, a collection of governments launched the Platform on Disaster Displacement, which aims to address the protection needs of people displaced across borders by disasters and climate change impacts. This platform will provide important support to governments to adequately prepare for such displacement.
The launch of the platform still avoids the sticky issue that people displaced across country borders by climate change impacts cannot be considered refugees under international law, and resultingly are not provided the same protections as a refugee is. During the summit, Tuvalu's Prime Minister, Enele Sopoaga called for a UN resolution to put in place a framework to recognise and provide legal protection to people displaced by climate change. It remains to be seen if that call will be taken up.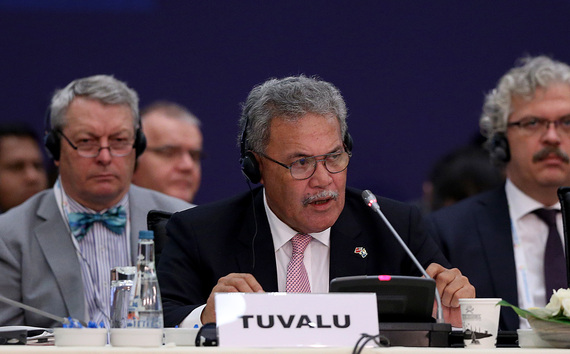 Photo credit: World Humanitarian Summit
4. Political will is missing
A key blockage to the success of the summit and the future of humanitarianism itself is, as one presenter said, "the erosion in compassion, which means the protection space is shrinking in most parts of the world." From numerous world leaders shunning the summit, to the billions of missing finance for humanitarian relief, there is a distinct deficit of political will to ensure that all people are protected and supported in times of crisis. The UN and humanitarian organisations have reached their capacity with current resources.
Taking stock of these four trends and outcomes, we can start to get a sense of how to move forward. I left the World Humanitarian Summit with the clear sense that we're entering an age where the impacts of climate change (on top of conflict-driven crises) are too big for the UN and humanitarian NGOs to handle alone. It needs movements of people who campaign, who get involved in owning and creating the compassion needed to bring humanitarianism strongly into the 21st century.
Much like the climate movement has campaigned hard to weaken the power of those blocking mitigation action on climate change, we need to find new ways to hold accountable those who have profited while causing loss and damage for hundreds of millions around the world. By doing that we can start to rebuild a sense of political will to protect people at the frontlines of climate change, and especially those in places where they have done so very little to cause the damage.
Lastly, for all the crises and challenges facing the summit, I couldn't help but be moved and inspired by the people who are at the centre of humanitarian action in its many forms, and who persevere through crisis after crisis. They deserve all our thanks.
Related
Popular in the Community